(Minghui.org) Ever since its introduction to the public in 1992, Falun Dafa and the principles of Truthfulness-Compassion-Forbearance have attracted people from all walks of life. During the recent 19th World Falun Dafa Day celebrations, the Minghui website received a large number of reports from practitioners around the world sharing how they celebrated this special day in their respective areas. Below are accounts of Dafa Day events from four continents: Australia, South America, North America, and Europe.
Sydney, Australia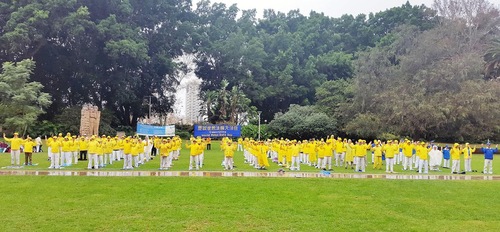 Group practice in Hyde Park on the morning of May 13 to celebrate World Falun Dafa Day.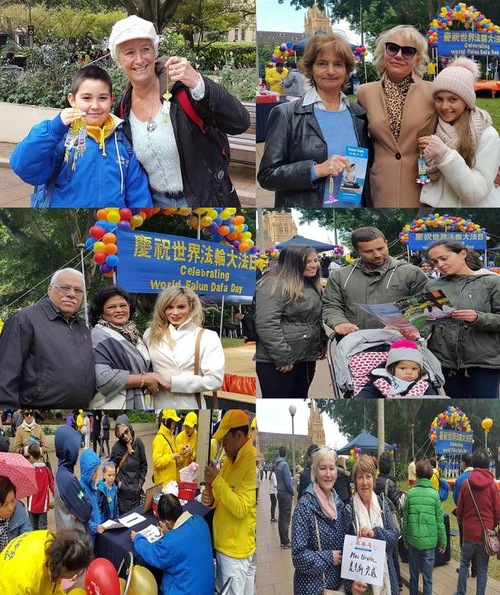 Many people learned the Falun Dafa exercises at the Hyde Park event.
Falun Dafa Day events in Sydney began as early as May 5 and carried through all the way to the afternoon of May 19. Over the course of various events, practitioners distributed nearly 100,000 flyers about Falun Dafa and the persecution of the practice in China. Many Members of Parliament, mayors, city councilors, community leaders, and other civic associations celebrated World Falun Dafa Day, which is also the birthday of Mr. Li Hongzhi, the founder of Falun Dafa.
At various parks in municipalities throughout the Sydney area practitioners staged exercise demonstrations, provided free exercise instruction, taught people how to make paper lotus flowers, held calligraphy demonstrations, and gave music and dance performances.
During the celebration at Ashfield City Hall on May 12, Parramatta Mayor Andrew Wilson praised practitioners' involvement in the community and wished Mr. Li a Happy Birthday. John Hugh, spokesperson for the Australian Values Alliance, said that Falun Dafa practitioners are well supported in the community because of their honesty and kindness. Having seen practitioners hold peaceful demonstrations in many places, including New York, he said that the world needs the principles of Truthfulness-Compassion-Forbearance and it is the communist party who is vicious.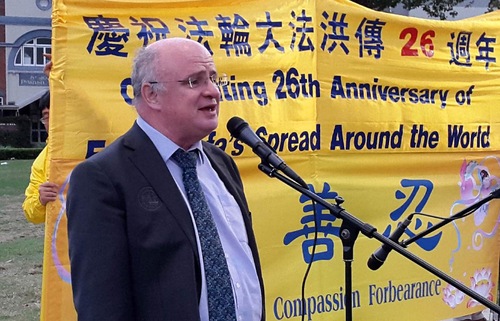 Parramatta Mayor Andrew Wilson spoke during the Falun Dafa Day event on May 11. He thanked practitioners for their contributions to society.
Mayor Wilson also attended the Dafa Day activities at Parramatta Square on May 11. He said that Parramatta welcomes Falun Dafa practitioners because they safeguard traditional values. Human rights advocate Bob Vinnicombe said he trusts practitioners. He noted that as China continues to infiltrate Australia and rest of the world, celebrating World Falun Day is especially meaningful.
A couple from Gold Coast were on a tour in Sydney and stopped to enjoy the Falun Dafa Day celebration. They said that this was the first that they'd heard about Falun Dafa and said that they felt blessed to have encountered the practice. When a practitioner from China spoke about the mistreatment she suffered for her belief in China, the couple were moved and expressed their hope that the suppression would soon stop.
Brasília, Brazil
A month-long display of the Art of Zhen Shan Ren (Truthfulness, Compassion, Forbearance) International Exhibition at the city council building was a highlight of the Falun Dafa Day celebrations in Brasília. A representative from the Department of Culture attended the exhibition's opening ceremony and noted that the artworks were touching, with profound meaning. She took extra copies of the Falun Dafa literature and the beautiful origami lotus flowers to share with her colleagues.
Many people who worked in the city council building were impressed by the exhibition. A news reporter was particularly impressed with the health and spiritual benefits of Falun Dafa and said that he would tell more people about the practice. Another staff member listened attentively as a practitioner explained the artworks, then thanked her for the important information.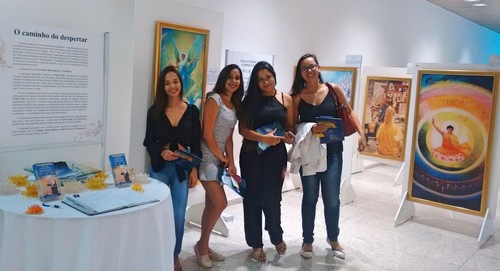 College students express their congratulations on World Falun Dafa Day in Brasília during the Art of Zhen Shan Ren (Truthfulness, Compassion, Forbearance) International Exhibition.
A father of two young children was shocked by the brutality in China. He was glad that his children had the opportunity to learn about the suppression being perpetrated in Communist China. Many medical students who attended a seminar stopped to view the exhibition. After learning about the regime's forced organ harvesting of Falun Dafa practitioners for sale in transplant surgery, a student said, "We are studying to save people, not to kill people. We must stop this crime!" and signed a petition calling for an end to the forced organ harvesting of prisoners of conscience in China.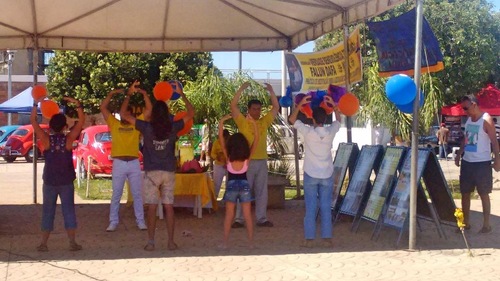 Passers-by in Brasília learn the Falun Dafa exercises.
Other activities in Brasília included poster displays and banners at a monthly flag ceremony. Practitioners also visited a number of tourist sites on May 13 to share the joy of Falun Dafa with the community. In São Paulo, practitioners had a booth with a giant hot air balloon emblazoned with the words of "Falun Dafa is good." Many local residents learned about this ancient practice from China during the various Dafa Day events.
Burlington, Vermont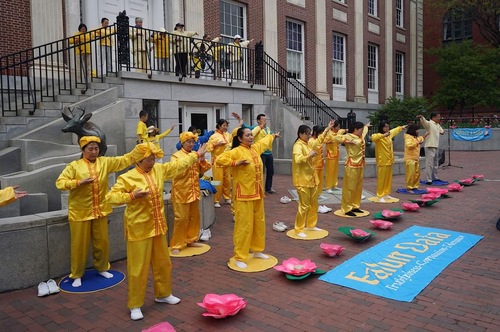 Group practice in front of City Hall in Burlington, Vermont on May 19, 2018.
A May 19 celebration in Burlington, the largest city in Vermont, started off with group practice of the Falun Dafa exercises. Later, practitioners held a parade along Church Street, a well-known shopping area, where many people heard about Falun Dafa and the persecution in China.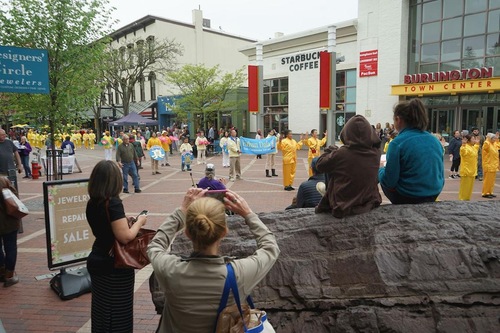 Pedestrians enjoy a Falun Dafa Day parade on Church Street in Burlington, Vermont on May 19.
The head coach of a local golf club was interested in Falun Dafa and planned to attend an information session a week later. A man from Middlebury said he appreciated the beautiful exercises and was interested in learning Falun Dafa. "I want to do what he's doing," he said, pointing to a picture of a man meditating peacefully.
Sofia, Bulgaria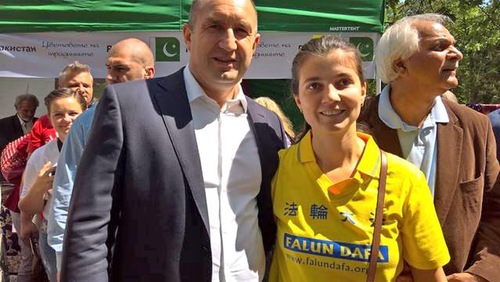 A practitioner had the opportunity to talk with Rumen Radev, the President of Bulgaria, about Falun Dafa and the suppression in China.
Practitioners in Sofia, the capital of Bulgaria, held events in two parks on May 12, each with group exercises. In Borisova Garden, where delegates from 13 countries attended the Asian Festival, practitioners presented a pamphlet to Rumen Radev, the President of Bulgaria.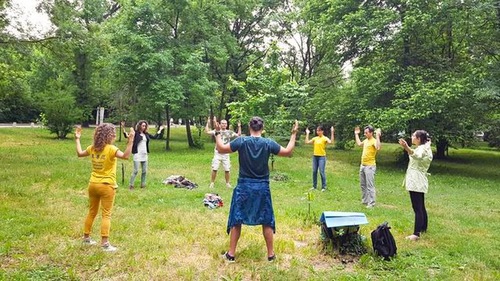 Group exercises in a park in Sofia, Bulgaria.
A young couple, Boris and Nadya, had traveled a long distance to learn the Falun Dafa exercises. Both felt strong energy and were very interested in the meditation practice.
Practitioners also visited Varna and Ruse, the third and fifth largest cities in Bulgaria, on May 13 to introduce Falun Dafa. Many residents signed a petition calling for an end to the brutalities in China.
Related article in ChineseRelated article in ChineseRelated article in Chinese