(Minghui.org) April 25 marks the 19th anniversary of Falun Gong practitioners' peaceful 1999 appeal in Beijing. To commemorate this historic event and oppose the severe persecution that has taken place over these past 19 years, practitioners from Hong Kong and other regions in Asia took part in a rally and march on April 15, 2018.
Despite the rainy weather, a number of elected officials attended the event at Cheung Sha Wan Recreation Area. They commended Falun Gong practitioners for upholding the principles of Truthfulness-Compassion-Forbearance and called for a stop to the suppression in China.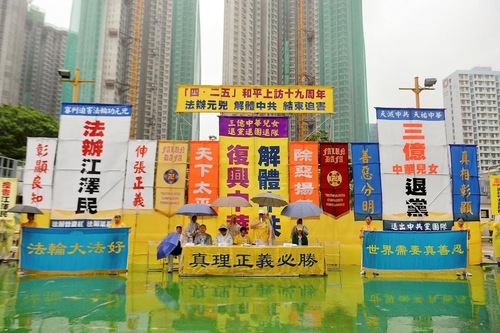 Falun Gong practitioners gathered in Hong Kong on April 15 for a rally to commemorate 19 years of peaceful resistance to the persecution in China.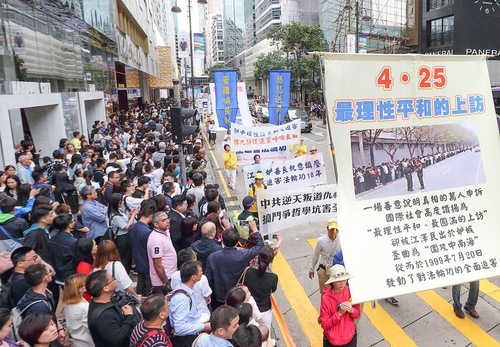 The rally drew a great deal of public attention.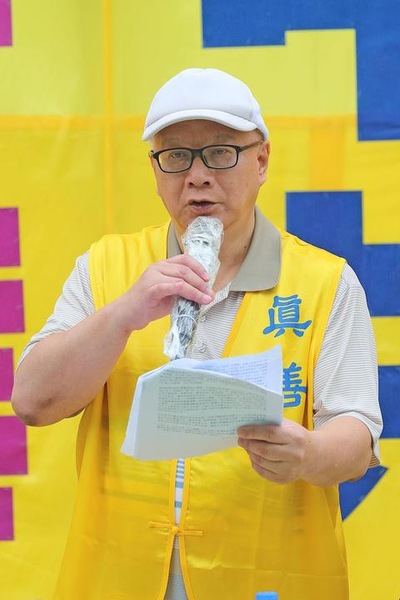 Kan Hung-Cheung, spokesperson for the Hong Kong Falun Dafa Association, called for a stop to the persecution and for the primary perpetrators to be brought to justice.
Kan Hung-Cheung, spokesperson for the Hong Kong Falun Dafa Association, spoke about the 1999 peaceful appeal. "Following the illegal detention of Falun Gong practitioners in Tianjin, about 10,000 practitioners went to the central government appeals office in Beijing to speak to high-ranking officials about the practice. Their courage impressed the world and their peacefulness became an example for modern day society."
As the persecution intensified since then, many governments and citizens from numerous countries have expressed concern over the persecution in China. "Stopping the suppression and bringing the main perpetrators to justice will help bring an end to the communist regime, resulting in long-term peace to our society," Kan said. "Disintegrating communism and reviving traditional culture will lead us to a new era."
Elected Officials Oppose the Suppression
Wu Chi-wai, chairman of the Democratic Party and a member of the Legislative Council, praised practitioners for their perseverance in upholding the principles of Truthfulness-Compassion-Forbearance. "This encourages us to face all kinds of difficulty and suffering," he said. He said that only fundamental changes within the communist party could help people evade the constant terror the Party has perpetrated. "Over 300 million people quitting the Chinese Communist Party (CCP) is a big warning to the Party. This will help people wake up and promote universal values in society," he said.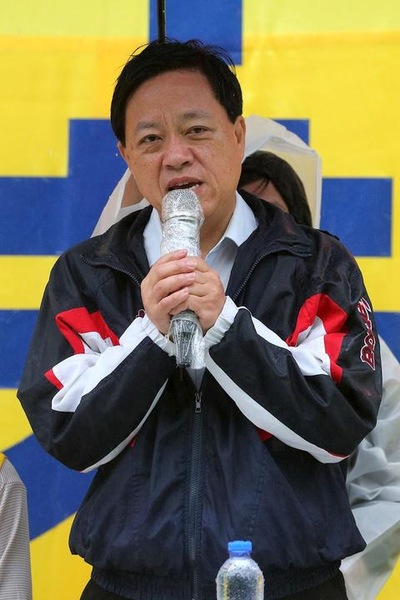 Lin Yongran highlighted Falun Gong's principles of Truthfulness-Compassion-Forbearance and practitioners' consistent efforts to bring about an end to the persecution.
Lin Yongran, former member of the Hong Kong District Council, thanked practitioners for raising awareness of the persecution over these past 19 years. He said that such efforts will bring awareness and intimidate the communist party.
Lam Cheuk-ting, another Legislative Council member, said that the Chinese Communist Party should uphold China's constitution and respect freedom of belief and stop the persecution. He called on the international society to pay close attention to the human rights issues in China, which will help bring about change.
Leung Yiu-chung, a long-time member of the Legislative Council, said that in China, Falun Gong practitioners have been harassed, imprisoned and tortured for their belief. "These crimes, including forced organ harvesting, should be condemned worldwide," he remarked. Leung said that recent occurrences, such as activities of pro-communist groups in Hong Kong, have allowed people to see the communist regime more clearly for what it truly is. He emphasized that disintegrating the regime will lead to a better society, with improved human rights.
Bring the Perpetrators to Justice
Albert Ho, chairman of the Hong Kong Alliance in Support of Patriotic Democratic Movements, affirmed that Falun Gong practitioners have been severely suppressed in China over these past 19 years. "They are probably the most persecuted group [in China]. The mistreatment includes arrest, detention, torture, and forced organ harvesting," he said.
Richard Tsoi, former vice-chairman of the Democratic Party, agreed. He said that practitioners' freedom of belief and safety are protected by the International Bill of Human Rights. He called on people to oppose both the persecution in mainland China and the disruptive pro-communist activities in Hong Kong. "All those officials who suppressed [Falun Gong] practitioners will be held responsible," he added.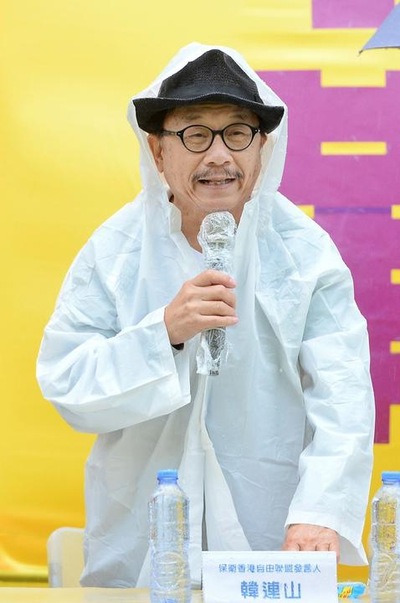 James Hon Lin Shan, spokesman for the League in Defense of Hong Kong's Freedoms, opposes the CCP's forced organ harvesting and encourages people to quit the CCP and its affiliated organizations.
Chinese Tourists: Truly Remarkable
Nearly 1,000 people took part in the march at 1:30 p.m. The rain had stopped and the six sections of the march passed several popular tourist sites, arriving at the vibrant Tsim Sha Tsui area around 4:00 p.m.
Mr. Chen, a tourist from mainland China, experienced a Falun Gong activity for the first time. Impressed by the energetic drum beats from the Tian Guo Marching Band, he talked with a practitioner and was glad to hear the real story of Falun Gong. "Now I know why Falun Gong practitioners are so determined in their belief," he remarked.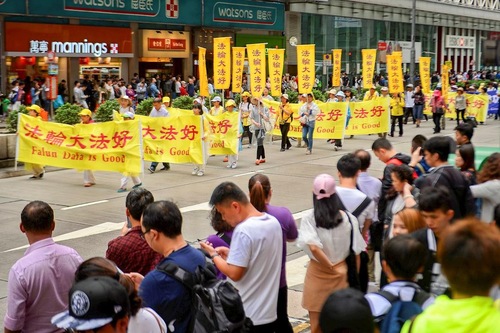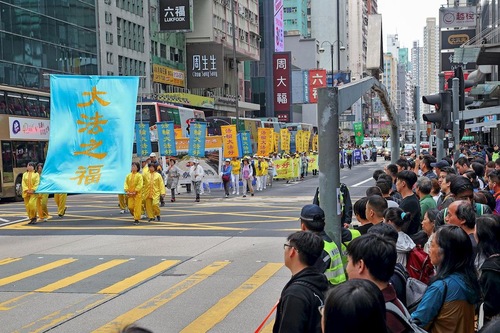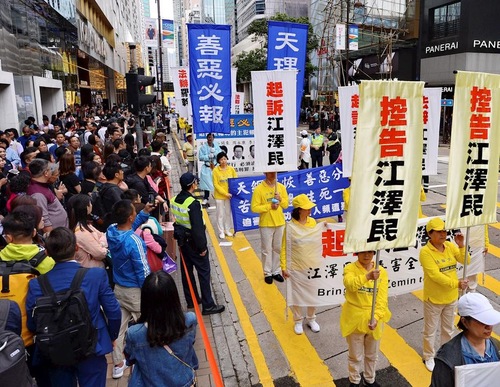 Tourists from mainland China joined Hong Kong residents to watch the march.
Mr. Liu and his family were in Hong Kong for a vacation. He was surprised to see that Falun Gong is practiced in over 100 countries and is suppressed only in China.
Another Chinese tourist, Ms. Kong, said that the practitioners' march was very peaceful and beautiful. She was impressed that people enjoyed freedom of belief in Hong Kong.
Her friend, Ms. Zhou, thanked practitioners for exposing the communist party's propaganda against Falun Gong. "These practitioners are very rational, with good manners, very different from what the Chinese news media has said," she commented. "I do believe that people should have the freedom to practice their belief."