San Francisco: Falun Gong Parade Celebrates Chinese New Year
February 19, 2018
|
By Minghui correspondents Jia Wei and Wang Ying
(Minghui.org) On Saturday, the second day of the Chinese New Year, Falun Gong practitioners held a large-scale parade in downtown San Francisco and Chinatown, showcasing traditional Chinese culture and offering holiday greetings to the public.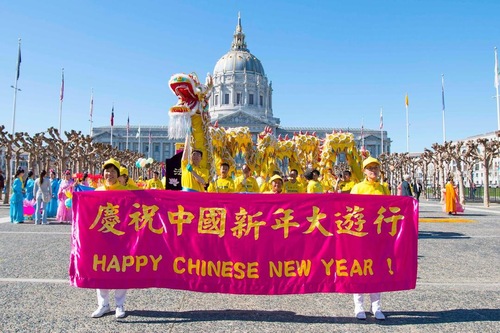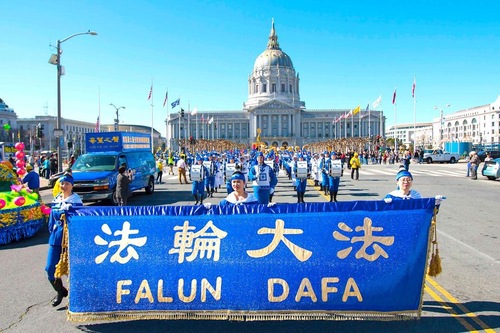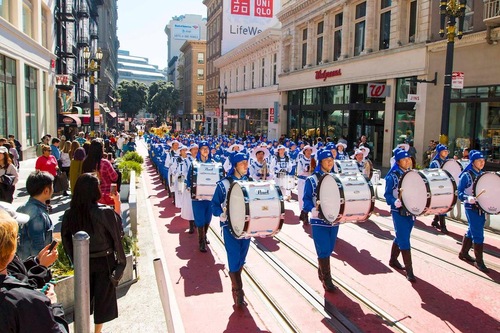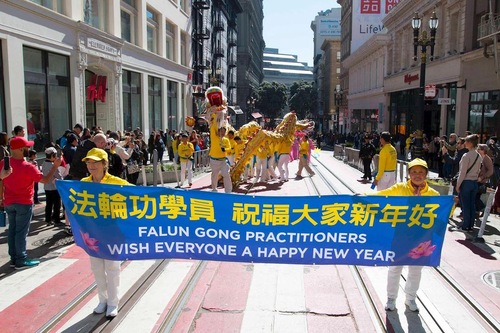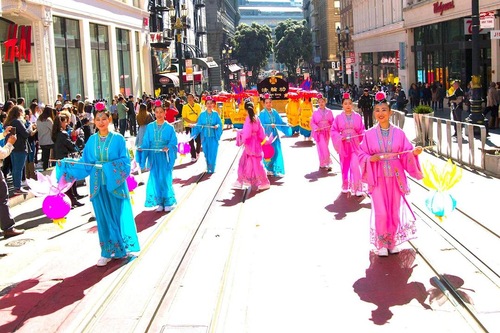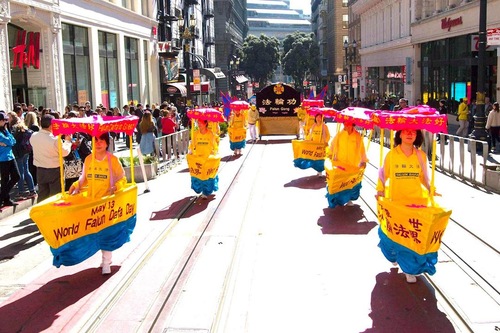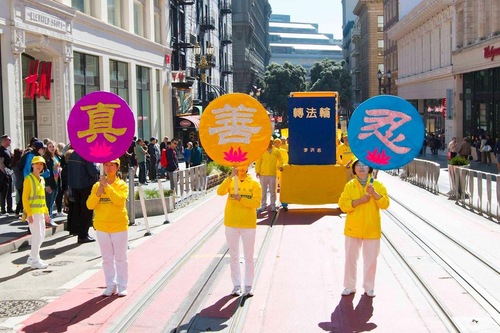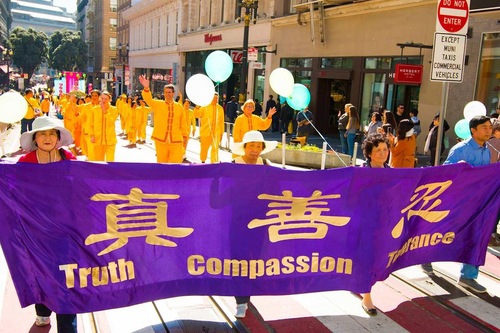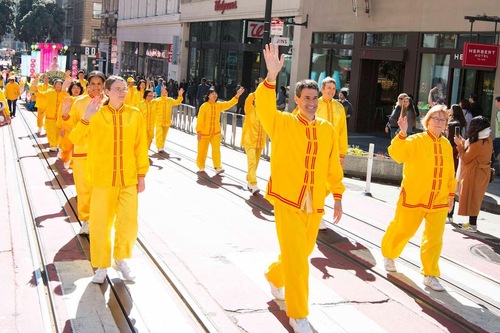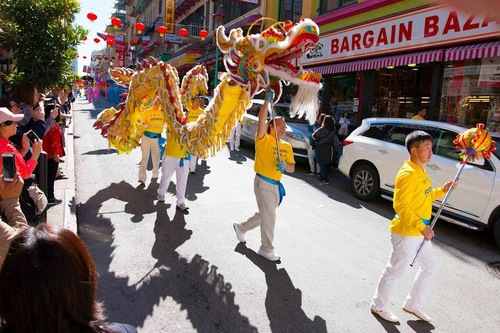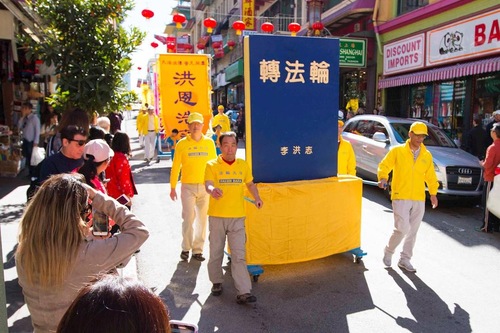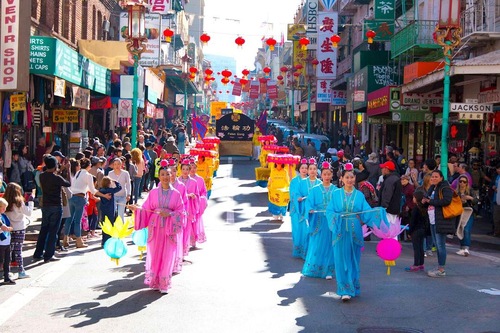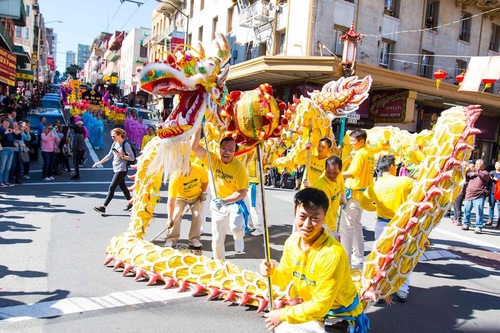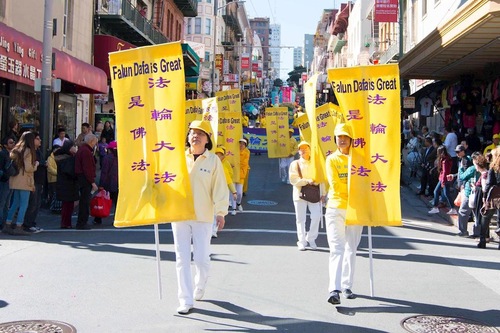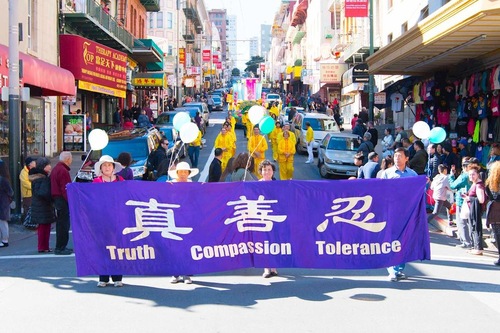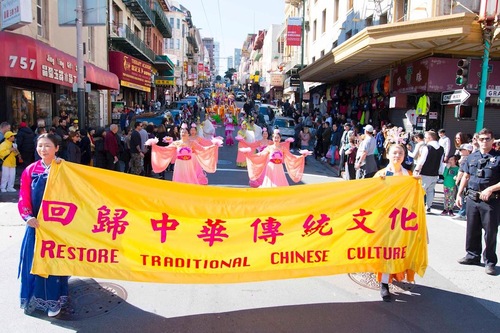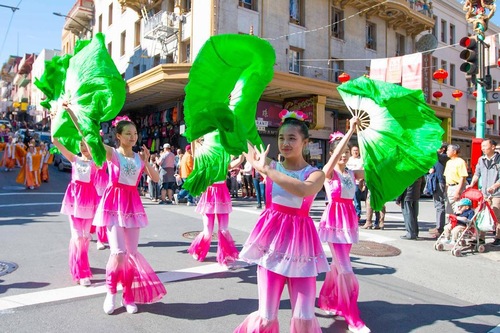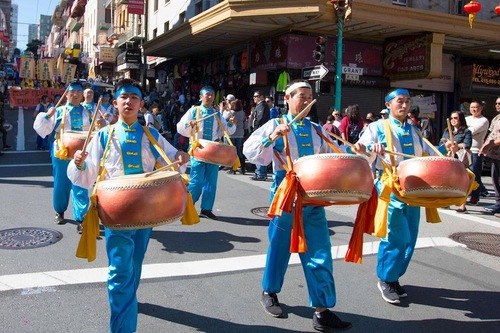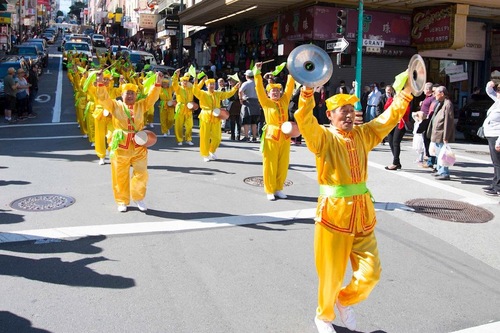 Practitioners perform in the parade.
The parade began at noon from the city hall plaza. The procession featured lively waist-drum performances and traditional Chinese costumes, as well as a section to inform the public about the ongoing persecution of the practice in China.
According to the march organizer, Ms. Zhang Hong, besides raising awareness about Falun Gong, a major goal of the parade was to demonstrate traditional Chinese culture and promote traditional values.
Cynthia Howard (middle) and her sister Reagan Howard (right) join the parade.
Cynthia Howard and her sister Reagan Howard of San Francisco had never seen a Falun Gong event before. They were attracted to the peacefulness of the exercises.
They planned to read more about Falun Gong and learn the exercises online.
Cynthia condemned the persecution in China and said she would sign an online petition to protest the atrocities.
"Everybody should have the freedom of belief," she said.
She and her sister further showed their support by joining in the parade.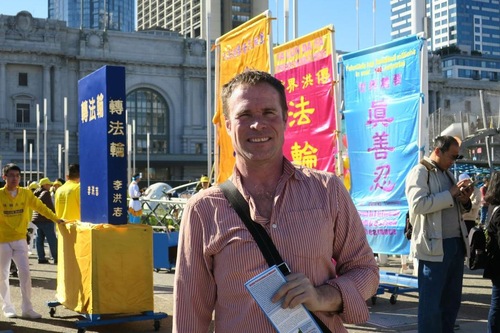 Local resident Joe Smith supports Falun Gong.
Local resident Joe Smith often sees Falun Gong events, and he was glad to see their celebration of the New Year.
"Truthfulness, Compassion, and Forbearance are universal values, which can bring peace and harmony to the world," Joe said. "Everybody should have freedom of belief, no matter where they are."
Nathalia, Simone, and Carol, tourists from Spain, took videos of the march.
"I've never seen such beautiful clothing," said Nathalia, referring to the traditional Chinese dresses worn by some of the women in the parade. "I learned that they are promoting traditional culture. This is very important," Nathalia said, "I learned something today."
Her friend Simone thanked the practitioners for their patient explanations.
"They told us what Falun Gong is, the persecution of this group in China, and the reasons why they try to restore traditional Chinese culture. This is great!"
"Falun Gong practitioners are promoting the universal values of Truthfulness-Compassion-Forbearance. I see in them a genuine happiness from the bottom of their hearts. It makes me happy, too. It's contagious! I cannot wait to learn more about Falun Gong," Nathalia said.