(Minghui.org) Home is where one is meant to feel safe from the tribulations of the world, surrounded by loved ones. But this was not the case for Falun Gong practitioner Liu Xianyong, a 38-year old resident of Faku County.
Why did this severely injured man have to escape from home and leave his almost 80-year-old mother behind? Here is his story.
Arrest
Mr. Liu and three other Falun Gong practitioners were arrested by officers from Sijiazi Police Station on November 12, 2017. Mr. Liu was handcuffed, shackled, and severely beaten in the police station when he refused to be fingerprinted or have his blood drawn. (It has been reported that blood samples are taken from practitioners to build a database for the state-sanctioned organ trade.)
The four practitioners were then taken to Shenyang No. 1 Detention Center. Mr. Liu went on a hunger strike for 18 days to protest his mistreatment. He became seriously ill but was never given medical attention. The detention center did not want to keep him.
The day of his arrest, officers from Faku County Tuanjie Police Station ransacked his home and took his computer, money, and other personal items. No family member was present. The police refused to provide a detailed list of the items they had confiscated.
The family's lawyer tried to file a criminal complaint against Faku County Police Department with the proper authorities, but it was not accepted.
House Arrest
Several officers from Faku County Police Department were stationed at Mr. Liu's home when he was released from the detention center on January 19. They set up video recorders to monitor him around the clock.
Mr. Liu was under house arrest. He was not allowed to leave his home, and no visitors were allowed except for his immediate family. On January 22, an elderly couple, both in their 80s, tried to visit Mr. Liu. They were pushed out, and the old man was kicked.
Escape from Home to Avoid Trial
When Mr. Liu was in the detention center, he was never treated for his injuries, and his case was turned over to the Faku County Court. A hearing was set for January 30.
Mr. Liu could no longer bear the physical and mental anguish. He escaped from his home on January 28 to avoid trial. His mother and relatives remained behind, fearful and worried.
Previous Torture
After Mr. Liu started practicing Falun Gong in July 1997, his herniated lumbar disc that had plagued him for years disappeared. He kicked all his bad habits, including gambling and drinking. He became a new person, calm and considerate.
After the persecution of Falun Gong began in July 1999, Mr. Liu was illegally detained in detention centers, brainwashing centers, and a forced labor camp for a total of four years. He has endured electric shocks, beatings, starvation, and verbal abuse.
In December 2002, several criminal inmates instigated by the labor camp forced Mr. Liu to sit in a meditation posture and tied his legs in place for almost two hours (as shown in the illustration). They then stepped on his legs to cause more pain.
His hands were tied together behind his back and to the bed rail. He was gagged with a dirty cloth that was sealed with tape to keep him from shouting from the pain.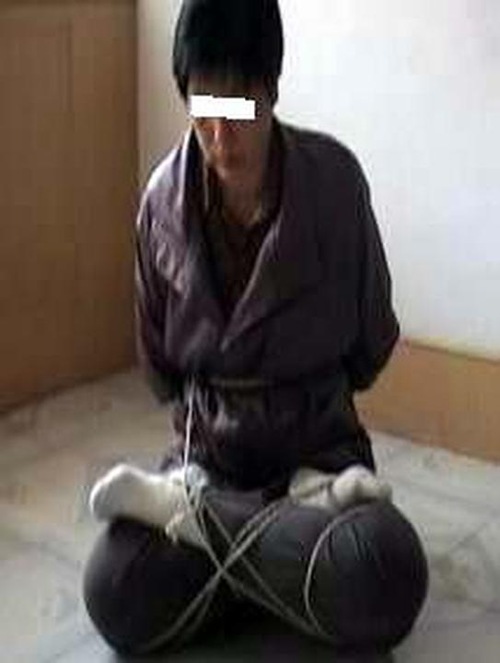 Torture Re-enactment: Tied up
On another occasion, when it was discovered that Mr. Liu had revealed information about his treatment, the inmates pressed down on his abdomen, kicked him in the ribs, and hit him with shoes until his mouth bled. He was only allowed to sleep for two hours a night.
In the winter of 2002, Mr. Liu and another practitioner went on hunger strikes to protest the persecution. They were taken to separate solitary cells and force-fed salt water. Mr. Liu coughed for many days thereafter.
Torture Re-Enactment: Force-feeding salt water
Family Tragedy
When Mr. Liu spoke out in Beijing against the persecution of Falun Gong, the authorities targeted his family members.
His sister-in-law had 4,415 yuan from the sale of grain confiscated from her. Her 4-year-old son was illegally taken away, and someone else had to bail him out.
His parents were petrified by three militiamen waiting by their door. Because of the shock, his father suffered a massive cerebral hemorrhage. He was paralyzed and bedridden for 10 years and died in 2010.