(Minghui.org) As Human Rights Day of December 10 approached, a forum took place at the Rayburn House Office Building on December 4 that highlighted the mistreatment that Falun Gong practitioners have suffered in China for their belief.
Several practitioners testified during the meeting in front of House members, non-government organization leaders, and human rights advocates. Officials from Europe and New Zealand also joined the online discussion.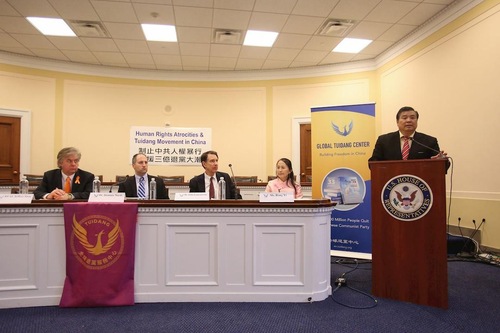 Forum at the Rayburn House Office Building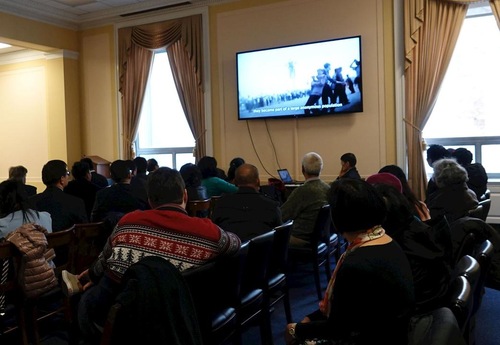 Documentary was played during the forum
Exposing the Brutality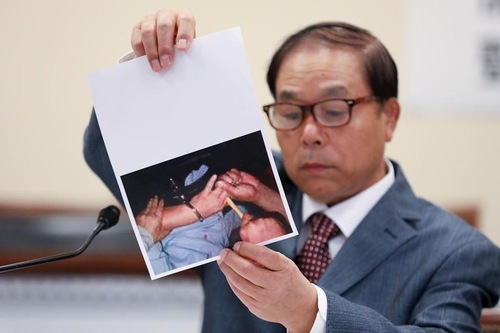 Liu Xitong, a renowned calligrapher, described the mistreatment he suffered for his belief
Liu Xitong, a renowned calligrapher from Shandong Province, was detained over 20 times after Falun Gong was suppressed in July 1999. This included three years of forced labor camp detention and four years of imprisonment.
"During detention, guards removed my clothes, poured salty water on my back, and scraped it with a plank," recalled Liu painfully. Not only that, guards also applied pepper water to his private parts, pricked his fingers and toes with needles, burned him with cigarettes and lighters, and rubbed pungent fluids on his eyelids. "One time inmates forced my mouth open and poured in two cups of poison, which caused a mental breakdown," he continued.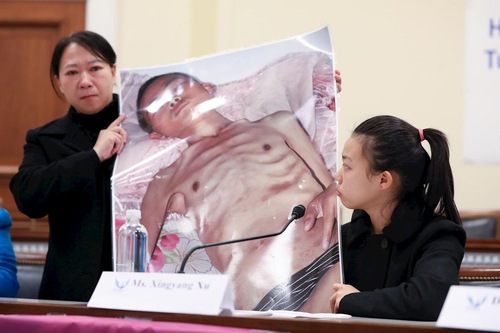 Xu Dawei, a resident of Liaoning Province, died in 2009 at the age of 33 as a result of torture. His wife and daughter testified during the meeting.
Xu Xinyang, 17, and her mother Chi Lihua, presented a photo of her father before his death. Xu Dawei, a practitioner from Liaoning Province, was detained for his belief in four prisons over eight years. He was emaciated and severely injured upon release, and died 13 days later.
"There are many orphans like me in China who are suffering as I did, but they are unable to come here to share their stories," explained Xinyang, "That is why I hope more people could step forward in supporting us to end this 19-year-long nightmare."
Ms. Yang Chunhua, also from Liaoning Province, has lost her father, mother, and elder sister through the years.
"My sister Yang Chunling was a translator. When she was arrested on October 13, 2005, she was engaged and getting ready for her wedding," said Ms. Yang, "However, guards ordered four violent inmates to beat her. They pushed her down and sat on her, punching her in her private parts and breasts." The bride-to-be had her right arm broken and also suffered other injuries.
Huang Zuwei, spokesperson for the Falun Dafa Association in Washington, D.C., said that at least 4,258 Falun Gong practitioners had lost their lives due to torture during police custody. In November 2018 alone, 31 practitioners were sentenced to imprisonment.
Members of the House: Courage and Hope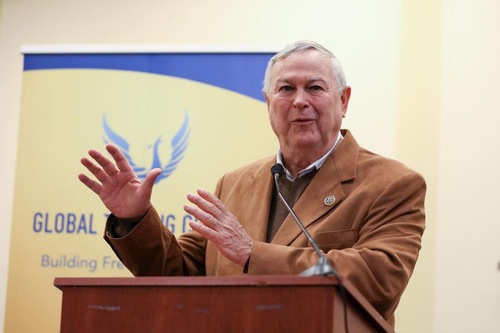 Representative Dana Rohrabacher said that communism harms society and is a threat to the world.
Representative Dana Rohrabacher said that he was inspired by the perseverance of the Falun Gong practitioners and that he could feel the practitioners' determination each time he joined one of their events.
The Communist Party has not only harmed people in China but also citizens around the globe, he added. That is why efforts made by Falun Gong practitioners would have a deep impact on the world, including people in the United States.
Steve King, another member of Congress, agreed. In a letter to the forum, he said that the severity of the human rights violations the practitioners have suffered for their belief is "absolutely unimaginable."
Representative Christopher Smith wrote in a statement that as chair of the congressional Global Human Rights Subcommittee, he was fully aware of the notorious human rights situation in China. In particular, the Communist Party has been forcing Falun Gong practitioners to renounce their belief through detention, torture, and killing during the past 19 years. He said that the U.S. government should not ignore this and the perpetrators should be held accountable.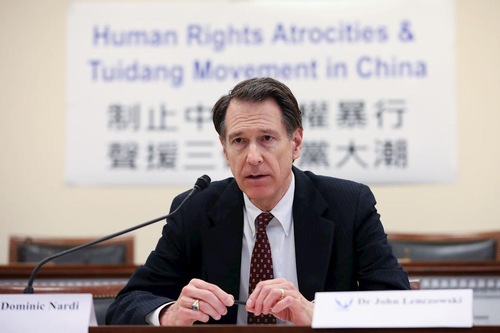 John Lenczowski from the Institute of World Politics said he admired the perseverance from Falun Gong practitioners.
John Lenczowski, founder and president of the Institute of World Politics, thanked the practitioners for their courage and persistence. He said the Communist Party had been covering up its illegitimacy through intimidation and ideological restriction. That is why more people should join the efforts to speak out against the regime.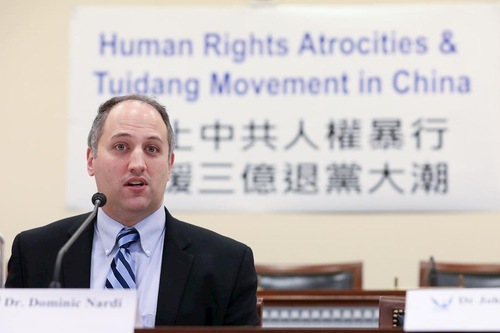 Policy analyst Dominic Nardi, from the U.S. Commission on International Religious Freedom (USCIRF), said the persecution against Falun Gong had been intensifying.
Dominic Nardi, policy analyst from the U.S. Commission on International Religious Freedom (USCIRF), said that suppression inside China had been intensifying in recent years, including that towards Falun Gong practitioners.
Bitter Winter, a multilingual magazine, recently published an internal document from the 610 Office of Liaoning Province, which confirmed the attack against Falun Gong had worsened since October. Nardi urged closer monitoring of this situation from the USCIRF and the Department of State so that the key personnel could be held responsible through legislation such as the Magnitsky Act. Passed in December 2012, this bill allows the U.S. government to sanction human rights offenders globally through freezing their assets and banning them from entering the U.S.
Quitting the Communist Party
Yi Rong, chairperson of the Global Quitting the Chinese Communist Party (CCP) movement, or Tuidang, said that over 320 million Chinese have announced the intent to separate themselves from CCP associations, which also includes its junior organizations such as the Youth League and the Young Pioneers.
Rohrabacher introduced House Resolution 932 in June to support this movement and call to end the persecution against Falun Gong. Smith said that the Tuidang movement applies to every Chinese and helps them to renounce the vows made to the CCP organizations.
Numerous European elected officials also wrote to the U.S. Congress. Tunne Kelam, Member of the European Parliament since 2004, said the suppression of Falun Gong is one of the worst human rights violations in the past 20 years and that the European Parliament supports practitioners' freedom of belief.
Edgar Lamm, chairman of the International Society for Human Rights at Frankfurt, Germany, acknowledged that Falun Gong is a peaceful spiritual group. It is the persecution from former communist leader Jiang Zemin and the communist party that deprived practitioners of their basic human rights.
Travor Loudon, an interviewee of the 2010 documentary Agenda: Grinding America Down, joined the online discussion from New Zealand. He said that the Chinese Communist Party today is essentially no different from the Nazi's in the 1930s, and it continues to cause harm to society.