(Minghui.org) The 2018 Falun Dafa Cultivation Experience Sharing Conference in Malaysia was held last Sunday in Bandaraya Johor Bahru.
On Saturday, the attendees met at the Hutan Bandar MPJBT Park to do the Dafa exercises as a group.
In addition to Malaysian practitioners, attendees came from Singapore, Indonesia, Taiwan, and Australia. Fourteen speakers shared their understandings of the Falun Dafa teachings and their experiences of cultivating in their daily lives.
Falun Dafa Changed a Young Practitioner
Nineteen-year-old Lam Fanghsien started to practice Falun Dafa in 2016. His father had introduced him to this cultivation practice, but he was too young to understand the preciousness of this opportunity at the time.
As he grew older, Lam often wondered about the true meaning of life. He discovered that one cannot control one's life, no matter how hard one tries.
He then thought of Falun Dafa and tried to find the answers in its main book, Zhuan Falun. To his amazement, he found the answers to many of his questions in the book. He also found great happiness after he began cultivating.
"I was a weird boy," he said. "I was crafty, arrogant, and competitive and fought for fame. I was very jealous and just could not accept it when somebody scored higher than me. I would make fun of that person. I was also judgmental, as I believed that criticizing others would make me look good. I looked down on those whose grades were not as high as mine. At home, I was rude and often yelled."
He continued, "This attitude was shameful. I learned from Falun Dafa why I needed to value virtue. One improves one's moral standard if one cultivates diligently."
He found that Dafa helps people improve their behavior. "The most obvious change in me was that I no longer cursed. People around me and I myself were surprised, especially since I no longer got into fights in school," he reflected.
"If it wasn't for Falun Dafa, I cannot imagine what kind of person I would be now," Lam added.
Experiencing the Power of Dafa
Mr. Fang Jinsheng, a doctor of Chinese medicine, has practiced Falun Dafa for nine years. A friend who visited him introduced him to Dafa and gave him a set of Dafa books and an exercise instruction DVD. He refused to accept the books and asked him to not bring them anymore.
Then, Mr. Fang took a trip to South Korea, where he injured his eyes due to the severe cold weather. Not only were his eyes swollen and painful, but his vision also got blurry. He bought glasses but still could not read.
His friend came, gave him the book Zhuan Falun, and told him that some practitioners improved their vision after they started practicing Dafa. Mr. Fang didn't believe it but decided to read the book. To his surprise, he could not put it down. It took him one day to read all of Zhuan Falun. His eyes felt a little tired. But the second day, he was able to read again without glasses.
Witnessing his remarkable recovery, he and his entire family started practicing Dafa.
"I want to tell everyone about the beauty of Falun Dafa," he said. "I will not pass up any opportunity to tell someone about Falun Dafa. It does not matter who they are, from members of the royal family to government officials, police, professors, and businessmen.
"I want to tell people what Falun Dafa really is and tell them not to believe the Chinese Communist Party's slanderous propaganda about Falun Dafa. Practitioners follow the principles of Truthfulness-Compassion-Forbearance."
Balancing Cultivation and Family
Ms. Chen Dehui started practicing in 2005 at the age of 17. The first time she read Zhuan Falun, she was certain that this was what she had been looking for.
Ms. Chen devoted herself to cultivation and told everyone she came across about Falun Dafa and the fact that it is being persecuted in China. However, she neglected to clarify the facts to her family. As a result, her husband developed negative feelings about Dafa. For many years, she blamed him instead of looking inward to find her own shortcomings.
Through studying the Dafa teachings, she recently realized that balancing cultivation and family affairs is not a trivial thing.
"That is very important for a practitioner," she said. "Many people are watching us. They learn what Falun Dafa is through our behavior."
Ms. Chen started to pay more attention to her husband and give suggestions for his business. When he criticized her, she still treated him kindly. She also often tries to find more time to visit her in-laws.
Her husband said one day, "I now believe that Falun Dafa is really good. Aren't you happy?"
Greetings to the Founder of Dafa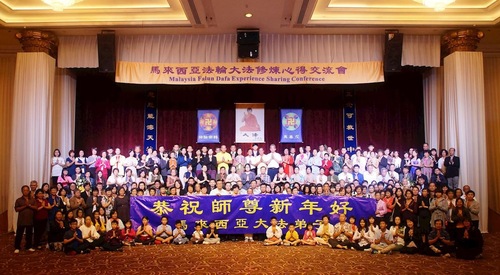 Group photo for a New Year's greeting to Master Li Hongzhi, the founder of Falun Dafa
At the end of the conference, the attendees took a group photo to send as a New Year's greeting to Master Li Hongzhi, the founder of Falun Dafa.