Still Reeling from Mother's Death in Custody, Woman Devastated to See Father Arrested Again after 12 Years of Imprisonment
November 29, 2018
|
By a Minghui correspondent in Jilin Province, China
(Minghui.org) A young woman in Changchun City was dealt another blow when her father was arrested again, on October 12, 2018, for practicing Falun Gong, a spiritual discipline that has been persecuted by the communist regime since 1999.
Ms. Zheng Xianchu was only four when her father was first targeted for his faith and sentenced to 12 years in prison on March 6, 2002. That day, her mother, also a Falun Gong practitioner, held her and waited outside the courthouse, as they were not allowed to attend the hearing.
Midway through the hearing, the police seized Ms. Zheng's mother. Local Falun Gong practitioners who were also prevented from entering the courthouse and waiting outside took the little girl in and later returned her to her grandparents.
Neither Ms. Zheng nor anyone else in her family ever saw her mother again. They learned from multiple sources that her mother died in custody just a month after her arrest. To this day, they've never been given any details on how she died or her final resting place.
Father's Lengthy Imprisonment and Latest Arrest
Ms. Zheng's father, Mr. Zheng Weidong, is a senior lecturer with the Jilin Electronic Information Technology School. According to her family, the police ransacked her father's home and confiscated his Falun Gong books, computer, and printer on the day of his latest arrest. After 15 days of administrative detention, the police put him under criminal detention in Changchun City No.3 Detention Center on October 27.
His case was submitted to the Nanguan District Procuratorate on November 23 and the procuratorate has 7 days to decide whether or not to approve his arrest and indict him.
Mr. Zheng's latest ordeal came only five years after he was released from incarceration for 12 years in Jilin Prison and Shiling Prison.
Because he refused to renounce his faith, he was tied to a bed in the spread-eagle position and beaten every day for three months. The guards also lifted his body while his limbs were still bound to the bed, in order to increase his suffering.
In 2009, he was infected with tuberculosis, but the guards still forced him to do hard labor despite his emaciated condition.
Mother Dies in Custody Within a Month of Arrest
Ms. Zheng's mother, Ms. Shen Jianli, was a math teacher at Jilin University. Her family never saw her again after she was arrested outside the courthouse while awaiting the results of her husband's trial on March 6, 2002.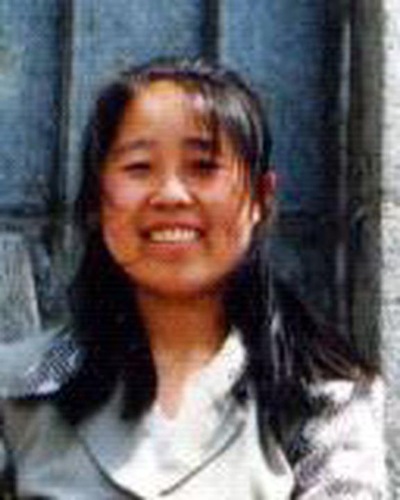 Ms. Shen Jianli
Ms. Zheng's paternal grandmother was so devastated by her mother's arrest and her father's heavy sentence that she passed away shortly afterward.
According to insiders, Ms. Shen was taken to Changchun No.3 Detention Center following her arrest, where she began a hunger strike to protest the persecution. The police took her away "to interrogate her" one day and she never returned to the detention center.
One police officer had a slip of the tongue in late April 2002 and revealed that Ms. Shen had already died.
Another officer said to a local practitioner who was looking for her. "I can't tell you where she is. If I did, I would be dead."
Ms. Shen's family learned from an insider a year later that she had indeed died in April 2002.
Ms. Shen was only 33 when she was arrested. When the crimes of forced organ harvesting using Falun Gong practitioners were exposed in 2006, her family suspected that she might have been a victim of this heinous practice.
Related reports:
Seven-year-old Zhen Xianchu Endures Hardship and Sorrow Because Her Mother, Shen Jianli, Was Tortured to Death in 2002
Shen Jianli, a Lecturer from Jilin University, is Tortured to Death, Her Family Members Also Suffer Greatly