Newark, California: A Meditation That Relaxes Mind and Body
October 25, 2018
|
By Minghui correspondent Wang Ying
(Minghui.org) Falun Dafa practitioners in the Bay Area held a public exercise workshop on Sunday, October 21, 2018, at the Newark Library.
The workshop was one of many that practitioners have held in the Tri-City Area, which includes Fremont, Newark, and Union City. Several participants came with family members or friends. Some of them were newcomers, while others had attended in the past and were returning with questions.
Fremont resident Bob Toegemann was a newcomer. He said he liked the meditation because it was easy to learn and did not take too much effort.
"Before coming to this workshop, my shoulder and arms were twisted and injured. After doing these exercises, I feel much better—very relaxed and comfortable," he said.
"I will download the book Zhuan Falun at home and read it," he said. "This is really good. I'll read the book and do the exercises every day."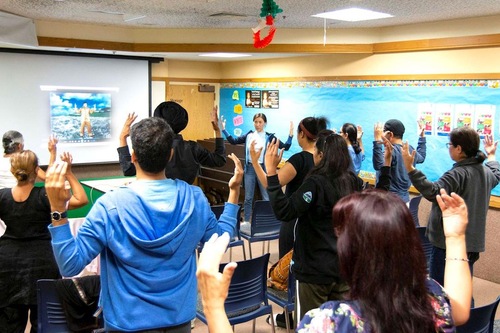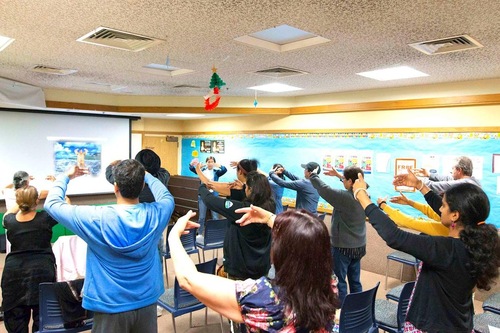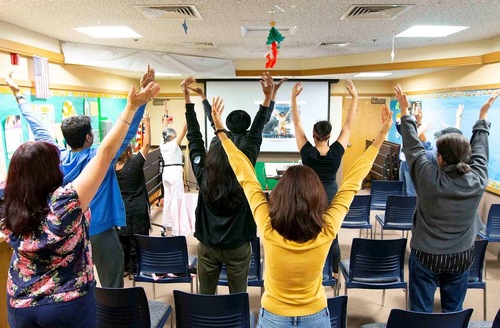 Learning the Falun Dafa exercises at the Newark Library in California on Sunday, October 21, 2018
Bob said his wife Lauren had encouraged him to attend the workshop with her.
Lauren emerged from the workshop with a smile on her face and said she felt relaxed and full of energy. "I am so happy—I hope this feeling stays with me," she said.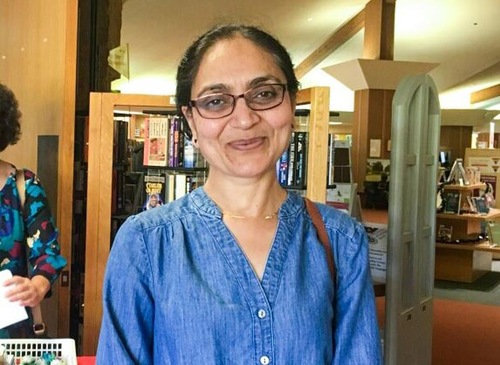 Sarog has attended the workshop several times and enjoys doing the exercises.
Sarog, who is originally from India, often went to meditate in a park near her home. After seeing Falun Dafa practitioners doing the exercises together in the park, she grew curious about the peaceful music and wanted to find out more. From attending workshops a few times recently, she has learned a lot. "I have to say this is very good and I really benefit from it," she said. She hoped more people would hear about the exercises and give them a try.
Bhanu is a software developer. From sitting in front of a computer day after day, her lower back started to hurt. After learning the exercises, she was surprised and happy to find her hands were very warm. While moving her hands downwards in front of her legs during the fourth exercise, she also noticed energy entering her body. "The pain in my lower back is much less. I will do all five exercises at home," she said.
Gurdial Singh agreed. He commented that life is full of frustrations and that the Falun Dafa exercises help to reduce stress. He planned to download information at home to study the exercises again so that he could do the exercises with the group in the park. He was impressed with how kind the practitioners he met at the workshop were. He felt like he had found a home away from home.
Due to interest from the audience, the two-hour workshop was extended to answer questions. Those who attended extended their sincere thanks to the practitioners for introducing such a good meditation system to the community.