South Korea: Newcomers Share Their Feelings at Falun Gong Workshop in Seoul
January 05, 2018
|
By a practitioner from South Korea
(Minghui.org) The Tianti Bookstore in Seoul, South Korea holds two free Falun Gong workshops every month. Many newcomers have learned this ancient Chinese self-improvement cultivation practice at the workshops. Some of them simply came in to have a cup of tea or coffee at the bookstore and learned about the workshop. Others obtained flyers describing Falun Gong on the street, and some saw a group exercise demonstration and wanted to learn the exercises.
Due to the warm response, the bookstore now holds two workshops, morning and afternoon, a total of four times per month.
The last session in 2017 ended on December 6. The newcomers shared their feelings after the workshop.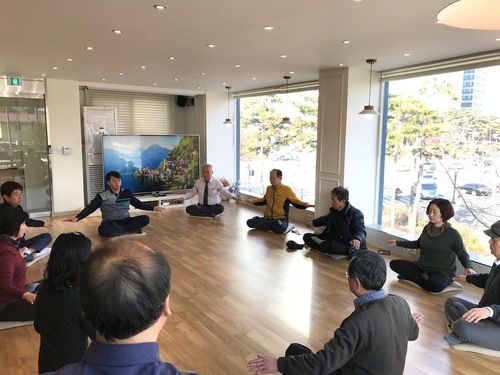 Newcomers learn the fifth exercise.
"I saw tall mountains, ancient buildings, and fairy ladies."
Mr. Cai Zhonglie injured his legs in an accident. He had been looking for a therapy and found Falun Gong. On the fifth day of the workshop, Mr. Cai had a body-purifying experience. He threw up severely during the exercises. After he returned home, he threw up even more. He first thought he had food poisoning, but his wife, who'd eaten the same food, had no symptoms.
Falun Gong practitioners at the workshop told Mr. Cai that his symptoms were a good thing. "It means that your body is being purified. It will end soon, and you will feel renewed," they said. And they were right. Mr. Cai indeed felt great after it was over.
On the ninth day, Mr. Cai saw a marvelous scene during the meditation exercise. "It was like an ancient Chinese painting," he said. "Fairy ladies were dancing around tall mountains. Although the scene was not particularly clear, I could see everything.
"Also, when I watched the video of Master Li Hongzhi's lecture, I saw an energy current flowing behind his back, and the energy field even came out of the TV screen. When I closed my eyes, I saw a giant Buddha statue." Mr. Cai was amazed.
"I will continue."
Mr. Kim Zhengyi found out about Falun Gong from a friend. The friend had diabetes for a long time and had always looked for a therapy. "Falun Gong healed him," Mr. Kim said. "All of his blood indexes are normal now."
"His experience brought me here," he said. "I listened to Master Li's lecture. Everything is great. I will continue."
"I felt like I was flying."
Seventy-year-old Mr. Jiang Haoyu has Parkinson's disease, diabetes, hypertension, and a back injury. All of his symptoms improved after he began practicing Falun Gong. He now no longer needs to take any medicine.
"One week after I started practicing, I felt that my diseased body was flying. I met Falun Gong practitioners on a mountain. I believe it was pre-arranged. I am so lucky," Mr. Jiang smiled.
Many other newcomers had similar feelings and said that they would continue practicing. Mr. Kim Luoyong said, "I've tried many therapies, and I feel that Falun Gong is the best."