France: Public Support of Falun Gong on La Reunion and Bordeaux
January 12, 2018
|
By a Falun Gong practitioner in France
(Minghui.org) Falun Gong practitioners in France introduced the practice on the island of La Reunion and in Bordeaux prior to the 2018 new year. People were receptive, and the mayor of Saint Denis specifically came to the Falun Gong booth to talk with practitioners and learn more about the practice and the persecution in China.
Introducing Falun Gong in Village Alternatiba Péi on La Reunion
Located in the Indian Ocean, La Reunion is one of the French overseas provinces. Falun Gong practitioners participated in the Village Alternatiba Péi at Trinité Park in Saint Denis to introduce the Falun Gong exercises and raise awareness of the persecution of the practice by the Chinese Communist Party (CCP) in China.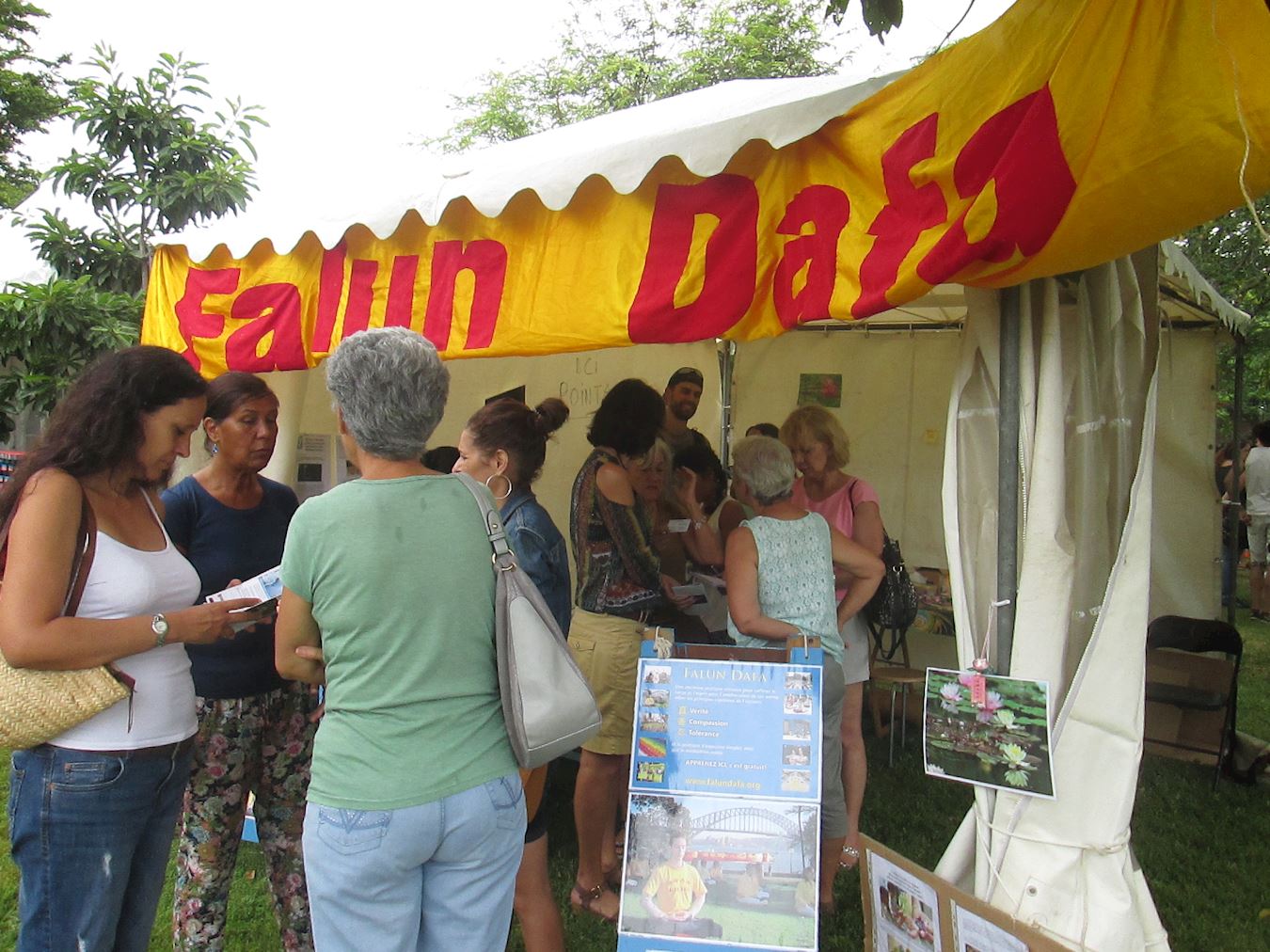 Introducing Falun Gong and raising awareness of the persecution in Village Alternatiba Péi at Saint Denis.
The Falun Gong booth attracted a large number of visitors throughout the weekend, and many people learned the Falun Gong exercises and signed a petition calling for an end to the CCP's state-sanctioned live organ harvesting atrocities. Some wrote and signed letters to their MPs, asking them to address the topic in the National Assembly.
Gilbert Anette, the mayor of Saint-Denis, also came to the Falun Gong booth. When he learned that Falun Gong practitioners in China are being persecuted for cultivating Truthfulness-Compassion-Forbearance, and even having their vital organs harvested when they were alive, he was shocked and asked for related information.
A man from England said he had lived in China. He knew that if one practiced Taichi or other qigongs in a park in China, there was no problem. But if one says that he practices Falun Gong, he is handcuffed and sent to prison. He would be at risk of losing his life.
One young man had learned about the Chinese regime's live organ harvesting atrocities for profit in China from a Falun Gong practitioner a few months ago. He did not sign a petition calling for its end at the time. When he met Falun Gong practitioners again this time, he said he had checked online and knew that the persecution and the forced organ harvesting were very cruel.
A young woman said she had practiced Falun Gong in Paris 15 years ago. This time she did the five sets of the exercises with the practitioners and said that she planned to resume her practice after returning to Paris.
A man who exhibited plants at the booth next to the Falun Gong booth said that he felt a pure energy emitted from practitioners who were demonstrating the Falun Gong exercises.
Public Support in Bordeaux
Bordeaux is a city in the southwest of France. It is home for famous wineries and is a source of red wine. On the occasion of International Human Rights Day on December 9, 2017, Falun Gong practitioners held an activity to introduce Falun Gong and clarify the facts at Human Rights Square. They also collected signatures on a petition calling for an end to the persecution.
A passerby signs a petition calling for an end to the persecution of Falun Gong in China at Human Rights Square in Bordeaux on December 9, 2017.
People were shocked by the horrific crimes of killing Falun Gong practitioners for their vital organs, sanctioned by the CCP. Many people signed a petition calling for an end to it.
A lawyer talked to a practitioner for a long time and agreed to take a whole set of materials about the live organ harvesting crimes in China. He said he hoped to share the information with more colleagues and people he knows.
Many Spanish tourists walked past Human Rights Square that day. Some were traveling in groups of 20 people. All of the members of some groups signed the petition. Other signatories included visitors from Scotland, New Caledonia, Madagascar, and La Reunion. They signed to express their support for Falun Gong practitioners.