(Minghui.org) On July 11, 2016, Jiangxi Falun Gong practitioner Mr. Huang Zhimin was arrested for his belief. He has since been sentenced to prison for the third time. Mr. Huang is currently incarcerated in Suzhou Prison. The terms of his sentence are still under investigation.
Mr. Huang started practicing Falun Gong (also known as Falun Dafa) in 1996 and was a Falun Gong assistant in Chongren County, Jiangxi Province. During the past 18 years since July 20, 1999, when the Jiang regime initiated the suppression of this traditional mind-body spiritual discipline, Mr. Huang has suffered severe persecution. He was arrested several times, sentenced to three-year prison terms twice, and suffered torture in Yuzhang and Nanchang prisons.
Mr. Huang, now in his 50s, was formerly employed at the Chongren County Housing Management Bureau, Fuzhou City, Jiangxi Province. He was fired from his job during the persecution and forced to leave town to make a living.
Third Sentence Breaks Apart a Happy Family
On July 11, 2016, Mr. Huang was arrested while working in Jiangsu Province. The police officers ransacked his apartment and confiscated many Falun Gong books and other materials.
The next day, local police officers ransacked Mr. Huang's apartment in a town in Chongren County.
On July 29 Mr. Huang's wife, Ms. Peng Lihua, also a practitioner, was arrested in Chongren County and later detained in the Fuzhou City Detention Center. Their relatives were extremely worried about the couple because they were not notified of any reason for the arrests.
Ms. Peng has since been released and returned home. Mr. Huang was sentenced to prison and incarcerated in Suzhou Prison, Jiangsu Province. The intense stress of this most recent arrest has taken a toll on Mr. Huang's wellbeing. He has lost a lot of hair, he is stooped, and appears weary.
Huang Zhimin's happy family has been torn apart as a result of the persecution. His wife has wept every day since her husband's arrest, and their son has been depressed as well.
Previous Imprisonments and Six Years of Torture
On the night of July 20, 1999, several police officers from the local Domestic Security Division of the Chongren County Police Bureau forcefully broke into Mr. Huang Zhimin's home and ransacked it.
They arrested Mr. Huang and detained him at a hotel, where they used the "carrot and stick" approach to pressure him to write a statement promising to give up the practice of Falun Gong. They intimidated him by saying they would restrict his freedom.
In November 1999, Mr. Huang went to Beijing to tell the government the facts about Falun Gong as well as his suffering at the hands of local authorities.
For this he was arrested again. By the end of November, police officers from his hometown took Mr. Huang back and detained him in Chongren County Detention Center. During this period, his wife Ms. Peng Lihua was also arrested and detained in the Jiangxi Province Women's Forced Labor Camp, where she suffered brutal brainwashing and persecution.
Torture illustration: Violent beating
In September 2000, Mr. Huang was sentenced to three years in prison and later incarcerated in Yuzhang Prison where he suffered excruciating mental and physical torture. Jail guards stripped him down to his underwear, then physically abused him and insulted him. Two police officers from the Education Section, surnamed Gong and Yang, instigated several cellmates to violently beat Mr. Huang. He was also suspended by his handcuffed wrists.
Huang Zhimin was released from Yuzhang Prison and returned home in 2002.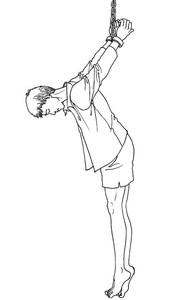 Torture illustration: Suspended by handcuffed arms.
Two years later, in November 2004, officers from the local Domestic Security Division of the Chongren County Police Bureau arrested Mr. Huang again.
The police used trumped-up evidence and pushed for prosecution. Officials from the procuratorate returned the forged documents several times and asked the police to submit more "evidence," attempting to build a stronger case.
Mr. Huang was sentenced to a three-year prison term a second time and incarcerated in Nanchang Prison.
Related Report:Mr. Huang Zhimin and Other Practitioners in Chongren County, Jiangxi Province Illegally Sentenced and Sent to Forced Labor Camps