300 Residents Petition for Release of Huludao Woman Arrested for Her Belief
September 11, 2017
|
By a Minghui correspondent in Liaoning Province, China
(Minghui.org) Police in Huludao arrested Ms. Zhang Guihuan twice this July for refusing to give up her practice of Falun Gong, a spiritual discipline that has been persecuted in China since 1999.
Ms. Zhang was arrested on July 14, 2017 at a market and released three days later on bail and awaiting trial. Two weeks later, on July 28, the police took her from her mother's apartment to Huludao Detention Center. Her case has been forwarded to the Xingcheng City Court, where she is scheduled to be tried on September 8. Ms. Zhang has met with the lawyer she hired on August 28.
Ms. Zhang is well-known for helping people in need. Over 300 of her relatives, neighbors, and acquaintances signed and fingerprinted a petition asking for her unconditional release.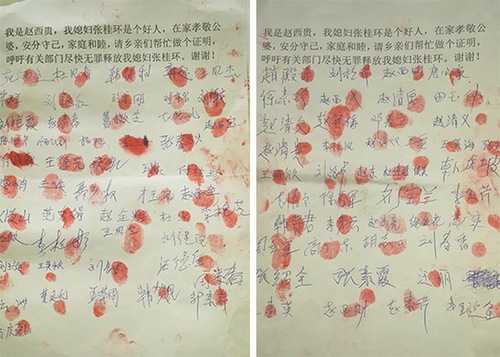 Petition signed by Ms. Zhang Guihuan's relatives, neighbors, and acquaintances seeking her unconditional release
Before she started to practice Falun Gong, Ms. Zhang had severe stomach problems. She had to take a lot of medicine and couldn't do much else. She was very ill-tempered and frequently fought with her husband.
After she took up Falun Gong in 2002, her stomach problems went away. She also stopped fighting with her family and began to take good care of them. She cleaned up after her mother-in-law when she was hospitalized without any complaint and cooked special food for her 89-year-old father-in-law, who told people that she treated him like his own daughter.