(Minghui.org) Falun Gong practitioners in Cologne and other cities in North Rhine-Westphalia held a rally and other activities in front of the Cologne Cathedral on August 25-27, 2017. The occasion was celebrating the 30th anniversary of setting up Beijing and Cologne as sister cities.
Practitioners Birgit and Ralf said:
"On the occasion of the celebration of the 30th anniversary of Cologne and Beijing being sister cities, we remind everyone that we should not forget that a serious human rights persecution is still going on in China."
"In Beijing alone, 117 Falun Gong practitioners have died as a result of the persecution. 187 practitioners were arrested and detained in the first half of 2017 for their belief in Falun Gong."
Falun Gong is an ancient spiritual practice whose adherents follow the principles of Truthfulness-Compassion-Forbearance.
The Chinese communist regime launched a persecution campaign against the practice and its practitioners in 1999. At least 4,126 practitioners have died as a result of the persecution to date, according to the Minghui website.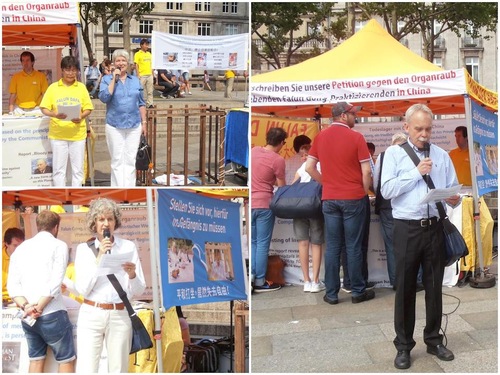 Rally in front of the Cologne Cathedral: Rally hosts Ms. Schaefer and Ms. Xu Hui (upper left); Ms. Birgit speaks (lower left); Mr. Ralf speaks (right)
Ms. Shaefer, the host of the rally, called upon passersby to pay attention to Falun Gong and the persecution, and sign the petition to support practitioners' efforts to end the persecution.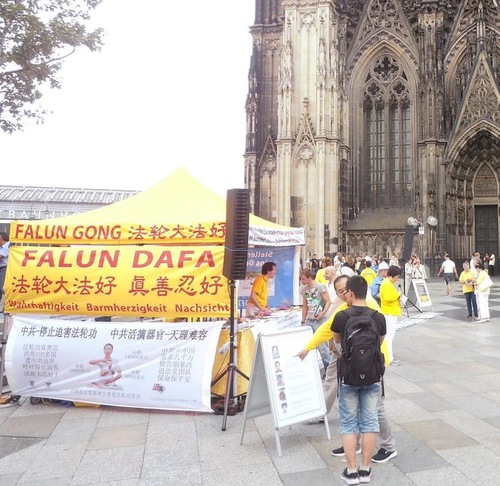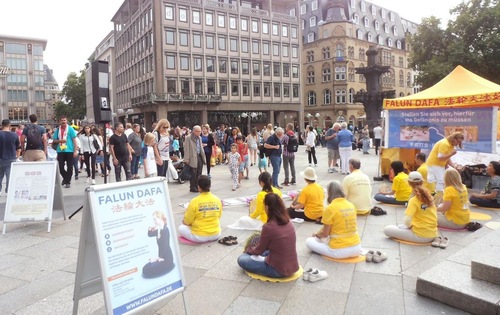 Many people stop to learn about Falun Gong and the persecution.
Three Practitioners Recount Their Experience of Being Persecuted in China
Three practitioners from China who now live in North Rhine-Westphalia spoke at the rally. They were arrested, detained, and subjected to forced labor for their belief in Falun Gong, while living in China.
Ms. Xu Hui was once hung on a metal bed frame for more than two months. She was not released until she was near death. Her wrists and arms are still disabled.
Ms. Liu Wei was given a physical examination five times during her 16 months in the forced labor camp. The camp staff drew blood and took X-rays of her internal organs, none of which was considered a routine labor camp examination. She did not know the reason for this until the live organ harvesting atrocities were exposed.
Ms. Xiong Wei was deprived of sleep for two consecutive weeks, and forced into hard labor for more than 12 hours daily. She was held in a dark cell and underwent forced brainwashing sessions, among other tortures.
The three practitioners called upon governments, organizations, and individuals worldwide to support Falun Gong and its principles of Truthfulness-Compassion-Forbearance. They asked to help stop the brutal persecution and bring the main perpetrators in the persecution to justice.
"I'm Very Willing to Support You"
Five university students were on a sightseeing tour in Cologne. One young man, named Valting, noticed practitioners doing the Falun Gong sitting meditation, and immediately sat down among them.
All five students listened to a practitioner explaining the persecution of Falun Gong in China, and they signed the petition. Valting said, "It's a good thing to safeguard human rights. I'm very willing to support (you)."
University student Valting sits among Falun Gong practitioners meditating.
Mr. Ghana Madalin, who works as craftsman and foreman in a luxury car factory, was on a sightseeing tour in Cologne with his wife and daughter. After reading the display boards, he said that his entire family was shocked to hear that organs are harvested from living practitioners, and that this actually happens in our so-called civilized society. He and his wife both signed the petition and said, "We support you."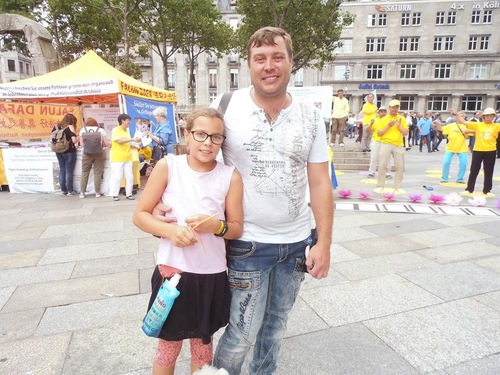 Mr. Ghana Madalin and his daughter.
Mossomiah, a student from Italy, who studies music in Düsseldorf, was sightseeing in Cologne with his girlfriend Michelle. After listening to the practitioners talking about their experiences of being persecuted, and reading the display boards, he said, "This (persecution) is inhumane!" His girlfriend added, "It's genocide." He continued, "There is so much going on in the world, yet high-level politicians pay little attention to human rights, and it is hard to learn the facts." Both signed the petition and thanked practitioners for informing them of the facts.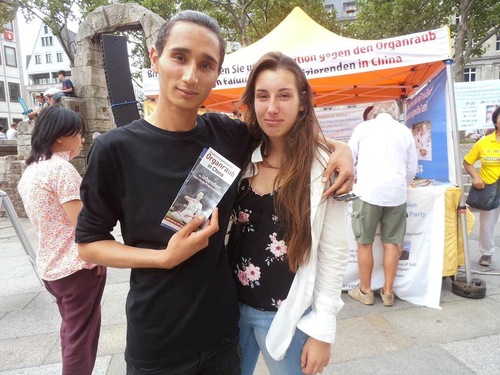 Mossomiah and his girlfriend Michelle.
Signing the Falun Gong Petition
As the summer vacation was not over, and an international expo was being held in Cologne, many tourists came to see the Cathedral. Many people could be seen at the signature table waiting to sign the petition.
Ms. Gable, a counselor, said that Falun Gong practitioners were being persecuted, and even the organs of living practitioners were harvested. "The world's people should be highly concerned about this issue," she said. "I think that it is an act of kindness for people to support human rights."
At three o'clock in the afternoon, two German activists who were also journalists with the "Europe and China Herald" came to the rally to talk to practitioners. They recorded a video interview of the event. Cologne's local newspaper reporter also took photos.
Many Chinese tourists walked by the rally, and many stood in front of the cathedral quietly watching the rally activities. This weekend the practitioners persuaded 26 Chinese people to withdraw from the Communist Party and its youth organizations.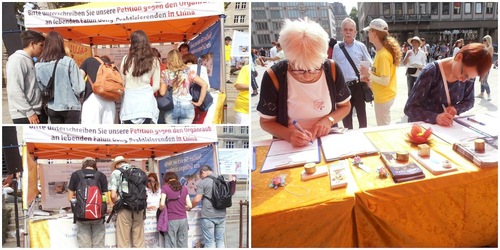 People signing the petition in support of Falun Gong.