"Experience Truthfulness-Compassion-Forbearance" Summer Camp Held in Taiwan
August 27, 2017
|
By Huang Yusheng, Minghui correspondent in Taiwan
(Minghui.org) Falun Gong practitioners in Southern Taiwan University of Science and Technology held their annual "Experience Truthfulness-Compassion-Forbearance" Summer Camp from August 3 to August 6, 2017. More than 100 young people, 15 years old and above, participated in the summer camp, and were given a chance to de-stress and refresh through various camp activities.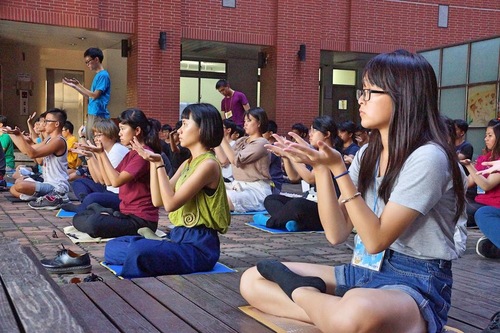 Summer camp participants experience Falun Gong exercises.
Young adults in today's society are often lost and exhausted by school work, emotional stress, and career development. This summer camp offers well-designed activities and games for young people to learn effective ways of getting along with each other, making choices for the future, and maintaining inner peace.
Camp participants watched the video lecture series given by the founder of Falun Dafa, Mr. Li Hongzhi. Several professionals also shared with the young group about how they cultivated themselves and followed Truthfulness, Compassion, and Forbearance amidst fast-paced and competitive environments.
"I'm fortunate to have come to this camp. I found the true wish in my heart, and gained a sense of direction and purpose," said Pan, a camp participant who served as public relations representative for her peers. She said the content and significance of all activities had been woven together to give camp participants an unforgettable experience.
Camp participants found the Falun Gong practitioners leading the camp to be warm-hearted and compassionate. Some said they felt that they had come to a haven of peace and that the atmosphere of the camp made them feel calm and free of bad thoughts. Some people said the organizers of this summer camp are like divine beings, who inspired the young people's hidden compassion. They had learned a lot of principles of life from the camp, and wanted to come back next year.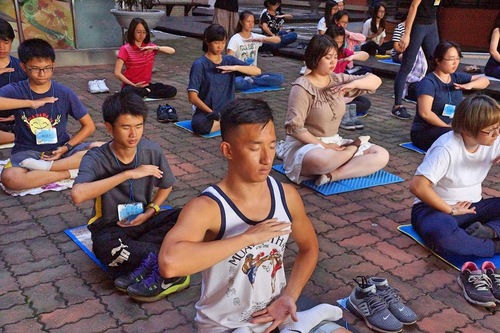 Summer camp participants do Falun Gong meditation.
Other activities during the camp included a play put on by camp participants and a documentary screening.
The documentary screening and discussion inspired young people's sense of safeguarding justice and human rights. They showed the award-winning film, Human Harvest, which exposes the Chinese Communist Party's crime of harvesting organs from living Falun Gong practitioners. Scholars and experts were invited to hold a discussion on this important issue.
The play that camp organizers wrote for the participants to perform encouraged the young men and women to explore the essence of traditional Chinese culture and reflect upon the meaning of life.