South Korea: Falun Dafa Seminar Participants See Positive Changes
August 10, 2017
|
By a Falun Dafa practitioner in South Korea
(Minghui.org) "On the first day of the nine-day classes, I experienced so much energy. My head became very clear and my stomach pain was gone," said Ms. Jin Jingxiu, who attended the 26th monthly nine-day Falun Dafa seminar in South Korea in June.
Many others who attended the seminar reported positive results as well. The following are some of their stories.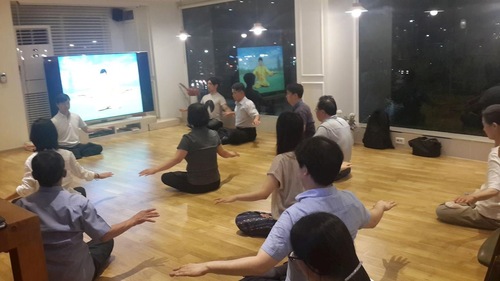 Participants at the 26th Falun Dafa Nine Day Classes mediate together.
Finding Peace of Mind
Mr. Zheng Shuofan has always dedicated himself in finding mental health and inner peace. After the nine-day seminar, he found himself much more peaceful within. When he did the exercises, he felt that there was an invisible force guiding his arms.
Dementia Cured
An elderly man used to suffer severe dementia and other health problems. In March of this year, he suddenly remembered that there were people practicing Falun Gong near his home and joined them. "I used to worry that my memory was getting worse. It turned out that I had severe dementia," he said. "A month into the practice, the symptoms of dementia lessened. Another month passed I had no sign of dementia. My doctor was shocked and asked me what caused this miracle."
New Perspective
Mr. Zhao Tinghao went on a business trip when a poster of Shen Yun Performing Arts caught his eye. He went to see the show, which gave him a new perspective on Falun Gong. He used to have misconceptions about the practice and had never talked to the practitioners in his neighborhood. After the show, he decided to attend the nine-day seminar.
"Thanks to Shen Yun, I got to see the real Falun Gong," said Mr. Zhao. As he improved his state of mind, his health improved as well. His eyesight improved so much that he no longer needed glasses.
Insomnia Gone
Mr. Jin Bingxian used to drink a lot and his health suffered. "I felt tranquil when I did the exercises. My insomnia went away thanks to the practice. With better sleep, I no longer get migraines," he said.
Whole Body Relaxes
Ms. Jin Huaci's friends introduced her to Falun Gong. She did the exercises twice a week and each time she felt complete relaxation. "I persisted in the meditation for a full hour each time. My health improved very quickly," she said.
Leg Pain Disappears
Mr. Li Daiwu suffered intense pain in his knees a few months ago. The doctor told him that he had severe varicose veins and gave him a list of drugs to take. A friend of his suggested that he try Falun Gong.
"I really didn't want to have to take all those pills every day. The pain was killing me, so I decided to attend the classes," said Mr. Li. Now his leg pain is gone and he can sleep through the night.
Starting the Day with Zhuan Falun
Ms. Zhang Meishu saw the practitioners meditate one day and felt drawn to the peaceful energy. She decided to join the classes. "I went to a big bookstore trying to find the book Zhuan Falun and it wasn't there. I knew that it wasn't an ordinary book. I later found it in Tianti Books," she said. She said that she feels compelled to read Zhuan Falun as soon as she wakes up in the morning.