Falun Gong Practitioners in Vancouver Perform in Canada Day Celebrations
July 05, 2017
|
By Minghui correspondence Zhang Ran
(Minghui.org) Falun Gong practitioners from the Vancouver area participated in two Canada Day celebrations–the Salmon Festival parade in Richmond on July 1 and the Canada Day parade in downtown Vancouver on July 2.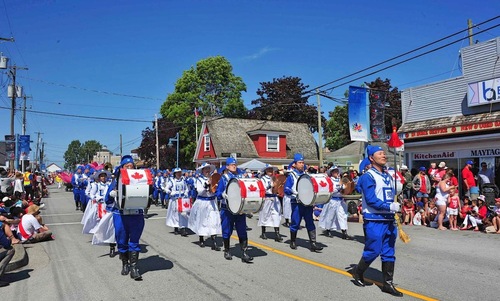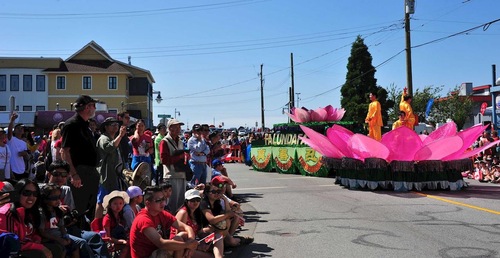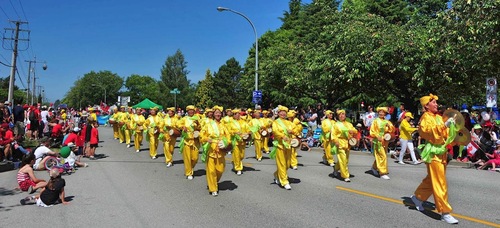 Falun Gong practitioners in the two Canada Day parades
The practitioners' performances included the Tian Guo Marching Band, a lotus flower float, waist drummers, and a demonstration of the slow, gentle Falun Gong exercises.
Jeff Wock from Richmond said he liked today's parade for its multiculturalism, which made him proud of Canada. He said he knows about Falun Gong very well, having seen practitioners at past public events.
"This is a free country. People can freely practice their belief. Falun Gong practitioners can enjoy the freedom here. We are all Canadians," Jeff said.
Steve Carter, an air force officer, said he also liked the Falun Gong performances. "They [Falun Gong practitioners] come to the parade every year," Steve said. "They are part of Canada."
Bob Carwen was also happy to see the Chinese culture displayed by the Falun Gong group. "They are part of our community. I thank them for the joy they brought through the performances."
A few Chinese tourists expressed surprise to see Falun Gong practitioners in public activities, as practitioners in China face arrest and imprisonment for refusing to renounce their faith.
"So many people practice Falun Gong here!" one lady shouted. She called her friends who were shopping in a store to come out and see the practitioners' performances.
Another Chinese gentleman recorded video of the entire Falun Gong group and then did the same from the opposite side of the street. "This is a must-see. I will show this to my friends in China," he said.
An elderly Chinese couple took many photos of practitioners. The husband said, "I could not imagine there are so many Falun Gong." His wife echoed, "It is impossible to see in China. They have freedom here!" The couple said they would take some Falun Gong flyers back to China for their friends.