(Minghui.org) Zhang Dejiang, currently serving as a member of the Standing Committee of the Chinese Communist Party (CCP) and chairman of the Standing Committee of the National People's Congress, was formerly the Party secretary of Zhejiang Province (1998-2002), Guangdong Province (2002-2012), and Chongqing. He played a significant role in leading the Communist Party's suppression of Falun Gong in these areas, and has been listed as one of the human rights scoundrels.
His visit to Poland on July 12-16, 2017 met with strong protest from Falun Gong practitioners in the country. He could see practitioners holding banners wherever he went. The banners read, "Falun Dafa Is Good," "Bring Jiang Zemin to Justice," "Stop the Persecution of Falun Gong," and "Stop Forced Organ Harvesting in China," etc.
Dared Not Take Big Road to Avoid Encountering Falun Gong Practitioners

Falun Gong practitioners hold banners at the exit to Warsaw Military Airport.
The Warsaw military airport exit has been the primary exit for visiting state leaders after they landed in Poland. Falun Gong practitioners quietly stood with banners opposite the airport exit at 7:30 p.m. on July 12. They wanted Zhang to see the voice of justice as soon as he landed in Poland.
While waiting, a group of Chinese people from the Chinese commodity mall in Warsaw tried to block practitioners' banners. Practitioners remained unmoved and told them how Zhang has been heavily involved in the persecution of Falun Gong.
At this time, the siren inside the airport was heard. Police cars passed by, but no cars from Zhang Dejiang's group appeared. Zhang must have seen many banners "Bring Zhang Dejiang to Justice" at his previous stop--Portugal and was afraid of seeing the same banners in Poland, and decided to take a different route.
Clarifying the Facts to Overseas Chinese Students Who Were Paid to Welcome Zhang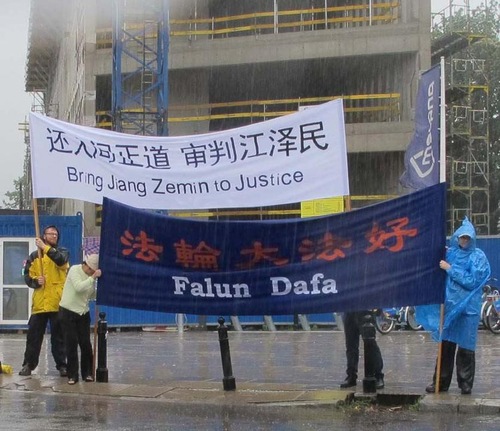 Outside Warsaw Parliament Building, Zhang Dejiang's motorcade slowly passed by the banners.
The morning of the second day of Zhang's visit was rainy and windy. Falun Gong practitioners held a banner reading "Falun Dafa Is Good" and "Bring Jiang Zemin to Justice" outside the Warsaw Parliament Building.
The Chinese Embassy organized a group of students other than those business people from Chinese commodity mall to surround the Falun Gong practitioners. One student told a practitioner that they got paid, and asked if the practitioners also got paid. The practitioner told him, "We stand here out of our conscience and belief, but not for money. Weather can't stop us from expressing our appeal for justice. Falun Gong practitioners have never received money from anyone. That is a CCP lie. Please don't believe it."
The Polish police restricted those who attempted to cause trouble for Falun Gong practitioners to the other side, about 20 meters away from the practitioners' location. When Zhang's motorcade drove near to the Parliament Building, they slowed down at the junction, only half a meter away from where Falun Gong practitioners were standing. Zhang and his group must have seen the message on the practitioners' banners.
Falun Gong practitioners hold banners outside the Regent Hotel, where Polish and Chinese officials met.
On the afternoon of the same day, Falun Gong practitioners held banners opposite the main entrance of the Regent Hotel, where Polish officials and Zhang's group would meet.
Polish House Speaker Markiem Kuchcińskim, Government Plenipotentiary Mikoaj Wild, and other officials and representatives could see the Falun Gong banners when they went into and came out of the hotel. Some Chinese officials took photos of the banners.
Listening to Broadcast of Falun Gong Information
Falun Gong practitioners once again held banners facing the Presidential Palace on Sunday, July 16, the last day of Zhang's visit.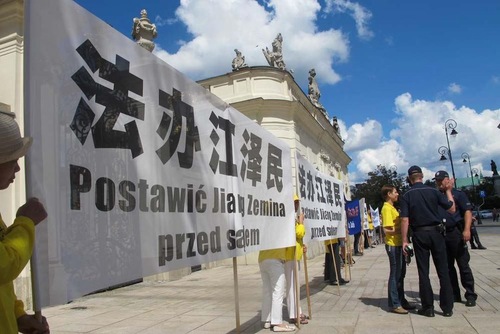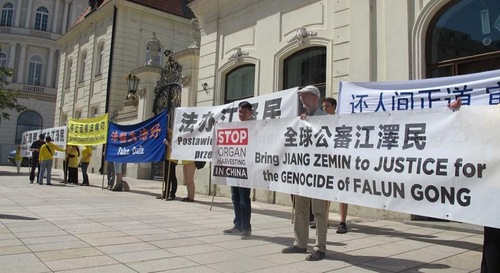 Practitioners hold banners outside Warsaw Presidential Palace.
Once again 33 Chinese people tried to block the Falun Gong banners with their flags. Practitioners continuously broadcast truth clarification programs by Minghui Radio, including topics about the staged self-immolation on Tiananmen Square, more than 10,000 Falun Gong practitioners' peaceful appeal in Beijing in 1999, why 270 million Chinese people quit the CCP and its youth organizations, the CCP's state-sanctioned killing of Falun Gong practitioners for their organs, Falun Gong being embraced by people in more than 100 countries, quitting the Party for one's safety, etc.
During more than an hour of broadcasting, many people quietly listened, some recorded the broadcast with their cellphones, and some turned around to smile at the practitioners. A few who intended to interfere with the broadcasting played songs praising the CCP from time to time, but stopped due to few people joining their effort. They also listened to the Minghui broadcast.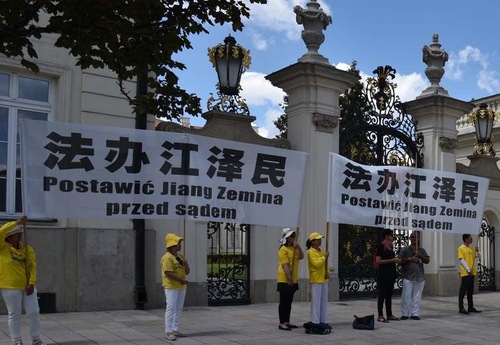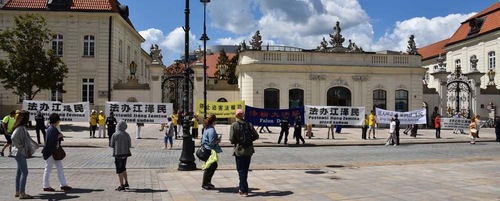 Outside the Presidential Palace.
Chinese Embassy Stops a Polish Media Reporter from Video Recording
Outside the Presidential Palace, a private media reporter began videotaping, to add some images of the Chinese people on his company's website. He also recorded those who tried to block Falun Gong banners. A few people who were manipulated by the Chinese Embassy staff jumped in front of his video camera and blocked it with red flags to prevent him from recording them.
The polish reporter was shocked and outraged by these unlawful deeds, and immediately lifted his video camera and approached the Falun Gong practitioners to videotape the banners and listen to practitioners tell him about the practice.
He then gave his business card to a practitioner, and said that he was a photographer, and often catches news on the streets, but he had never encountered anything like he did today. He told the practitioner that a certain Chinese Embassy officer told those people to block the Falun Gong banners with flags.
A Falun Gong practitioner talks to a passerby about Falun Gong outside the Presidential Palace.