(Minghui.org) Falun Gong practitioners in Romania staged a peaceful gathering in front of the Parliament Building to protest high-ranking Chinese official Liu Yunshan's visit on July 13-15, 2017.
As a member of the Politburo Standing Committee of the Chinese Communist Party (CCP) and former director of the Party's Propaganda Department, Liu has been deeply involved in the persecution of Falun Gong in China. He has directed the state-run media to slander and incite hatred towards Falun Gong. In his role within the notorious 610 Office, Liu was in charge of developing propaganda against Falun Gong.
Romanian Falun Gong practitioners held banners emblazoned with "Falun Dafa is good" and "Bring Liu Yunshan to justice" as Liu's motorcade entered and left the parliament building.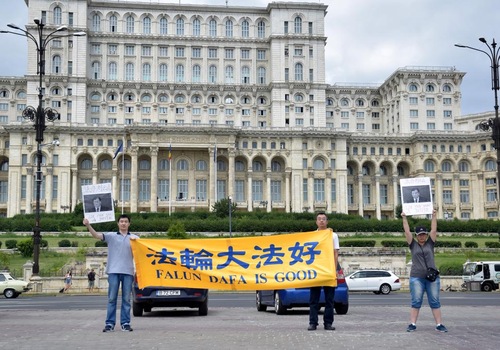 Falun Gong protest in front the Romanian Parliament Building.
Practitioners also sent an open letter to Romanian Prime Minister Mihai Tudose, in which they reviewed the facts of the persecution and the role that Liu has played in driving the suppression. In the letter, they reminded the Prime Minister to pay attention to these issues in his meetings with Liu.
Several Romanian media published the open letter.