South Korea: Falun Gong Seminar Participants Share Feedback
June 07, 2017
|
By a Falun Gong practitioner from South Korea
(Minghui.org) The 24th Falun Dafa nine-day seminar offered by the Tianti Bookstore in Seoul was held last month. At the end of the seminar, attendees talked about what they learned and experienced.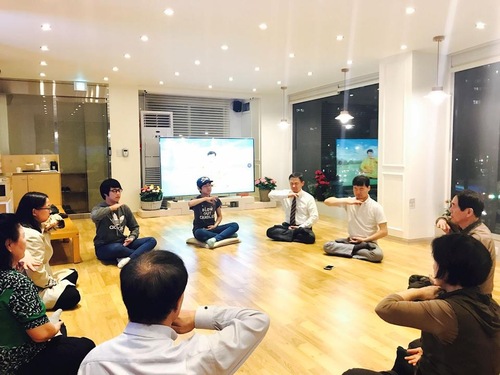 Learning the meditation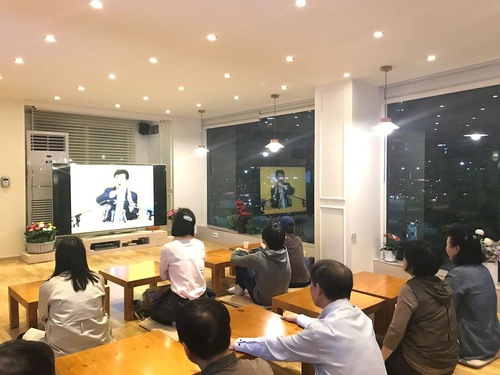 Listening to the lectures of Master Li Hongzhi (the founder of Falun Gong)
Harmony in My Heart and My Family
Ms. Wu Meiting, 50, has periarthritis. Her brother practices Falun Gong and encouraged her to attend the seminar. She read some Falun Gong books before the seminar, which she said helped her better understand the video lecture series.
"My biggest gain from the class is a peaceful heart," she said. "I often have fights with my husband. However, Master Li said in the lecture that you will lose virtue if you quarrel with others. So, I started to try to let go of anger, and try to forbear. I have already become more patient with my kids, and my family life is happier."
Although it was only nine days, she felt the shoulder pain had begun to heal.
"The shoulder pain was a big thing in my life, but now it doesn't bother me much," Ms. Wu said. "I believe it is because my heart has changed that I have less pain."
She believes that the pain will be completely healed if she continues practicing Falun Dafa.
Three Generations Take Up Falun Gong
Ms. Kim Mingxi, 60, learned about Falun Gong from her daughter at a family party, who just went to a previous nine-day seminar, and was amazed by the teachings of Falun Gong.
Ms. Kim read the Falun Gong book every day after the lecture during the seminar. "Although I cannot completely understand everything, I love reading the books."
Ms. Kim injured her legs in a car accident a few years ago, and had several surgeries. But she tried her best to sit in the double-lotus position for the sitting meditation, and amazingly she succeeded. Moreover, Ms. Kim felt energy going through her arms and hands during the meditation on the third day of the seminar.
These experiences encouraged her to continue practicing.
Ms. Kim brought her teenage grandsons to the seminar. The boys and their mother now do the exercises together every day.
Third Time's a Charm
Seventy-year old Mr. Piao Pushan has run into practitioners before in a local park. He even learned the exercises with them. But later, he relocated, and forgot about the practice.
A few days before the seminar, Mr. Piao ran into an elderly woman at the senior center, who practices Falun Gong.
"The woman is in her seventies, but she looks very young," Mr. Piao said, "She told me more about Falun Gong, and gave me a Falun Gong exercise music CD."
"Coincidentally," a friend of Mr. Piao's saw an advertisement for the seminar by the Tianti Bookstore, and told him about it over the phone.
As all signs seemed to point to Falun Gong, Mr. Piao decided to attend the seminar. During the nine days, he learned a lot about cultivation and became eager to put it into practice. He also decided to learn Chinese so that one day he can read the original books of Falun Gong.