(Minghui.org) Our great and compassionate Master had personally held a total of 13 Falun Dafa classes in Beijing to spread Falun Dafa (also known as Falun Gong) and teach the accompanying five sets of exercises to 13, 400 people between 1992 and 1994. Master Li had also led a number of His disciples to participate in the Beijing Oriental Health Expo in 1992 and 1993 respectively and had conducted multiple seminars.
Beijing practitioners were growing exponentially and practice sites from the city all the way to remote villages sprouted like new shoots after spring rains. The Falun Dafa Research Society had also held three larger-scale international Fa conferences in Beijing.
Let's reminisce about the grand occasion of the first Falun Dafa International Experience Exchange Conference held in Beijing in 1996 from October 29 to November 2.
Before Master started spreading Dafa overseas in 1995, Master had requested the Falun Dafa Research Society and Beijing's Assistant Headquarters that they must share cultivation experiences with overseas practitioners who come to Beijing, because practitioners in China were the first ones to obtain Dafa. During the latter half of 1995 and the first half of 1996, visiting overseas practitioners to Beijing had been welcomed with small-scale experience sharing activities.
In 1996, when more than 100 overseas practitioners from 14 countries and regions, that included Sweden, France, Germany, the United States, Canada, Thailand, Singapore, Taiwan, and Hong Kong, descended on Beijing, an international Experience Exchange Conference was being arranged and held.
Overseas practitioners on the first day, began small group experience exchanges with practitioners from Beijing in their hotels where they were staying for the duration.
Experience Exchange Activities
Overseas practitioners, most of them from Taiwan and Sweden, stayed in various hotels located in Dongcheng on the east side of Beijing, or Xicheng on the west side, and the Chongwen district.
Practitioners from France and Sweden on October 29, 1996, suggested that Taiwan practitioners host experience sharing sessions for practitioners from all 14 countries and regions in the meeting room on the fourth floor of the Overseas Chinese Restaurant located within the hotel in the eastern suburb of Beijing where the Taiwan delegation was staying.
Practitioners spoke from their hearts about their personal cultivation experiences and enlightenment. Master's mother and younger sister were in attendance.
Among the speakers were scholars and professors who gave testimonies from diverse angles to the extraordinary nature of Falun Dafa based on their varied medical and scientific research backgrounds and perspectives. They shared how, by cultivating their hearts and minds, they had their health improve and their xinxing elevated.
They also emphasized that cultivation and practice must go hand in hand to effect elimination of karma and get to the root causes of sicknesses. In a word, cultivation practice must be genuine and solid.
The priceless experience sharing effectively set the stage for many high level intellectuals in Taiwan to enter into Falun Gong practice in later years.
About 400 practitioners drove to the Jietai Temple in the western suburb of Beijing at 6:00 a.m. on October 30, 1996 to do group exercises. Master had been to Jietai Temple and had the venue cleansed. Practitioners with their celestial eye open related how, when they entered the temple, they could see Master's fashen coming out from the Tathagata statue to welcome His disciples with smiles written all over His face. It was a bit chilly, but the air was fresh and the scenery beautiful. After the two-hour exercises, everybody felt energized and warm. Multi-colored Falun of varying sizes were observed rotating everywhere.
After the exercises, we all separated into small groups and sat around on the lawn for experience sharing.
A 50-year-old female practitioner talked about how she had been riddled with all kinds of illnesses before practicing Falun Gong, and despite staying in the hospital for half a year, nobody could figure out what was wrong with her. Still, doctors declared her inoperable and sent her home. She consulted with a Chinese doctor who diagnosed her with a case of bad kidneys. She felt hopeless, believing her life was over. Then, she heard Master Li's Falun Gong worked wonders. So, with her last trace of hope she attended an instruction class in Beijing. Miracles happened in just a short few days. All her sickness symptoms disappeared and, to her absolute amazement, she recovered rapidly. Looking at her ruddy complexion and healthy physique, it was impossible to imagine that she was once on the brink of death.
Another female practitioner of more than 50 years of age related how she was uneducated since she had only attended one year of elementary school, but she tried hard to study the Fa and learn the words. So, every day she insisted on reading Zhuan Falun for three hours on her knees. Slowly, she learned to read every word she didn't know. She also copied the Fa to learn even more Fa. She was born with very severe bowlegs, making it difficult for her to walk normally. With Falun Gong practice, her legs gradually straightened without her even realizing it. Now, she could walk with ease and lightness. She had only been practicing for a little over a year and had already been enjoying such amazing physical changes!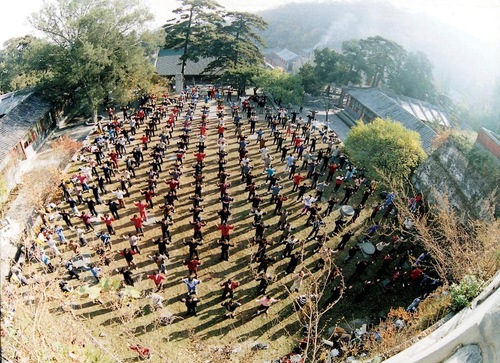 Chinese and overseas practitioners doing group exercises in Jietai Temple in Beijing on October 30, 1996
In accordance with the request from the Falun Dafa Research Society on October 31, the Beijing Assistant Center arranged for an Experience Sharing Conference for more than two thousand practitioners to be held at the Hongta Auditorium in the western suburb of Beijing. There were not enough seats to go around, so many local practitioners had to stand along the aisles, but the entire venue was filled with an atmosphere of righteousness, peace and harmony. About a dozen practitioners spoke.
Beijing practitioners talked about studying the Fa, looking inward, cultivating xinxing, doing group exercises, and validating Dafa.
An American practitioner talked about his personal experience in obtaining the Fa as well as how he proceeded to study the Fa and cultivate diligently and solidly.
A western practitioner from Sweden talked about how, after having listened to Master's Fa Teaching in Sweden, many people continued to enter into Falun Gong practice.
Practitioners with their celestial eye open saw grand buildings and jade palaces at the back of the auditorium. They also saw Falun floating like snowflakes and rotating all around the venue.
Staff members working in the auditorium were at first quite apprehensive of our large group. They had past experiences with different groups of ordinary people renting the place and leaving behind a huge amount of trash including remnants of fruits, shells from melon seeds, and cigarette butts. Yet, they noticed Dafa disciples were a quiet group and attentive listeners. After the event was over, the whole place was left neat and clean. They couldn't help but remark with admiration and in amazement, "We never expected that. So many people yet so well behaved. We have never ever run into such a group."
Another form of exchanges was conducted in individual Beijing homes of practitioners in the hopes of drawing practitioners closer. The Taiwan delegation was broken into ten groups of three and assigned to particular homes. Every practitioner had his or her story. Some talked about the cessation of their sicknesses. Some talked about the elevation of their xinxing. Some talked about having their outlook on life changed. Some talked about the broadening of their worldview.
Beijing practitioners talked about how they often got together in small groups to do the exercises, study the Fa, and share experiences. Some practitioners set up family halls of worship where Master's portrait in a golden cassock was reverently displayed and daily offerings of incense was a matter of course. Some hung up picture frames with words to constantly remind themselves to be diligent and cultivate solidly. Many practitioners were able to do two hours of exercises and study two or more lectures in Zhuan Falun every day. All tried their best to spread the Fa at practice sites or in their work units so that more people with predestined relationships would step into Falun Gong practice.
Master Taught the Fa in the First International Experience Exchange Conference
On a day of blue sky on November 2, everybody gathered at Ditan Park in Beijing. The Fangze Pavilion in the Park consists of two main halls, with a large yard in between. More than 500 practitioners, including overseas practitioners and assistants and veteran practitioners from various districts and counties of Beijing, separated into about six groups and supplied with interpreters, were in the yard sharing experiences and exchanging insights and enlightenment.
Beijing practitioners talked about how Beijing had also begun a Fa studying surge after Master mentioned during His December 17, 1994 "Suggestions Given at the Beijing Falun Dafa Assistants Meeting" the Fa studying surge initiated in Changchun. Many small Fa-study groups were set up all over Beijing. Practitioners often came together to study Zhuan Falun over and over. Many also copied the content of the book and memorized every word in the book. All diligently compared how to study and how to cultivate while insisting on doing the five sets of exercises and striving to raise xinxing everyday.
Beijing also frequently held experience exchange conferences for several hundred and even several thousand people, welcoming anybody who wished to learn about Falun Gong. Many people who attended the conferences were moved to tears when they understood Dafa's lofty principles of Truthfulness-Compassion-Forbearance.
Beijing practitioners did their best to validate Dafa at practice sites and among relatives and friends, spreading Dafa from person to person and from heart to heart, bringing many people with predestined relationships into the Falun Gong practice. Many practice sites frequently held large group exercises to accommodate hundreds of people.
Overseas practitioners also freely shared their cultivation experiences and insights. Swedish practitioners shared their joyous memories about the seven-day Dafa instruction class held in Sweden in April 1995 when Master was there in person. French practitioners talked about how after Master taught the Fa in France, many people entered into Dafa cultivation.
Chinese and overseas practitioners spent the entire day under a blue sky and bright sun, exchanging personal experiences in an atmosphere of peace, harmony, and frankness till evening. The sunset was brilliant and Falun were floating and rotating everywhere.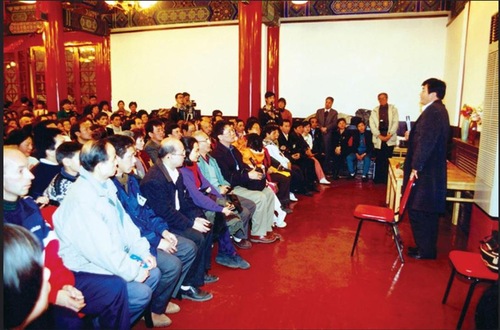 Master teaching the Fa at the first International Experience Sharing Conference held in Beijing
We started to gather into the dining hall to have our dinner around 6:00 p.m. We had barely began when somebody announced in a loud voice, "Master is here!"
Master showed up in person. We knew afterwards that Master had just flown in from the United States and had come directly from the airport.
Master waved at everybody warmly and said, "Go ahead and finish your dinner. If I stayed, you won't eat. I'll come back later and talk to you all." Then, Master left to go outside to watch the little disciples doing their exercises.
By then, everybody was in an excited state and nobody was in the mood for eating. We told the kitchen not to bring any more food. We quickly finished what was on the table, cleaned up the dining hall, lined it with chairs, and let overseas practitioners sit down while Beijing practitioners stood on the aisles and in the back.
Everybody stood up and applauded enthusiastically when Master entered the hall. Then, everybody settled down to listen to what Master had to say.
Master stood to speak to us and we were all listening in deep concentration and subdued excitement.
Twice a Research Society staff reminded us Master hadn't had dinner yet and hoped Master would eat first, and twice Master dismissed him and went on talking, saying there might not be another opportunity.
Master told us that Dafa's main text Zhuan Falun "has profound inner meanings," ("Teaching the Fa at the International Experience-Sharing Conference in Beijing" from Teaching the Fa at the Conference I)
Master said,
"As long as you study it, your body will change; as long as you read it, your mind will ascend; and as long as you cultivate yourself, you will achieve different states in different realms. If you manage to keep reading it until the end, then you will reach Consummation under the guidance of this book." ("Teaching the Fa at the International Experience-Sharing Conference in Beijing" from Teaching the Fa at the Conference I)
"The things written in Zhuan Falun are already of quite high level. In a later period I taught some other things, and they will be compiled into written form, too. But I'm telling everyone: what can truly guide your cultivation is Zhuan Falun. However many more books are published, they are all supplementary to Zhuan Falun. So, when you cultivate, you must hold on to the book Zhuan Falun for your cultivation." ("Teaching the Fa at the International Experience-Sharing Conference in Beijing" from Teaching the Fa at the Conference I)
We all listened intently and no doubt unanimously resolved to cultivate with Zhuan Falun within sight from henceforth.
Master also talked about other dimensions, directing our thoughts toward the countless microscopic and macroscopic worlds, providing us with basic knowledge about Gods and Buddhas.
Master also spoke of Mount Sumeru. A number of practitioners who had learned about different things in Buddhism, believed that surrounding Mount Sumeru in its four directions are four oceans, with perhaps India in its south and its east China.
Master said,
"Mount Sumeru shoots beyond the Milky Way and beyond the boundary of the universe I just discussed, the boundary that myriad galaxies comprise." ("Teaching the Fa at the International Experience-Sharing Conference in Beijing" from Teaching the Fa at the Conference I)
"Mount Sumeru extends beyond this universe, and reaches the center area of the second layer of universe; that's how large of a mountain it is. As a matter of fact, Mount Sumeru is a mountain range joined by three mountains, and corresponding to the three mountains are Buddha Amitābha, Bodhisattva Guanyin, and Bodhisattva Mahāsthāmaprāpta. Buddha Amitabha is the number one Buddha in that realm." ("Teaching the Fa at the International Experience-Sharing Conference in Beijing" from Teaching the Fa at the Conference I)
What amazing knowledge. How grand and far reaching! It truly showed us that what Buddhism in the Dharma-ending period knows is quite miniscule.
When a practitioner asked who Master was, Master told us,
"As for my story, it is a really, really long one. Going down through layers upon layers of different cosmic bodies and universes, I reincarnated at various levels, and in the human world I split my body and reincarnated; in any given lifetime there were many of me. It is so complex that it's hard to find where to begin. I can tell everyone simply that, as I see it, I am outside of all cosmic bodies and universes, while all Gods and Buddhas and all living beings are within them." ("Teaching the Fa at the International Experience-Sharing Conference in Beijing" from Teaching the Fa at the Conference I)
We all realized in our hearts how magnificent Master is, so unfathomably profound that even many high level gods can't begin to imagine and that is definitely beyond human words.
What Master shared with us was something nobody had ever heard about in hundreds and thousands of years.
Master said:
"With regard to the Buddhas in heaven, such as the Tathagatas and the Bodhisattvas that you know of, there are actually more than one of each of them. They need to be replaced every ten years or less. The current Amitabha is not the earliest one, and neither is Bodhisattva Guanyin the earliest one. Why is that? It's because the human world and the Three Realms are too complicated and because they are so close to the Three Realms. So the bad things down here can directly affect them." ("Teaching the Fa at the International Experience-Sharing Conference in Beijing" from Teaching the Fa at the Conference I)
"There is a rule in heaven: at any given level, no matter which god it is, he or she will have to be rotated at a certain point in time; the purpose is to protect them and prevent them from dropping down." ("Teaching the Fa at the International Experience-Sharing Conference in Beijing" from Teaching the Fa at the Conference I)
Master also talked about Buddha Maitreya.
Master said:
"Buddha Shakyamuni once said that Buddha Maitreya would come in a certain number of years. I came at this time, but I am not at the level of Buddha Maitreya." ("Teaching the Fa at the International Experience-Sharing Conference in Beijing" from Teaching the Fa at the Conference I)
Master also said:
"All gods in the cosmic bodies know that I have come to save sentient beings at all levels with the Buddha Fa and a Buddha's image, and they acknowledge that Maitreya has come, and Buddha Maitreya has imparted to me what he inherited." ("Teaching the Fa at the International Experience-Sharing Conference in Beijing" from Teaching the Fa at the Conference I)
That was how we learned why Master is here to spread His Dafa. It is to rectify the cosmos and save all sentient beings.
Master told us many things we could not have imagined and a lot of secret of secrets we would not have known.
Master said:
"The transmission of Dafa has gone through trials and tribulations, making for a challenging process. This is a righteous practice and, inevitably, it will encounter interference. That's because when the righteous appears, everything that is not righteous or not righteous enough will be bothered. When something is taught and all goes smoothly it must be aligned with evil, and so they don't have any troubles. Lacking the righteous thoughts and righteous actions that come about through ordeals, there would be no references and mighty virtue for [those practices] to leave to the world's people. Whatever ordeals we encounter in the future, you should understand them correctly." ("Teaching the Fa at the International Experience-Sharing Conference in Beijing" from Teaching the Fa at the Conference I)
Master warned us that in the future when we might encounter difficulties and tribulations, we must look at them with the correct mindset of righteous thoughts and righteous actions.
Later on, when the evil Communist Party launched its vicious persecution on Falun Gong that has now continued for 18 years, giving proof to what Master had predicted, many Dafa disciples have been able to face and overcome the harsh realities head-on with righteous thoughts and righteous actions.
At the time, we were deeply stunned to have such rare opportunity to listen to such profound Fa principles directly from Master, and felt very blessed.
When Master was leaving, practitioners rushed over to shake hands with Master. Their eyes were filled with tears.
Then, still basking in a marvelous sense of blessedness, we stayed and shared memories and understandings of what we had just learned.
To reminisce now on the sacred grandeur of the Fa Conference when Master showed up to speak to the Chinese and overseas practitioners present, is to feel like everything just happened yesterday. It is the best and a most precious memory.
Our great and merciful Master has been guiding us these past 25 years through thick and thin to walk well this path to arrive at the last leg of Fa-rectification.
We must seriously bear in mind Master's teachings, do well the three things, clarify the truth more widely to reach more people, fulfill our vows, and cultivate genuinely and solidly, until consummation.