Toronto: Falun Gong Participates in Unionville Festival Parade
June 06, 2017
|
By Minghui correspondent Zhang Yun
(Minghui.org) The Falun Gong group in the Toronto area has been invited to participate in many community events this spring and summer. On June 3, a group of practitioners took part in the 48th Unionville Festival Parade. Unionville is located about half an hour north of Toronto.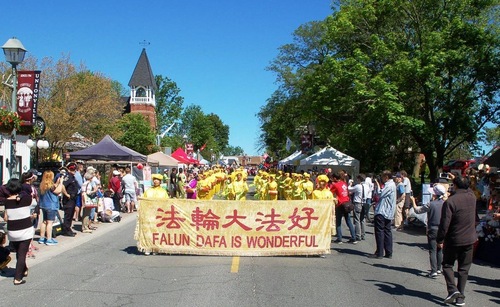 Falun Gong group takes part in the 48th Unionville Festival Parade on June 3, 2017.
An organizer of the event named Nancy said that she was delighted that Falun Gong practitioners could join the activities. She thanked them for the great performance, saying, "We are honored this year to have Falun Gong participate with both the Tian Guo Marching Band and the waist drum group." She said Falun Gong is well known in the community and their performances are well liked.
"They bring the light to this city," she added.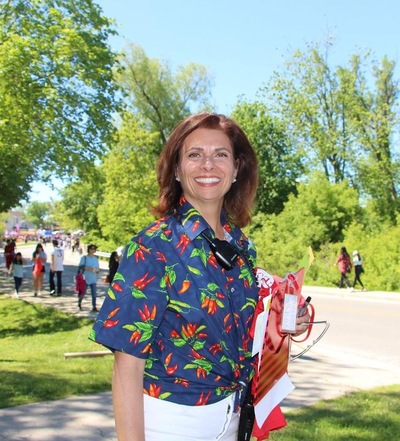 Event organizer Nancy is pleased to have Falun Gong take part in the Unionville Festival Parade
Music with Energy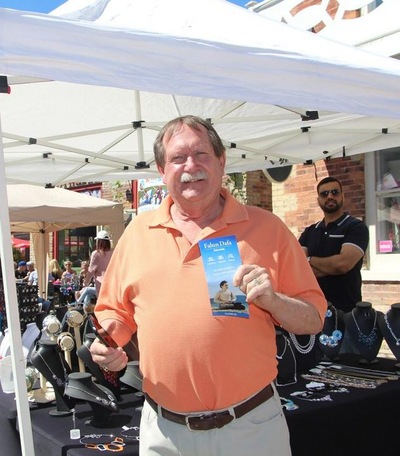 Software developer Gary Bartlett said he likes everything about Tian Guo Marching Band.
Gary Bartlett, a software developer, agreed. "I like the music, costumes and color. It is absolutely fantastic!" He wanted to learn more about Falun Gong after he heard about its core principles of Truthfulness-Compassion-Forbearance.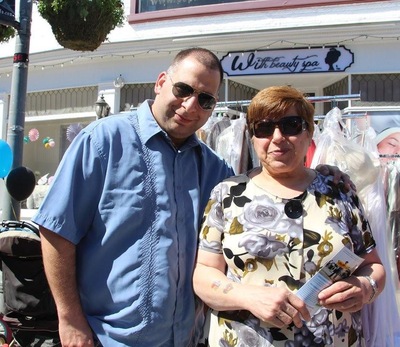 Lorna and her son welcomed Falun Gong practitioners with applause.
A Unionville resident and her son applauded, saying, "Very impressive, very inspiring, and very touching!" She thanked the Falun Gong group for bringing something so beautiful and joyful to the community.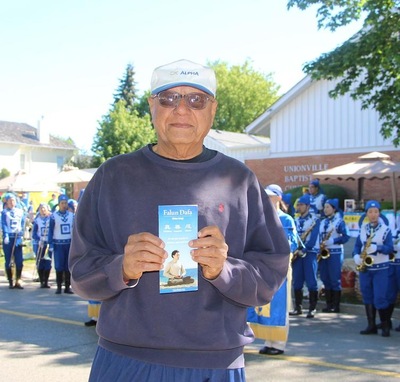 Karun Khanna, a military officer from India, had high praise for the Falun Gong parade entry.
Karun Khanna, a former Indian military officer, said he was excited by the music. "I used to be in charge of a military marching band back in India. I can tell that the music today is really excellent and has a great energy." He was also impressed by the synchronization between band members.
Feedback from Chinese Spectators
Mr. Lin, who used to teach at a university in Shaanxi Province, immigrated to Canada several years ago. He watchedthe parade with his wife and four-year-old son and took lots of pictures. "This is great," he said, "I never saw anything like this in China."
Despite the suppression in China, Mr. Lin said he knows Falun Gong well and supports practitioners. "I was responsible for four classes in my college and we received an order to pick one practitioner from each class as a target to attack Falun Gong." Knowing all those practitioners were good people, he told students not to do this. In the end, no students in his classes were attacked.
"We have to act upon our conscience," Mr. Lin said, "I am glad I did the right thing."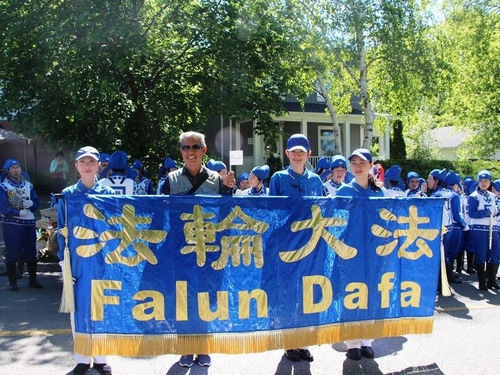 A tourist from Beijing took a picture with practitioners.
Ms. Zhang from Fujian Province came to Canada five years ago and she took lots of pictures. "I will return China soon and I will share these pictures with others people."
After hearing about how communist party harmed people in political campaigns and persecuted Falun Gong practitioners, at least 19 people attending the festivities in Unionville quit the Party and its affiliates.