(Minghui.org) Falun Gong practitioners from the U.S. and Canada gathered in front of the Vermont State Capitol in Montpelier on May 27, 2017 to celebrate World Falun Dafa Day. They staged a group practice of the Falun Gong exercises, and gave vocal and waist drum performances. They also set up poster boards with information about Falun Gong and exposed the Chinese Communist Party's (CCP) ongoing persecution of this traditional spiritual practice.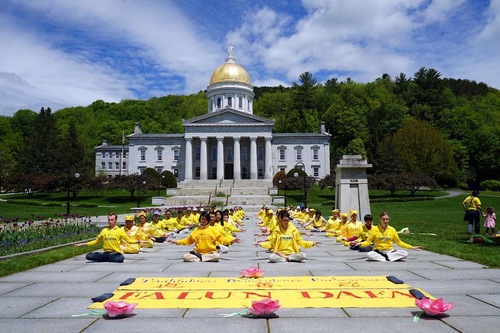 Falun Gong practitioners meditate in front of the Vermont State Capitol on May 27, 2017 to commemorate World Falun Dafa Day.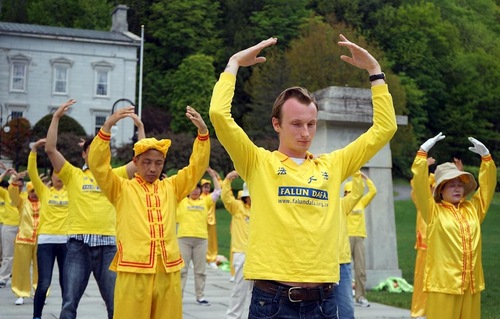 Practicing the Falun Gong exercises as a group.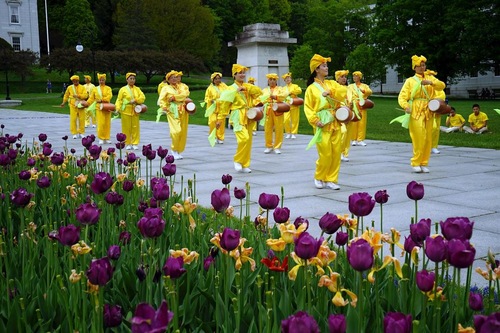 Waist drum performance.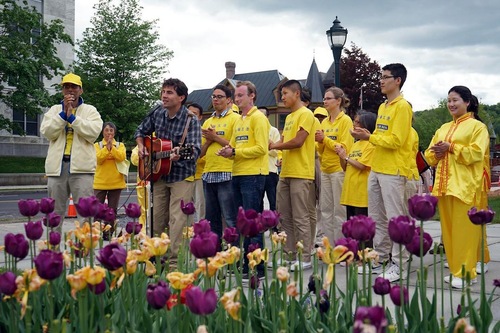 Practitioners take part in a vocal performance.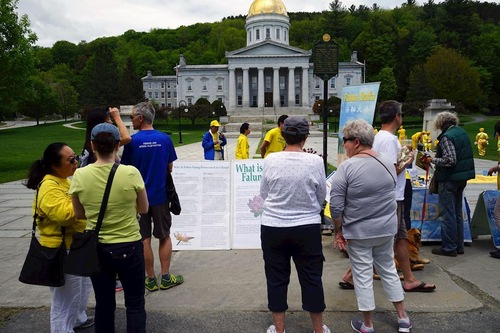 Passers-by pause to watch the Dafa Day event and read poster boards about Falun Gong and the persecution in China.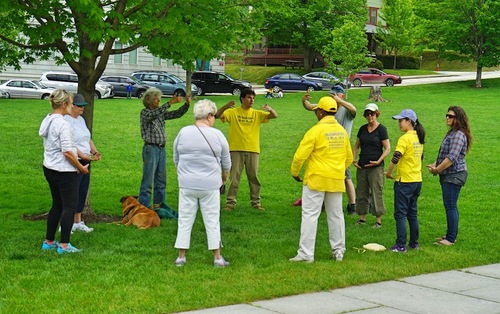 Visitors learn the Falun Gong exercises.
Alex, the owner of Montpelier Biotech Farm, walked over from a nearby farmers market to learn the Falun Gong exercises. He was reluctant to leave after learning the exercises.
A man asked a practitioner, "Do you believe in Buddha?" He then told the practitioner that he'd studied Buddhism and Catholicism, "But I am still searching for something." After learning the Falun Gong sitting meditation, he noted a strong energy and said he would continue to learn the practice at a nearby group practice site.
A board member of the Montpelier Senior Activity Center watched the Falun Gong exercise demonstration and said that he'd recommend that practitioners come and teach Falun Gong at the senior center.
A couple from Montpelier took in the waist drum performance and said they were pleased that Falun Gong was being introduced to their area. When they learned that the CCP brutally persecutes Falun Gong in China, they condemned the atrocities, saying that the persecution of peaceful, law-abiding citizens is inhuman.
After one woman learned of the CCP's state-sanctioned live organ harvesting from Falun Gong practitioners for profit, she said to the practitioners, "You're doing great. Keep up the good work!"