Canadian MPs Seek to Press China for Release of Canadian Falun Gong Practitioner
May 06, 2017
|
By a Minghui correspondent
(Minghui.org) Canadian MPs say the Trudeau government should raise its voice and intervene at high levels about a Canadian arrested in China in order to prevent her from being abused by the Chinese authorities.
Ms. Qian Sun, 51, the vice president of Beijing Leadman Biochemistry Co., Ltd. and a Canadian citizen, began practicing Falun Gong in 2014. More than two dozen police broke into Sun's home and arrested her on February 19, and it took her family several weeks to find out where she was being detained.
Today, Sun said in an announcement, "My belief in 'Truthfulness-Compassion-Forbearance' is my human right that should be protected by the Chinese and Canadian constitutions as well as the UN treaty. But I have been jailed since February 19 because of my belief."
Canadian conservative foreign affairs critic MP Peter Kent on May 2 brought up Sun's case at the parliamentary foreign affairs committee hearing.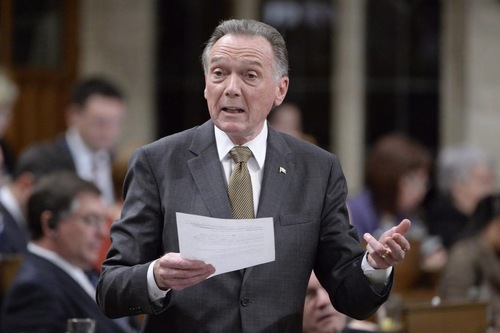 MP Peter Kent in parliamentary hearing on April 11
"While I understand that in some situations silence may be the right course, I believe that in the case of Falun Gong practitioners, given the Chinese communist government's treatment of Falun Gong practitioners, that Canada should, in fact, raise its voice before Qian Sun is done harm," Kent said in an interview with New Tang Dynasty (NTD) Television.
"We know that in detention in situations like this, the Chinese authorities sometimes resort to torture and to abuse of prisoners," he added.
According to a 2017 Freedom House report, Falun Gong adherents in China have been subjected to arbitrary detention, imprisonment, and torture, and are at a high risk of extrajudicial execution.
Canada should be 'far more forceful'
"We think that the Canadian government should be far more forceful in representing this Canadian citizen," Kent said.
NDP foreign affairs critic Hélène Laverdière agreed. "It is really important for the Canadian government to be very active on that file," she told NTD.
"International standards of basic human rights include freedom of religion, freedom of expression, and Canada must stand up to defend those principles and those rights," Laverdière said.
"Often they have to work with the host government and put a lot of pressure, sometimes phone calls from high-level people to make sure that you know the fundamental rights of these Canadian people are fully respected."
Committee member Tom Kmiec, the Conservative deputy foreign affairs critic, told NTD he was disappointed the foreign affairs committee got no answer as to the kind of consular assistance being provided to Sun.
"When the ambassador is asked a question, they should explain to us what types of consular services they provided to Canadians, whether it is just formal interviews, [whether they were] provided with a lawyer, whether they were able to have someone who is a medical doctor or nurse visit them," Kmiec said.
Falun Gong was not mentioned in the arrest document issued by the Beijing police department. Instead, Sun was accused of "breaking the law by being involved in 'cult' activities," even though there is no law in China that says Falun Gong is a 'cult.'