Celebrating Falun Dafa Day in Missouri with Recognition from the Governor and Legislators
May 06, 2017
|
By Minghui correspondence
(Minghui.org) Falun Gong practitioners in Missouri celebrated World Falun Dafa Day at the state capitol on Wednesday, as this ancient Chinese cultivation practice is upon the 25th anniversary of its public introduction.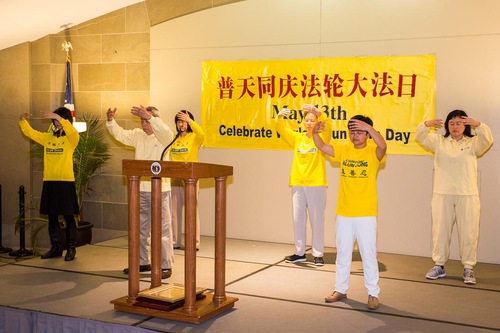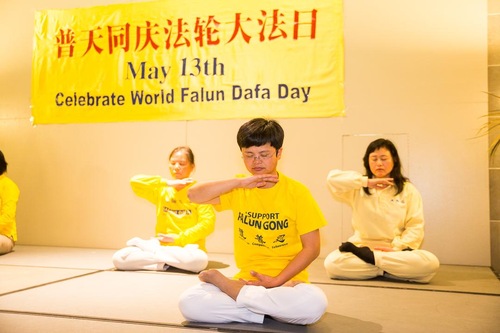 Missouri Falun Gong practitioners demonstrate the exercises at the state capitol.
Governor Eric Greitens, seven State Representatives, and two State Senators issued proclamations, praising practitioners' contribution to the community, and proclaimed May 13, 2017 to be Falun Dafa Day in Missouri.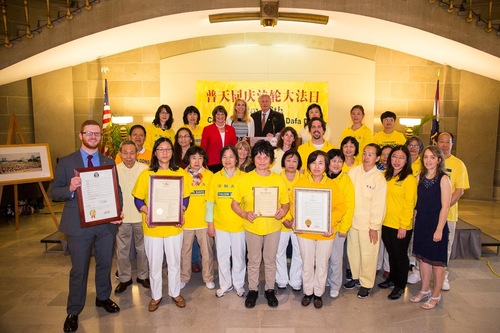 Senator Jill Schupp (back row, 3rd from left) and Representatives Tracy McCreery (back row, 4th from left) and Lynn Morris (back row, 5th from left) take a photo with Falun Gong practitioners and supporters at the Missouri State Capitol for the World Falun Dafa Day Celebration on May 3, 2017.
Several Missouri lawmakers, who initiated or co-sponsored resolutions to condemn the state-sanctioned organ harvesting from Falun Gong practitioners in China, attended the event.
The Missouri House passed House Concurrent Resolution No. 7 last week. Resolution sponsor Rep. Lynn Morris spoke at the Falun Dafa Day event and thanked the practitioners for their efforts to expose and end forced organ harvesting in China. "I want to encourage you to never give up, and I will keep up the fight along with you to help end this terrible persecution," he said.
Speeches were also given at the event by participants who benefited from practicing Falun Gong or who experienced the persecution in China.
Ms. Mao Huizhi was diagnosed with cancer in 1995. After seeing a free Falun Gong workshop announcement in a local newspaper, she started practicing and the cancer soon disappeared. Now, twenty-two years later and at over 70 years old, she is still full of energy.
St. Louis resident Ms. Yuan Jinyun happened to have been the only Chinese-American on stage at the second presidential debate last year at Washington University. She said the experience gave her an even greater appreciation for the freedom citizens have in the U.S.
Ms. Yuan described how her husband, Dr. Geng Sa, had been severely tortured in China for his belief in Falun Gong before he escaped to America. She thanked Missouri lawmakers for supporting freedom for Falun Gong.
Echoing this appreciation, Ms. Ding Xiao said in her speech that she was deeply relieved that her parents-in-law made it out of China recently. In China, the couple had been arrested, fired from their jobs, and jailed in labor camps because they practiced Falun Gong.
"Although my parents-in-law can finally practice their belief here without fear, millions of Falun Gong practitioners in China are still being persecuted," Ms. Ding said, urging listeners to do what they can to help end the suppression.
The governor of Missouri Eric Greitens proclaims May 13, 2017, to be Falun Dafa Day in Missouri.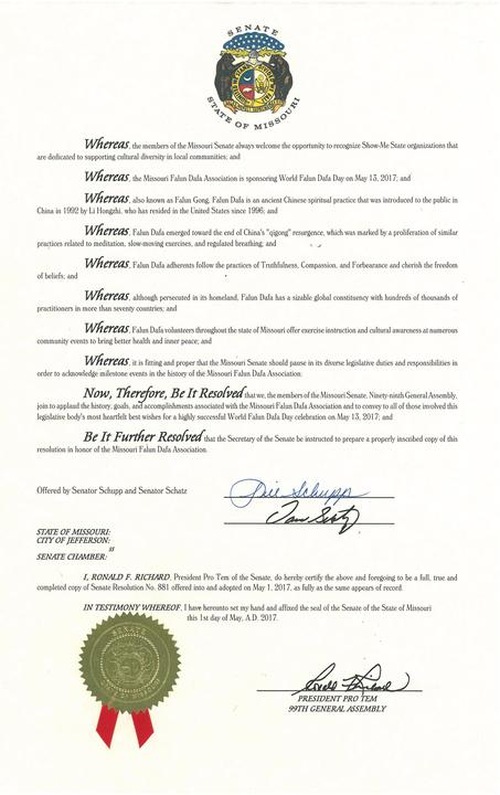 Courtesy Resolution from the Missouri Senate, offered by Senator Jill Schupp and Senator Dave Schatz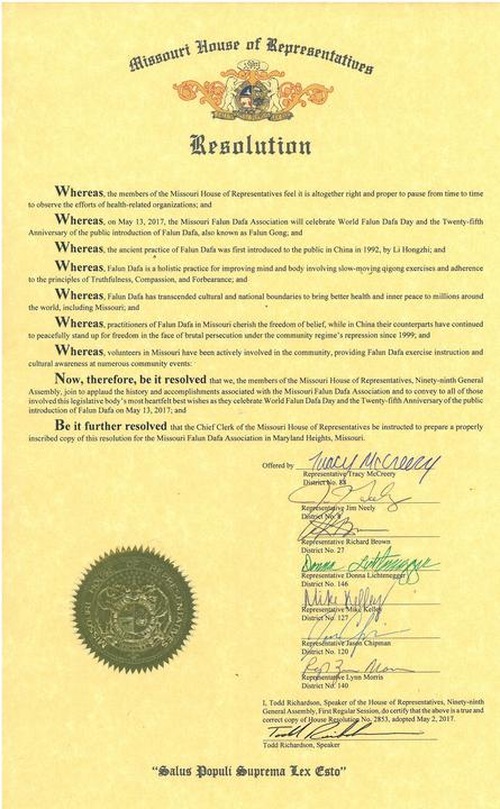 Courtesy Resolution from the Missouri House of Representatives, offered by Representatives Tracy McCreery, Jim Neely, Richard Brown, Donna Lichtenegger, Mike Kelley, Jason Chipman, and Lynn Morris.
Related report in Chinese:
http://www.minghui.org/mh/articles/2017/5/5/美国密苏里州州长及州议会褒奖法轮大法(图)-346799.html