Moutan Peony in Changchun
May 28, 2017
|
By a Falun Dafa practitioner in Changchun, Jilin Province
(Minghui.org) Changchun, which translated literally means "forever spring," is a beautiful city. Mr. Li Hongzhi publicly introduced Falun Dafa for the first time on May 13, 1992, and he did so in the city of Changchun.
Master Li gave one of the first Falun Dafa lectures at Mingfang Palace in Jilin University. Several years later, in 1998, the Mudanyuan garden was built surrounding the palace to house the moutan peony.
Known as the King of Flowers, the moutan peony is elegant, majestic, and beautiful.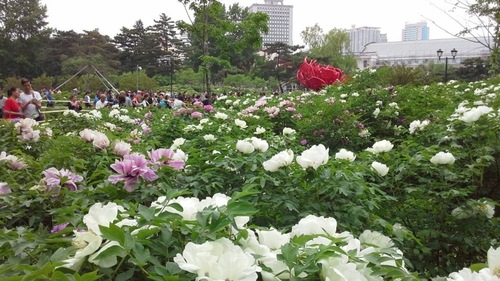 Moutan peony blossoms in Mudanyuan located in Changchun, Jilin Province.
Several days ago a fellow practitioner and I visited the garden. A giant peony welcomed us, followed by blossoms with all colors: white, pink, red, light purple, and dark purple. The scent was amazing, attracting bees and butterflies here and there.
Past the flower bed, a bridge crossed a beautiful creek with poplar and willow trees on both sides. As we continued walking, there was an arbor where could enjoy the scenery and breeze. Around us, peony blossoms spread all over the hill like stars filling the sky.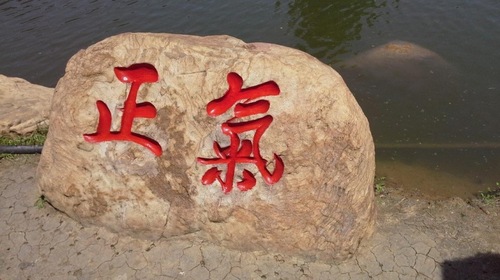 A stone in the garden carved with the words Zheng Qi, which mean "righteous spirit".
A carved stone next to the creek caught our attention. On it are two words: Zheng Qi (righteous spirit). I was deeply impressed: tourists in the garden may not know that, but this is the place where Falun Dafa was introduced to the public, blessing China and the rest of the world.
In Zhuan Falun, Master said, "There are not many opportunities for something like this, and I will not teach this way forever. I think that those who can listen to my lectures in person, I would say, honestly... you will realize in the future that this period of time is extremely precious."
As Falun Dafa Day is celebrated throughout the world, I hope all of us could cherish this opportunity and do better from now on.
While visiting the garden, a fellow practitioner and I talked to tourists about Falun Dafa.