(Minghui.org) In addition to celebrating World Falun Dafa Day, Falun Dafa practitioners around the world held various events during the past few weeks, to introduce this Chinese cultivation practice in their communities. This newsletter features events held in the Netherlands, Russia, Czech Republic, Canada, and Taiwan.
The Netherlands
Around April 27, the Koningsdag (King's Day), Falun Dafa practitioners in multiple cities in the Netherlands participated in the celebration of this national holiday.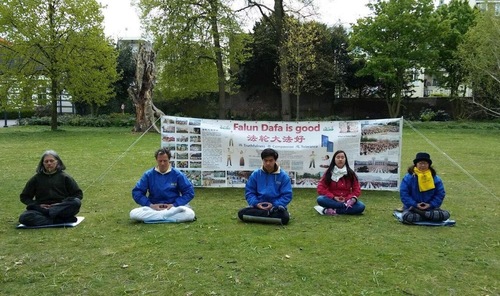 In The Hague, practitioners demonstrated the exercises in the Royal Garden park.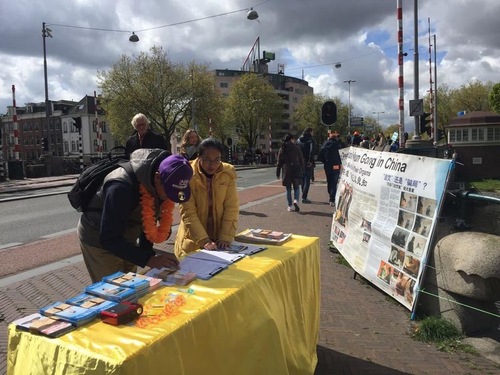 In Amsterdam, practitioners set up a booth to raise awareness about the persecution in China. Many passersby signed a petition to support Falun Dafa.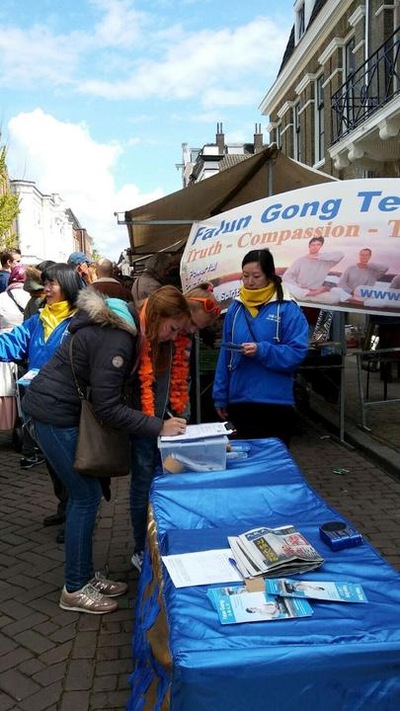 A Falun Dafa booth in downtown Utrecht drew support to end the persecution in China.
Practitioners in Amersfoort passed out Falun Dafa flyers and hand-made paper lotus flowers.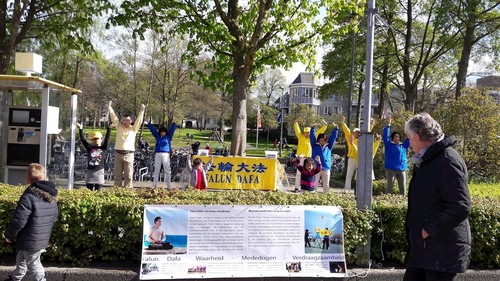 In Veenendaal, practitioners demonstrated the exercises in a local park.
Russia
Practitioners from Moscow held a World Falun Dafa Day celebration on May 20 in the Olympic Village Park. They demonstrated the exercises and performed traditional Chinese dance.
Falun Dafa exercises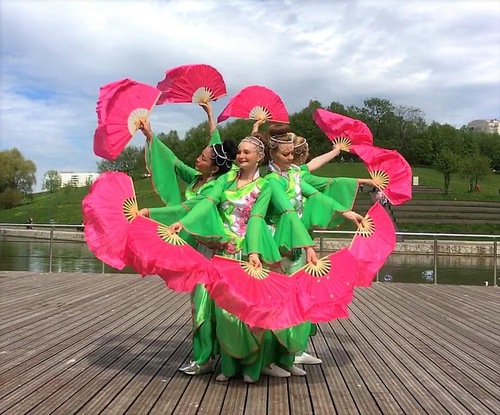 Traditional Chinese fan dance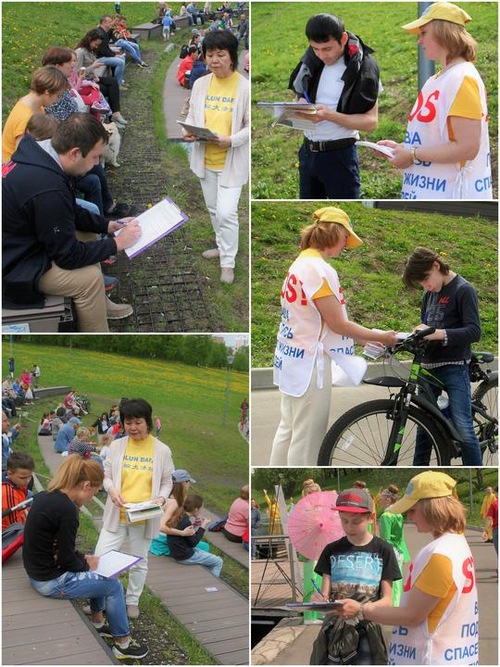 Passing out materials, introducing Falun Dafa to the public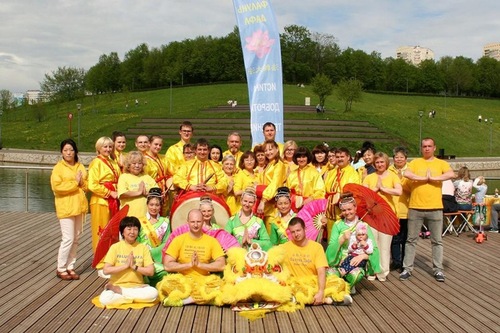 Practitioners wish the founder of Falun Dafa, Master Li Hongzhi, a happy birthday.
Czech Republic
The celebration of Falun Dafa Day in Prague was held at Wenceslas Square on May 13.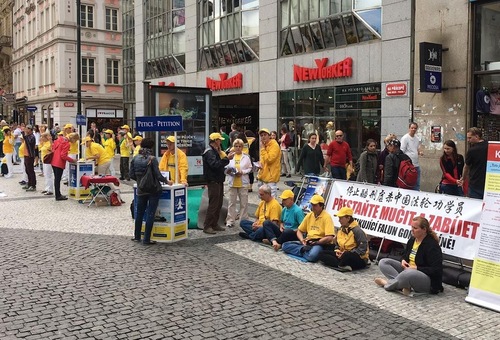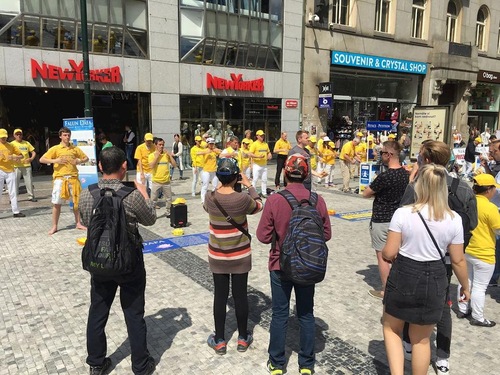 Introducing Falun Dafa to the public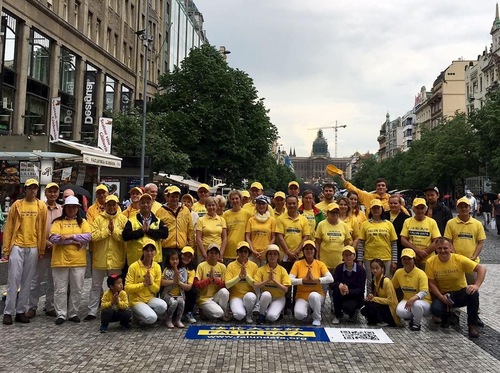 Practitioners wish Master Li a happy birthday.
Canada
Practitioners from British Columbia participated in the parade of the 150th Victoria Day on May 22.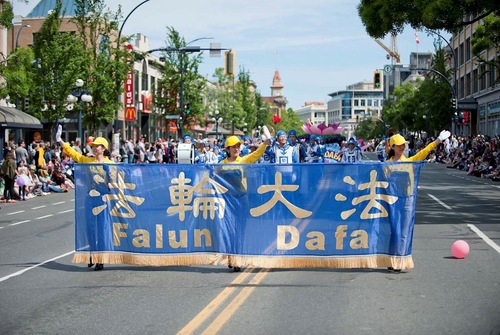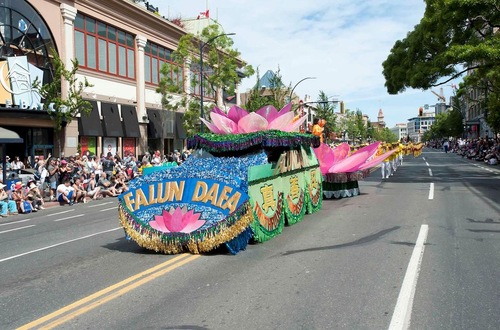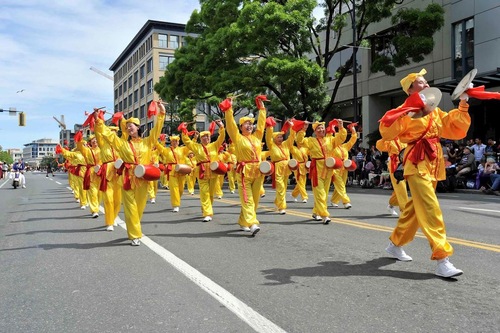 Falun Dafa group's entry in the parade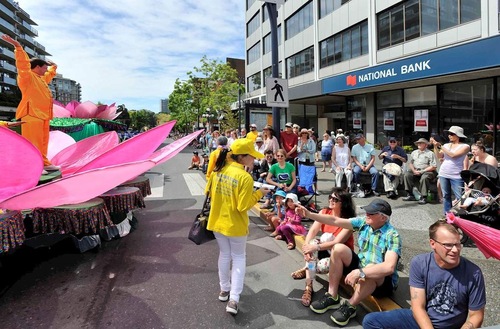 Offering Falun Dafa flyers to the spectators
Practitioners have participated in this parade for many years, and won a series of awards in previous years. Spectators, especially those from China, were glad to see such a large Asian group in the parade.
Taiwan
On April 30, a waist drum team consisting of practitioners from Miaoli, performed in the celebration of Hakka Cultural Festival in Toufen City, the largest annual local community event.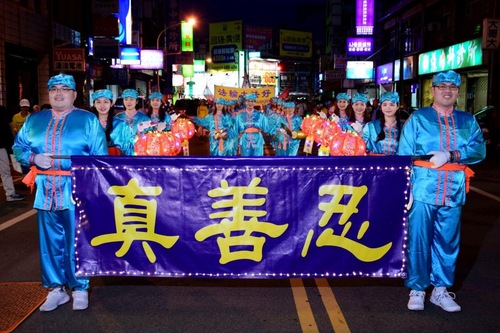 Falun Dafa group's waist drum team in the parade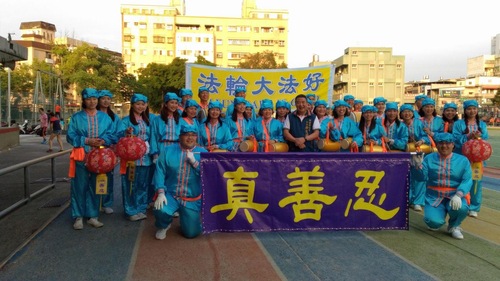 The mayor of Toufen takes a photo with the Falun Dafa group.
The mayor of Toufen City, Mr. Hsu Dingchen, praised practitioners' efforts to revive traditional values and culture. He invited the group to participate in more community events.
Related reports in Chinese:
http://www.minghui.org/mh/articles/2017/5/23/在莫斯科奥林匹克村公园弘法(图)-348618.html
http://www.minghui.org/mh/articles/2017/5/7/法轮功腰鼓队照亮苗栗客家文化节(图)-346940.html
http://www.minghui.org/mh/articles/2017/5/25/捷克法轮功学员庆祝法轮大法日(图)-348668.html
http://www.minghui.org/mh/articles/2017/5/26/加拿大卑诗省维多利亚游行-华人盛赞法轮功(图)-348740.html