Practitioners in Taiwan Celebrate World Falun Dafa Day
May 18, 2017
|
By practitioners in Taiwan
(Minghui.org) May 13 is the 18th World Falun Dafa Day as well as the birthday of Mr. Li Hongzhi, the founder of Falun Dafa. Practitioners across Taiwan celebrated this special occasion, and thanked Mr. Li for the physical and spiritual benefits they have received.
Below are reports from Taitung, Kaohsiung, and Sun Moon Lake.
Taitung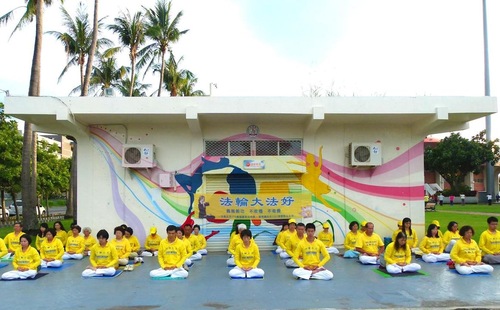 Group meditation by Taitung practitioners on May 13, 2017.
The event in Taitung began with group exercises. The music and exercises drew lots of spectators in the stadium. Many of them were glad to receive bookmarks and hand-made lotus flowers from practitioners. Upon hearing of the brutal suppression in China, a large number of people signed petitions to support practitioners.
The first group practice site was established in Taitung 20 years ago. Some practitioners recalled the scenes back then and expressed their gratitude towards Master Li through a video presentation. Others joined them for singing and poetry reading.
Kaohsiung
Practitioners in Kaohsiung gathered at the Weiwuying Metropolitan Park in the morning on May 13 to celebrate Falun Dafa being introduced by Master Li 25 years ago. Several practitioners talked about the improvements Falun Dafa has brought to them and their family.
Ruimei has practiced Falun Dafa for 18 years.
Restaurant owner Rumei took up the practice along with her husband, due to his illness, but she experienced improvements as well. "I used to have a bad temper. It is Falun Dafa that changed me," she said. Seeing these changes, many of her friends became practitioners, too.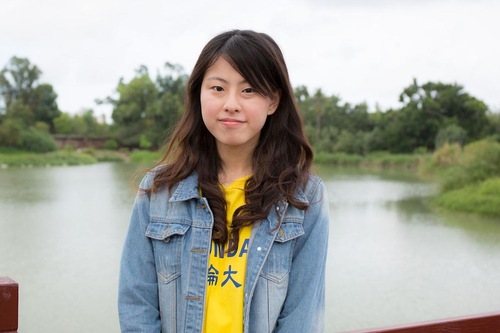 Fang Ting, who recently graduated with a degree in International Trade, said the principles of Truthfulness-Compassion-Tolerance have helped her through the years.
Fang Ting started to practice with mother when she was in third grade. "Falun Dafa helped me with the challenges of being a teenager and now helps me a lot at the work place," she said. "I am so happy to be a Falun Dafa practitioner."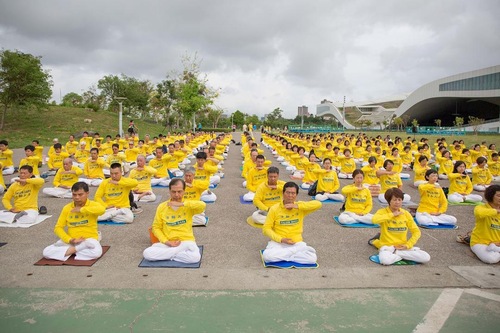 Kaohsiung practitioners celebrated Falun Dafa Day with group meditation.
Sun Moon Lake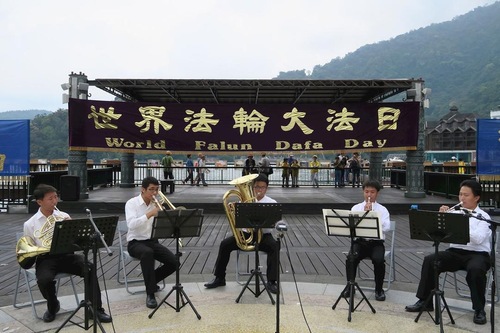 Practitioners celebrated World Falun Dafa Day with singing and music near Sun Moon Lake.
When practitioners celebrated the World Falun Dafa Day at Yi Da Shao Wharf near Sun Moon Lake, many residents and tourists stopped to find out more.
Nantou County councilor Liao Ziyou attended the event. "Falun Dafa is great," she said, "The principles of Truthfulness-Compassion-Tolerance help us to be better citizens and I hope more people will practice it."
Tour guide Mr. Fu said he had heard about Falun Dafa from practitioners previously. "The suppression in mainland China is unreasonable and I support Falun Dafa." He said he often told tourists to read posters set up by practitioners and so that they could learn facts, which are not available in mainland China.
Xie Xiuqin, 80, has practiced Falun Dafa for 15 years. "My friends often asked why I am so healthy and look so young, and my answer is always like this: Go and try Falun Dafa yourself and you will like it, too."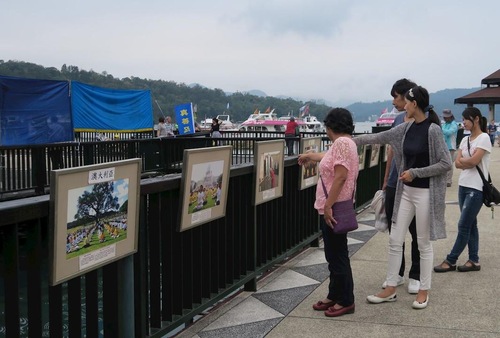 Local residents and tourists read Falun Dafa displays.