(Minghui.org) About 10,000 practitioners from 58 countries attended the 2017 New York Falun Dafa Experience Sharing Conference at Barclays Center in Brooklyn, New York on Sunday. Mr. Li Hongzhi, founder of Falun Dafa, came onto the stage at around 2 p.m. to deliver a lecture and answer questions for about two hours.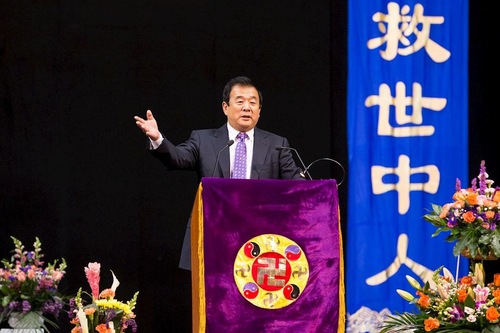 Mr. Li Hongzhi speaks at the New York Falun Dafa Experience Sharing Conference on May 14, 2017.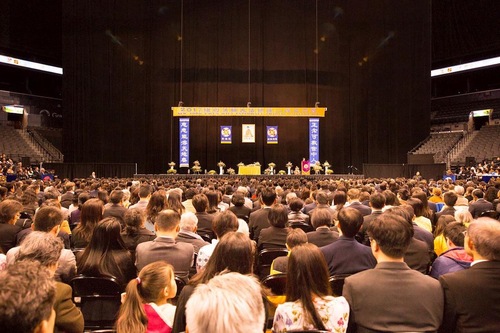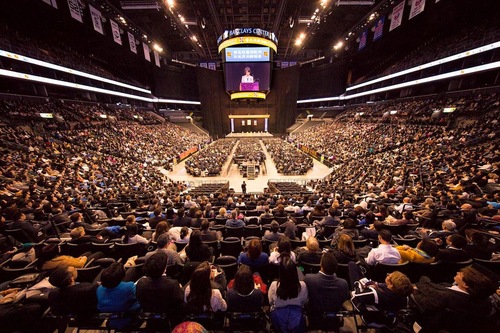 About 10,000 practitioners attended the 2017 New York Falun Dafa Experience Sharing Conference.
The conference is an annual event in New York. Thirteen practitioners also went onstage to deliver reports of their experiences applying the principles of Truthfulness-Compassion-Forbearance in their daily lives. They also discussed how to help more people learn about the practice, and the persecution it faces in China.
The stage was decorated with flowers to celebrate the 25th anniversary of Falun Dafa being introduced to the public, as well as Master Li's 66th birthday. Master Li was greeted with resounding standing ovations both when he arrived and when he concluded his lecture.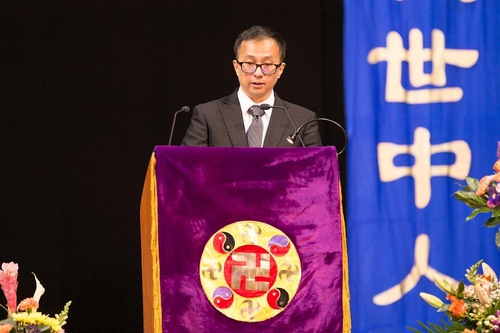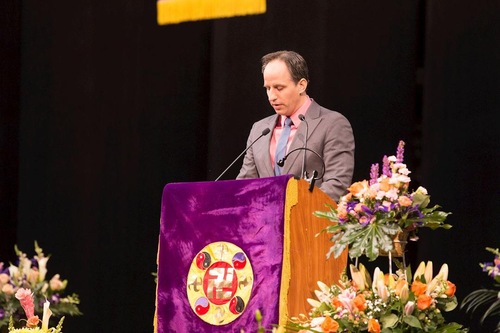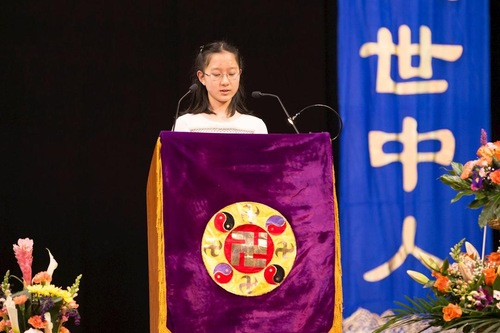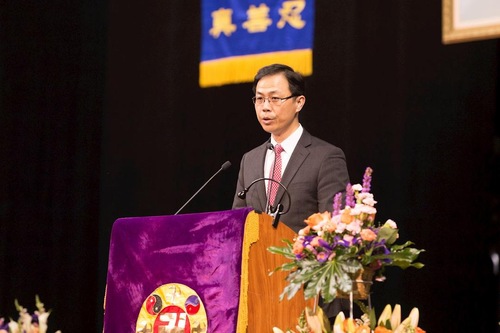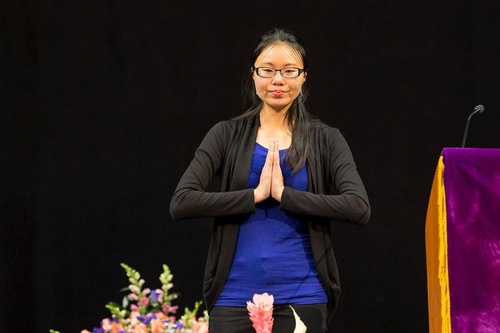 Thirteen practitioners spoke at the conference at Barclays Center in Brooklyn, NY
Clarifying the Truth
Practitioner Helena has been visiting the offices of New York State senators and representatives in Albany every week for 13 years. She distributes the Epoch Times newspaper and talks to elected officials' staff members about Falun Dafa.
One state representative's staff member taped an article from the Epoch Times to his boss' chair once, saying, "This will make sure that the representative reads it." This representative later became the first to sponsor state Falun Dafa Day proclamations both last year and this year.
Ms. Xie from Taiwan helped translate State Organs: Transplant Abuse in China into Japanese and give it to government officials as well as business executives. In addition, she spent lots of time and energy introducing Shen Yun to potential audience members. She achieved some great success, including getting a major television station to produce and broadcast a Shen Yun spot. The owner of the station invited her to introduce Shen Yun at company meetings. "I do not have special skills or background," Ms. Xie recalls. "Steady Fa-study and exercises certainly helped me," she said.
Yin Huxiu, a young Korean woman, has been working at NTDTV for 9 years. She has worked not only as an editor but also as a host of popular programs. She spoke of realizing the importance of listening to Master. Despite various challenges and difficulties, she and her team produced many high-quality videos. "As a news media company, our primary responsibility is to help people learn what is really going on."
Young Practitioners
Wu Ailian from California began to practice at age five, following her parents. She learned Chinese at a Minghui school and began to dance at age nine. She has since participated in many events related to NTD. After graduating from college, she helped Epoch Times with typesetting. "When I encountered problems, I would recite Master's poem 'Tempering the Will' in Hong Yin, and the situation would improve."
Sonja, 13, is from New York. When she was eight years old, she noticed a hardened lump on her foot. She continued to do the exercises and study the Fa, and the lump mysteriously disappeared. As she grew older, she became addicted to video games, and it took her a long time to let go of them. "I also have the attachments of jealousy, combativeness, and showing off. I need to improve on these," she added.
Overcoming Tribulations
Mr. Fan from Australia has been practicing for 22 years. One day at work he found himself unable to walk. He consulted several doctors before remembering that, as a practitioner, he should follow a different path. He sent righteous thoughts and kept doing the exercises and found that his symptoms disappeared soon after.
In addition, after becoming the primary coordinator, he continued looking within and increasing the capacity of his heart. As a result, he and other practitioners in the region were able to work together as one body to save more people.
Zenon, a practitioner living in the New York area, spoke of being very diligent soon after he began to practice Falun Dafa. However, he found himself unable to keep up his earlier diligence in later years. Experiencing frustration, regret, and pain as a result, he stopped attending group Fa-study and various activities, and returned to an earlier addiction to television.
His wife insisted that he attend group Fa-study on one particular occasion where a conversation with a veteran practitioner touched his heart. He has since done his best to remain more diligent and catch up while thanking other practitioners for their help.
Work and Family
Mr. He is a medical doctor in Missouri. During the past 21 years of cultivation practice, he realized the importance of not only being diligent with cultivation, but also being dedicated at work and in family life. "No matter where we are and what we are doing, it is an opportunity for people to learn about Falun Dafa from us," he said. In the end, many people around him came to know the facts and became supportive of Falun Dafa.
Mr. Cai from New Jersey has also practiced for 21 years. Often working as a security officer for Shen Yun, he used to be strict and focused on identifying those who violated the rules. He later realized that he needed to treat everyone with compassion. He also shared his understanding of Shen Yun promotion, at first thinking of it as a job to later realizing that it was an opportunity to save people. In the Tian Guo Marching Band, he learned to improve through solid practice and drills instead of trying to find shortcuts.
The conference came to a close at 6 p.m. One attendee noted, "I learned to look within more when encountering problems. This is something I will benefit from a lot."