(Minghui.org) Falun Gong practitioners all over the world held all kinds of activities last week to celebrate the 66th birthday of the founder of this ancient Chinese cultivation practice, Master Li Hongzhi, and the 18th World Falun Dafa Day, which falls on May 13th.
This report covers the celebrations in Malaysia, Brazil, Taiwan, and America. Besides presenting artistic performances and an art exhibition, practitioners told their stories of how they have benefited from this practice physically and spiritually, and informed the public about the 18-year long persecution in China, asking for help to end it.
Kuala Lumpur, Malaysia
Practitioners celebrated the founding of "Persatuan Falun Dafa Malaysia" (Falun Dafa Association in Malaysia) in Kuala Lumpur on May 7.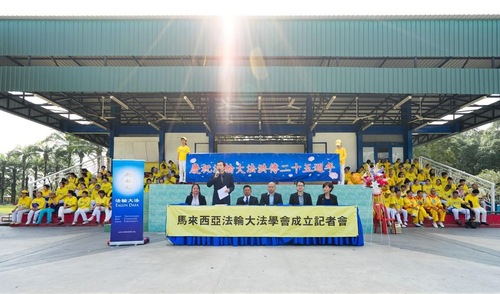 Announcing the founding of the Falun Dafa Association in Kuala Lumpur at the press conference
The spokesman for the association said that the mission of the association is to promote ancient Chinese cultivation culture and to improve Malaysians' health and spirits.
At the celebration, practitioners also demonstrated the exercises and collected signatures on a petition to condemn the persecution.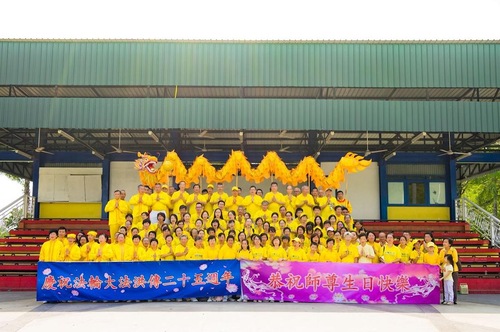 Practitioners in mid-Malaysia wish Master Li Hongzhi a happy birthday.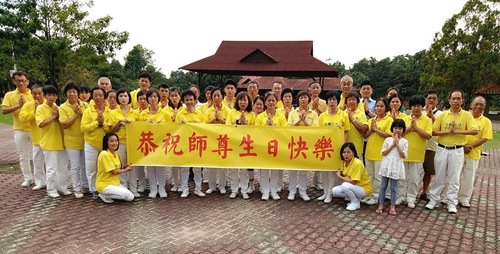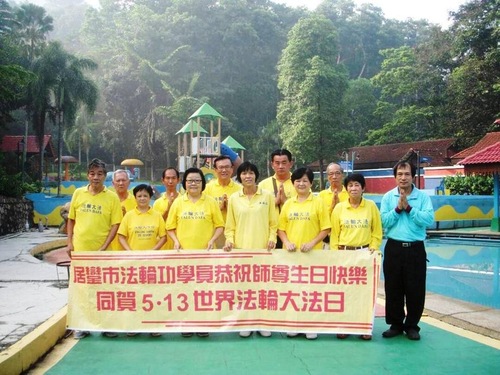 Practitioners from Johor, Malaysia, wish Master Li a happy birthday.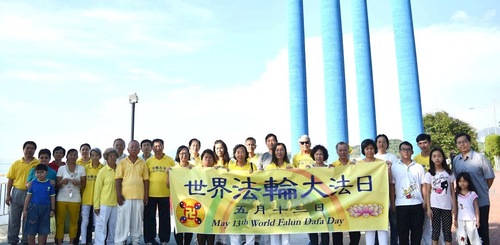 Practitioners from Northern Malaysia wish Master Li a happy birthday.

Practitioners from Sabah, Malaysia, wish Master Li a happy birthday.
Group exercises in Kuala Lumpur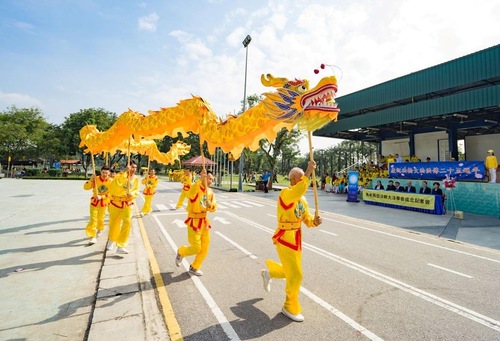 Dragon dance at the celebration in Kuala Lumpur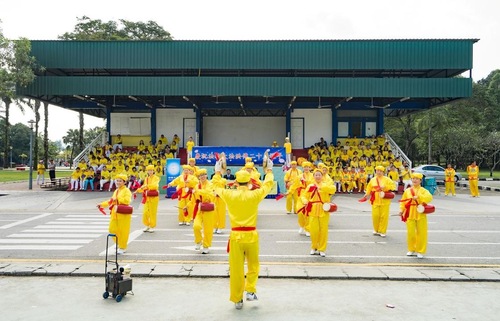 Playing the waist drums at the celebration in Kuala Lumpur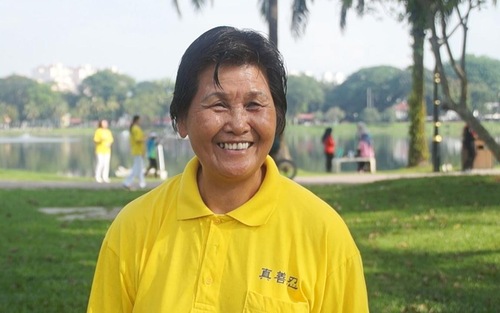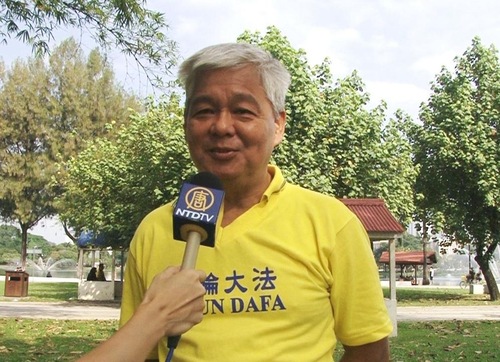 Ms. Mei and Mr. Zhou told how cultivating Falun Gong has benefitted them physically and spiritually.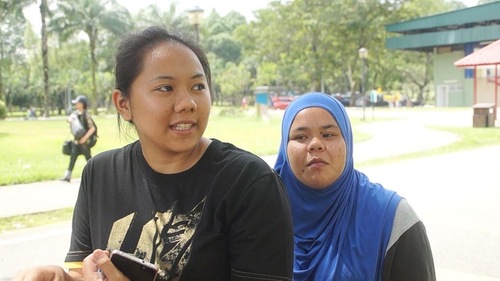 Ika (left ) and Zulaihah (right), local residents in Kuala Lumpur, were shocked to learn about the state-sanctioned forced organ harvesting. They both signed the petition to condemn it.
Brasilia, Brazil
Practitioners in Brazil held two events in Brasilia to celebrate the special day.
First, the opening ceremony of the Truthfulness-Compassion-Forbearance Art Exhibition was held on May 2 in a government-run gallery. The art will be on exhibit for a month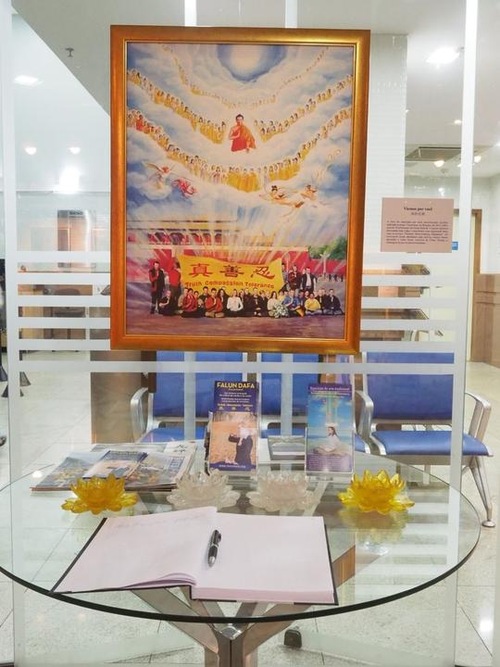 The entrance to the exhibition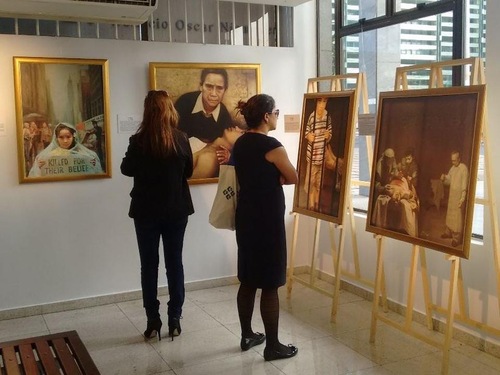 Studying the paintings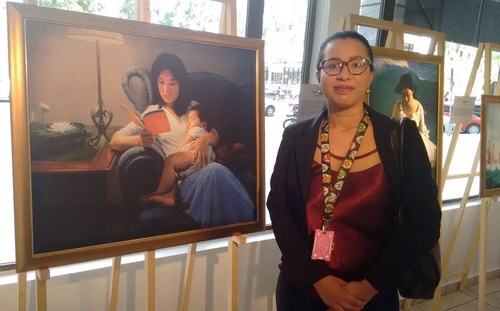 Kenia said, "Such evil will not last long, and the righteous belief will be restored in China."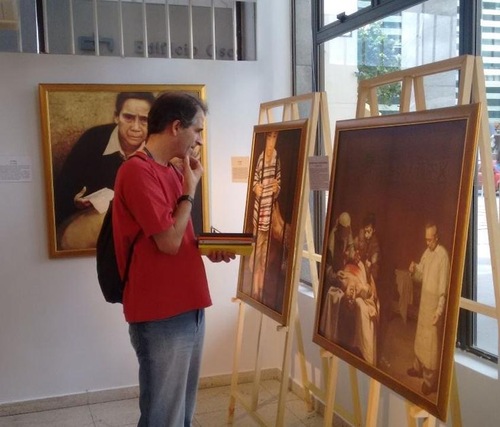 Fernando said he believes Falun Gong can help people. He wanted to go to the local exercise site at the weekend.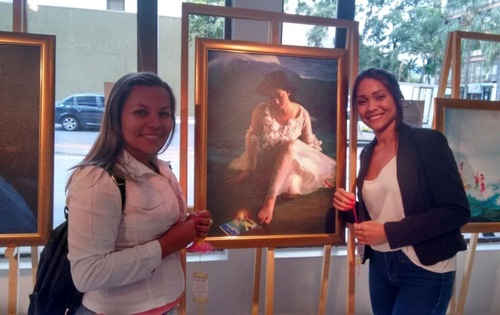 After she saw the paintings, Margareta (left) said the guiding principles of Falun Gong, Truthfulness-Compassion-Forbearance, had touched her heart. Accepting a handmade lotus flower she said, "The lotus flower is my favorite flower."
On May 7, practitioners set up a booth on the famous Praca dos Tres Poderes Square to tell people about the persecution of Falun Gong in China. Many people received Falun Gong materials.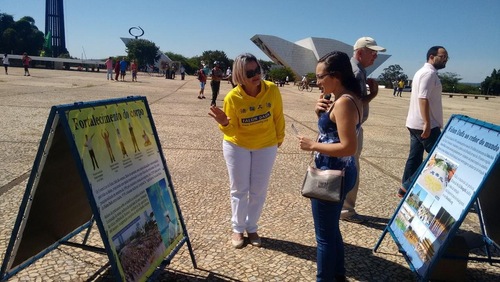 Telling people about the persecution
Students and teachers from a military school, Guarda Mirim Serafim, shouted, "Falun Dafa is good!"
Pingtung, Taiwan
Practitioners in Pingtung went to the local native Taiwanese area to introduce Falun Gong to the tourists and celebrate the holiday.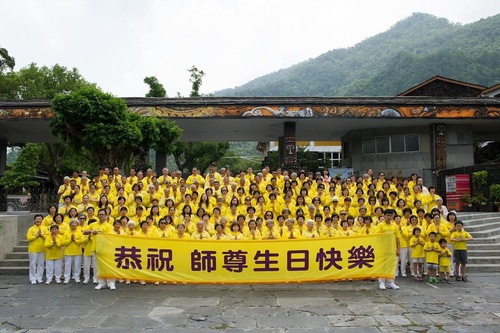 Practitioners wish Master Li Hongzhi a happy birthday.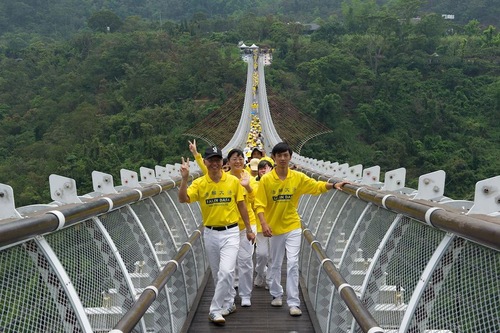 Pratitioners on their way to tell tourists about Falun Gong.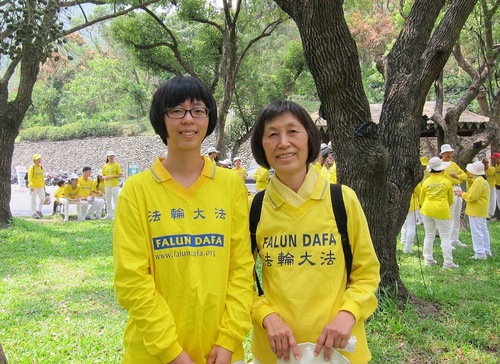 College student Jingying (left) and her mother Yuechu both believe that Falun Gong has improved their temperaments and that they have become more tolerant.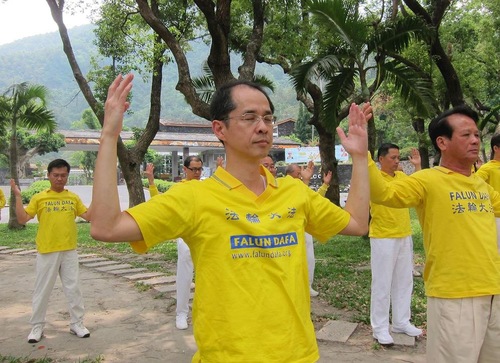 Chigang, a local restaurant owner, said Falun Gong renewed his health, and his temper has improved, too. Witnessing his changes, his wife and three daughters have also started practicing.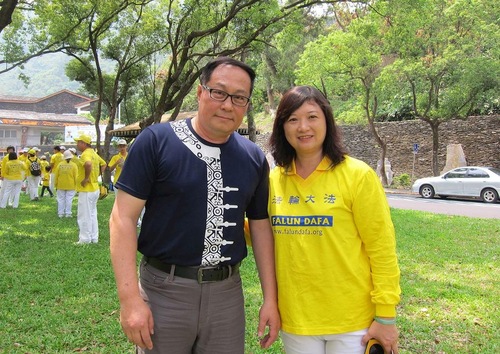 Hsileng and her husband Chihao thank Falun Gong for their happy family.
Hualien, Taiwan
Practitioners from Hualien, Taiwan, held a performing arts show at a famous local tourist spot on May 7 to celebrate the holiday.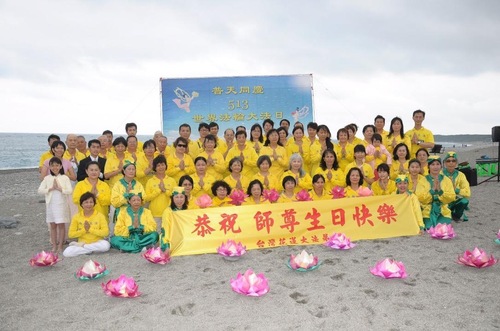 Practitioners wish Master Li Hongzhi a happy birthday.
Group exercises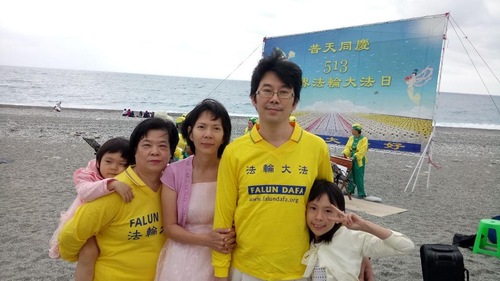 Shoucheng's whole family practices Falun Gong.
Shoucheng, who had quit the army, had severe muscle atrophy and bone disease. He was in a hospital for six months, but none of the therapies helped. Unfortunately, his parents also developed muscle and bone problems. The whole family participated in the Falun Gong free workshop and started practicing.
"All my ailments were gone. My whole family is thankful to Master for renewing our lives," Shoucheng said.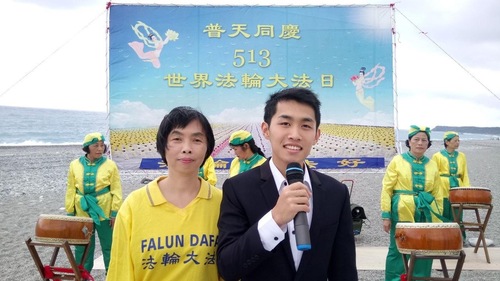 Cuirong, a retired elementary school teacher, tries to follow Truthfulness-Compassion-Forbearance in her daily life and work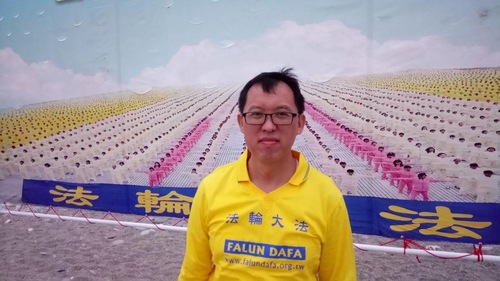 Yuanchang, a high school teacher, focuses on teaching students traditional moral standards.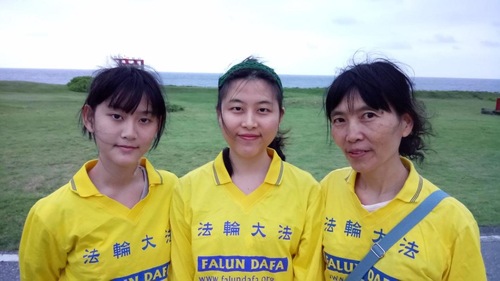 Tingyu (middle) and her sister (left) started to practice in the third grade.
Los Angeles
The celebration in Los Angeles was held at the seaside in Santa Monica on May 7. After doing the exercises together, the practitioners presented traditional Chinese dances, instrumentals, songs, and a martial arts demonstration.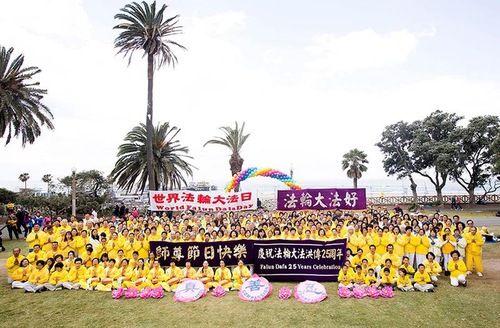 Practitioners from Los Angeles wish Master Li Hongzhi a happy birthday.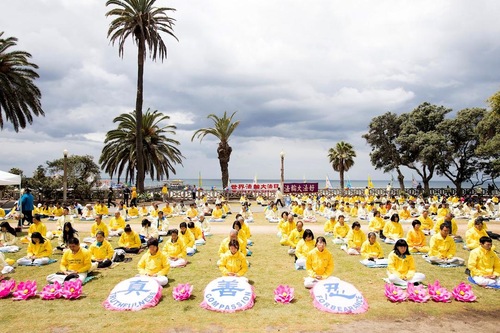 Doing the exercises together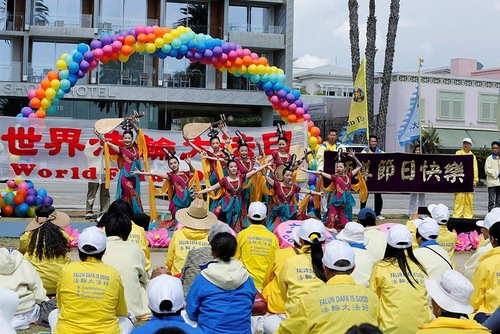 A traditional Chinese dance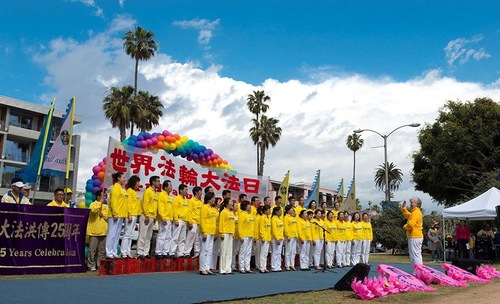 The choir
A few Chinese were pleasantly surprised to see Falun Gong.
Mr. Lin said he doesn't believe what the Chinese government said about Falun Gong at all. "All the practitioners that I know are very nice," he said.
A Chinese girl, Mary, said she often saw Falun Gong events in Hong Kong, but she didn't dare to accept their flyers. In the U.S. she has since learned what Falun Gong really is.
"I used to believe everything that the communist party said, but now I've discovered that they told many lies. It is hard for a person who lives in China to understand what a free society is like," Mary said. "I am interested in learning the exercises."
Las Vegas, U.S.A.
Practitioners in Las Vegas held events on May 7.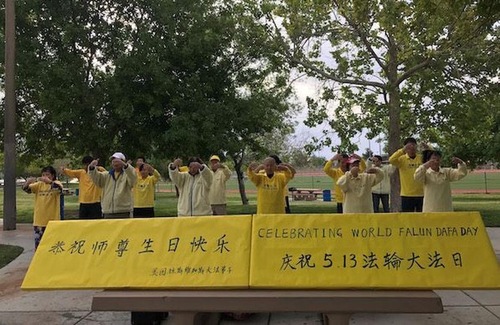 Doing the exercises together at a local park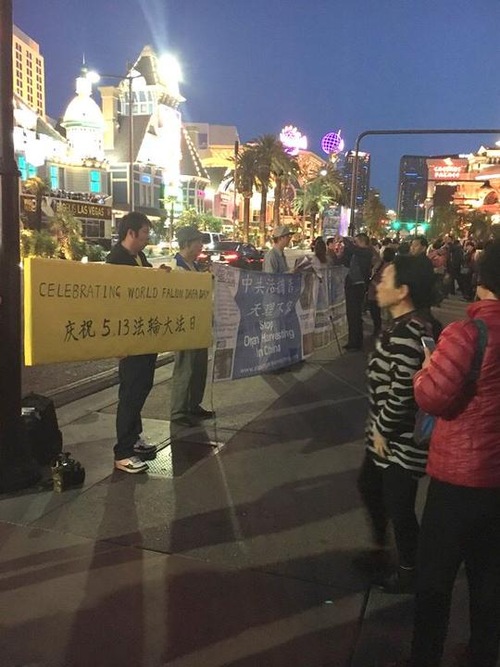 Telling Chinese tourists about the persecution in their home country.
Related articles in Chinese:
http://www.minghui.org/mh/articles/2017/5/11/洛杉矶欢庆世界法轮大法日(图)-347553.htmlhttp://www.minghui.org/mh/articles/2017/5/11/拉斯维加斯学员庆祝世界法轮大法日(图)-347566.htmlhttp://www.minghui.org/mh/articles/2017/5/11/庆祝大法日-巴西举办系列讲真相活动(图)-347567.htmlhttp://www.minghui.org/mh/articles/2017/5/10/世界法轮大法日-屏东学员在原住民部落传真相(图)-347402.htmlhttp://www.minghui.org/mh/articles/2017/5/11/庆世界法轮大法日-花莲学员谢师恩(图)-347572.html