Taking the Opportunity of Chinese New Year to Raise Awareness About the Persecution of Falun Gong in China
February 01, 2017
|
By Minghui correspondents in New York and Helsinki
(Minghui.org) Falun Gong practitioners around the world, the vast majority of whom are of Chinese descent, continue to raise awareness of the persecution of the practice in China even during the most important Chinese holiday. Here are a couple of examples held a continent apart in New York and Helsinki.
Candlelight Vigil in Helsinki, Finland
Practitioners held a candlelight vigil to commemorate those who have died during the 17 years of the persecution of Falun Gong in Helsinki, Finland on January 27, 2017, the eve of Chinese New Year.
They also collected signatures for a petition demanding that China's communist regime stop harvesting organs for profit from living practitioners incarcerated for their faith.
Many passersby were drawn to the candlelight vigil and exercise demonstration. After learning more about the persecution Falun Gong faces in China, many signed a petition in support of efforts to end it.
Another group of practitioners attended the Educa 2017 exhibition held by the Finnish Ministry of Education in Helsinki on Chinese New Years day. The event attracts about 15,000 people each year. They promoted the benefits of Falun Gong and raised awareness about the wrongful persecution in China.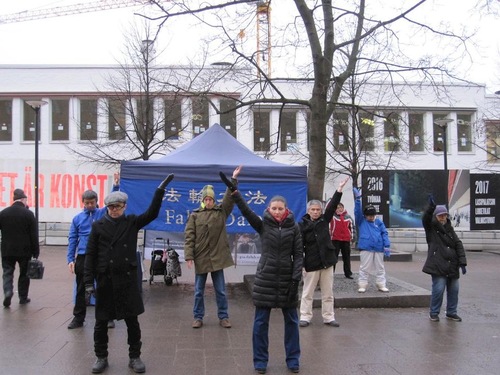 Demonstrating the Falun Gong exercises.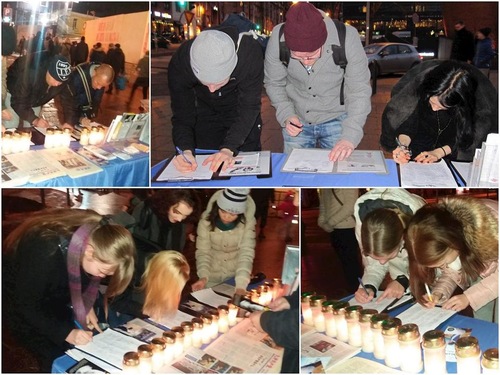 Passersby stop and sign petition to end the persecution of Falun Gong.
Brooklyn, New York: Raising Awareness of the Persecution in China
Across the Atlantic Ocean practitioners gathered on 8th Avenue in Brooklyn, New York on January 29, the second day of the Chinese New Year. Many Chinese people shop and visit families and friends here during the holiday season.
The Falun Gong group set up a table with a banner reading "Falun Dafa is Good." They displayed posters and distributed pamphlets and DVDs about the persecution Falun Gong faces in China. They want people to know why the persecution is wrong and why Party members should distance themselves from the Chinese Communist Party (CCP).
Festive balloons with "Falun Dafa is Good" on one side and "Truthfulness-Compassion-Forbearance is Good" on the other were offered to passersby and were very popular. Practitioners took the occasion to talk to people about Falun Gong and the persecution.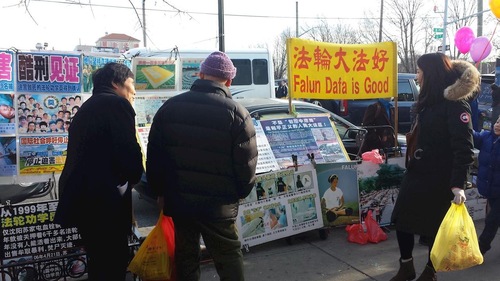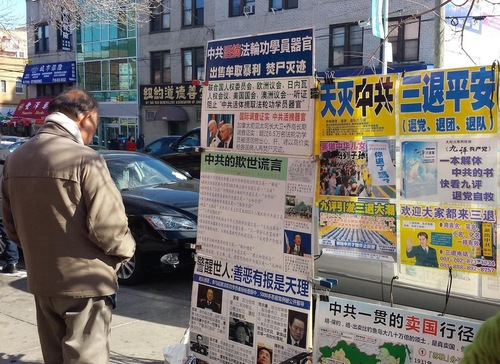 Passersby learn about the persecution of Falun Gong in China.
Some 1500 balloons were passed out and could be seen all over 8th Avenue and in many shops and restaurants.