Hualien, Taiwan: Informing People about Falun Dafa at Taroko Train Station
December 19, 2017
|
By a practitioner in Hualien
(Minghui.org) Practitioners in Hualien went to the Taroko Train Station on recent weekends to tell people about Falun Dafa and the persecution in China.
The largest county in Taiwan, Hualien is a famous tourist destination. The train station in Xincheng Township was renamed Taroko Train Station to highlight the renowned Taroko Gorge.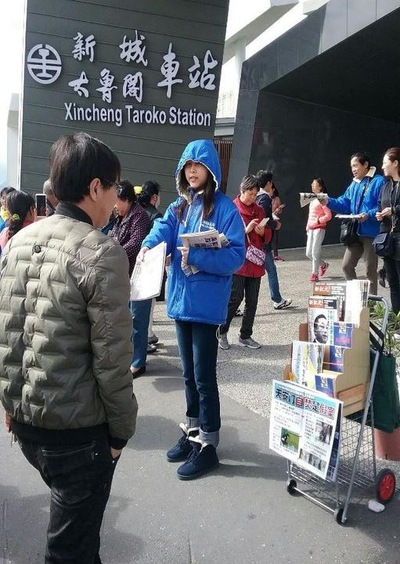 Falun Dafa practitioners distribute materials at the Taroko Train Station.
Min Yu, a practitioner who went to Hong Kong to participate in a World Human Rights Day parade on December 10, said such events really move him. "We distributed many copies of Minghui Weekly in Hong Kong—like we do here," he said. "Many people accepted our brochures and seemed eager to hear the real story of Falun Dafa." He said that, despite the cold, helping others understand the truth and debunking the communist party propaganda makes him feel warm.
To stop the ongoing suppression in China, practitioners held a signature drive on December 17. They split up into three groups and visited several villages, including Shun'an, Kangle, and Dahan near the ocean. Many people said they had already heard about the persecution but did not know it was still going on. They signed petitions and said they hoped the brutality would end soon. Some also asked how to get started learning the exercises.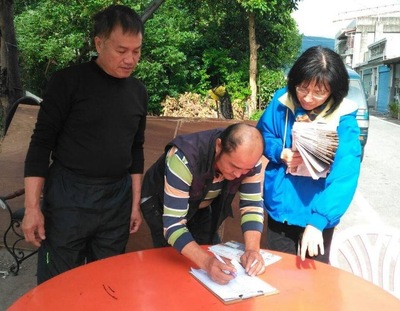 Collecting signatures in a village in Hualien County on December 17, 2017
One resident said she joined the Chinese communist organizations before coming to Taiwan decades ago. "There [in Mainland China] you can only hear or read what the Party wants you to know," she said. Surprised to learn that practitioners are being tortured for their belief, including having their organs harvested against their will, she decided to quit all her associations with those communist organizations. All her family of five signed petitions calling for an end to the persecution in China.