Toronto: Collecting Signatures to Rescue Canadians Detained in China for Their Belief
October 07, 2017
|
By Minghui correspondent Zhang Yun
(Minghui.org) Falun Gong practitioners in Toronto held a signature drive on September 30 to call for the rescue of Canadians detained in China for their belief.
Canadian citizen Sun Qian was arrested at her Beijing home on February 19, 2017. She was taken to the Beijing First Detention Center and tortured. Many Canadian officials have expressed concern over such severe human rights violations. He Aiyun, a permanent resident of Canada, was also detained for practicing Falun Gong.
At least 13 family members of the practitioners who attended the event had been mistreated in China for their beliefs. Signatures collected will be forwarded to Prime Minister Justin Trudeau and the Canadian government for follow-up action.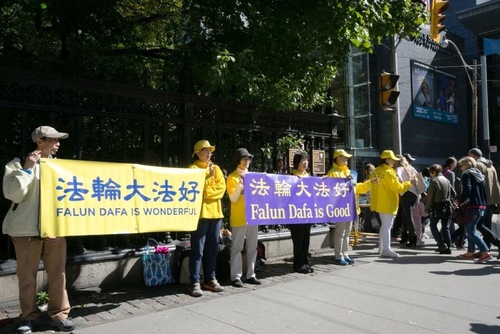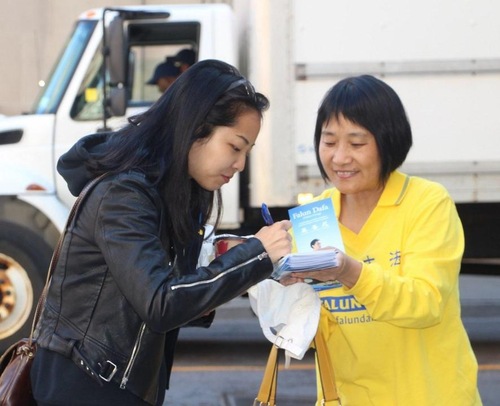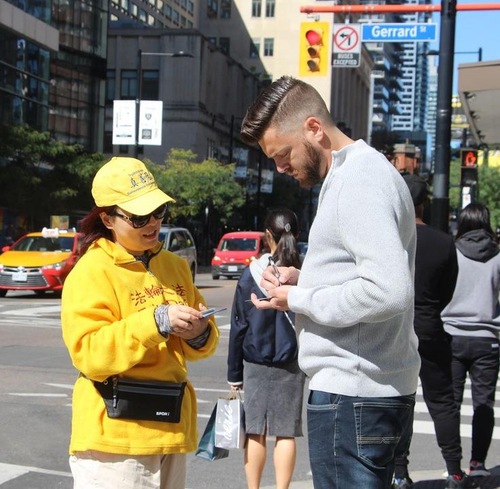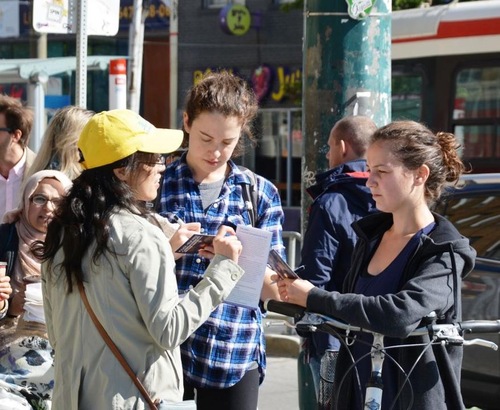 Falun Gong practitioners collect signatures in Toronto on September 30, 2017.
"We Have to Help Them"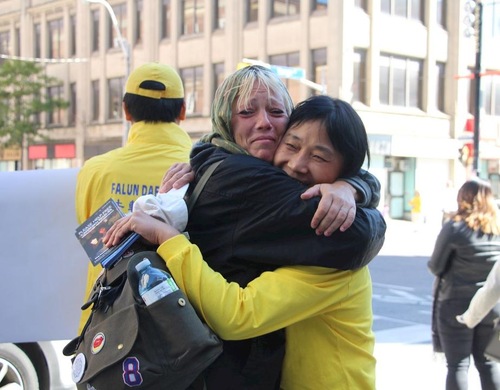 Local resident Patricia Dwyer was in tears and hugged a practitioner when she heard about the persecution of Falun Gong practitioners in China.
Local resident Patricia Dwyer was surprised to hear about the persecution in China. When she learned that practitioners had been detained and tortured in China for their belief, she was moved to tears and hugged a practitioner. "People should have the freedom of belief. How can a person be persecuted for doing such a peaceful meditation? We have to help them [detained practitioners]."
Ms. Dwyer and her friend Richard Hearn not only signed a petition but also took some postcards as they left. "I will tell people about this and get these postcards signed," she said. "Then I will mail them to Justin Trudeau."
Teacher: "Thank You for Activities Like This"
Social worker Amanda said she felt obliged to rescue Canadian citizens detained in China for their belief.
Amanda, a social worker, was also in tears. "I think we should know that as Canadian citizens, it is our job to rescue detained fellow citizens." She could not understand why anyone would be suppressed for meditating. "We must let the government know what they are doing and stop it as soon as possible."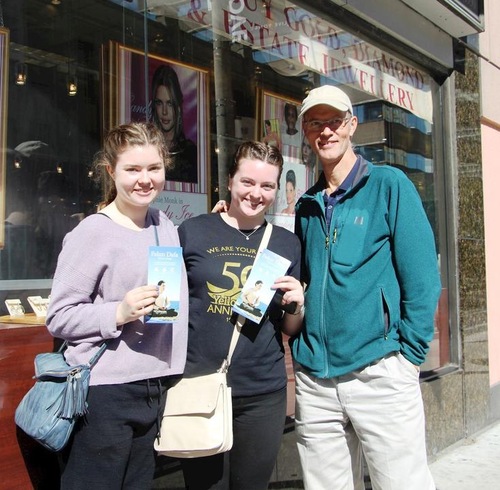 Schoolteacher Colin Read (right) and his students said the Canadian government should be aware of this and help.
Schoolteacher Colin Read from Waterloo came with two students. "Thank you for activities like this. The more people know about it, the better," he said. "We have to tell the Canadian government about this, so that they can urge China to release all practitioners detained in China."
"This [Persecution] Is Really Terrible"
Bobby Sherzai, a senior company executive, and his wife Nikita Defreitas both signed petitions. "Freedom of belief should be respected everywhere in this world," said Mr. Sherzai, "We are living in the 21st century, and I cannot imagine something like this could happen today. This [persecution] is really terrible."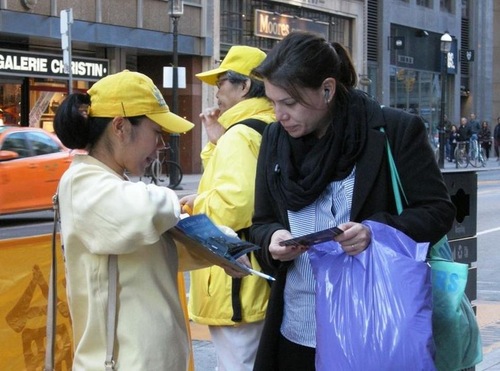 Television producer Juliette Duprey is concerned about the persecution in China.
Juliette Duprey is a television producer for TVOntario. She was disturbed to hear that Falun Gong is banned in China, even though it is embraced in more than 100 countries. As she left, she took two postcards, one for herself and the other for her husband. "We will sign them and mail them in," she said.
Several Chinese students studying at the University of Toronto spoke with practitioners and signed petitions. Two of them agreed to quit the Communist Party organizations they'd once joined.