Paris: Former French Minister Calls for Stop to Forced Organ Harvesting in China
October 18, 2017
|
By a Falun Gong practitioner in China
(Minghui.org) About 1500 practitioners from across Europe participated in a rally and march on the afternoon of September 30, 2017.
Tang Hanlong, president of the Falun Dafa Association in France, explained at the rally that Falun Gong is a peaceful practice that follows Truthfulness-Compassion-Forbearance, and that the practice spread quickly because of its health benefits. Out of jealousy and fear of losing control of the people, Jiang Zemin, the former head of the CCP, initiated the persecution of Falun Gong on July 20, 1999.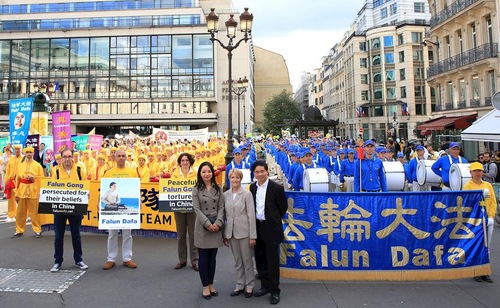 Former French Minister Françoise Hostalier (middle), Miss World Canada Anastasia Lin (left), and Tang Hanlong from the Falun Dafa Association of France at the rally in Paris on September 30, 2017.
Former French Minister Françoise Hostalier also attended the rally and joined the march afterwards. As president of the human rights organization Association Action droits de l'Homme, she reiterated the benefits brought by Falun Gong to the society and practitioners, and urged a stop to the brutal suppression.
She said that in France people can freely express their ideas and choose their beliefs. Unfortunately, not everyone in this world is able to do so. She said that 18 members from the Commission on Human Rights had drafted the Declaration of Human Rights before it was signed on December 7, 1948. Among them were René Cassin of France and Vice-Chairman Peng Chung Chang of China.
More specifically, Article 14 of the document specifies, "Everyone has the right to seek and to enjoy in other countries asylum from persecution." In addition, Article 3 reads, "Everyone has the right to life, liberty and security of person," while Article 5 includes, "No one shall be subjected to torture or to cruel, inhuman or degrading treatment or punishment."
But in China, hundreds of thousands of people are detained, tortured, and subjected to forced labor, simply because they practice Falun Gong, said Hostalier. She added that Falun Gong has no political pursuits, nor does it pose any threat to society. Instead, the meditation system makes people healthier and helps them improve their mind nature.
"When it [Falun Gong] spread in China in early 1990s, it was supported by the authorities. Why was it brutally banned a few years later?" she asked. "In fact, everyone knows the practice was banned by Jiang Zemin for purely personal reasons." She said that even some Communist Party leaders disagreed with the suppression, but it happened anyway, and has continued to this day.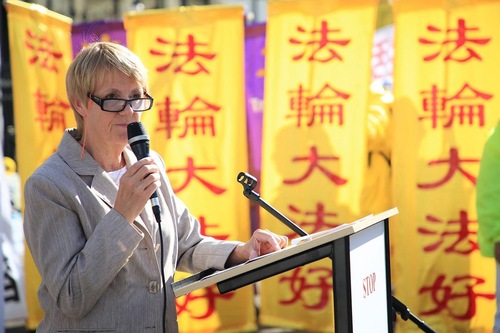 Former French Minister Françoise Hostalier spoke at the rally to support practitioners.
She said that many reports have confirmed the harsh persecution in China. According to one report from Amnesty International, one third of the detainees in China's forced labor camps were Falun Gong practitioners. After the labor camp system came to an end in 2013, many practitioners were sent to mental hospitals and prisons.
A report from the United Nations in 2006 listed many torture cases in China. Among them, 66% were from Falun Gong practitioners. In the same year, organ harvesting from living Falun Gong practitioners in China was exposed. There have been numerous resolutions in European Parliament (in 2006, 2010, and 2013) to condemn these unethical behaviors in China.
At the end of her talk, Hostalier said that China is a nation with ancient culture and a rich history. She said she hopes the persecution will end, and the perpetrators brought to justice. She believes justice and freedom will prevail.