(Minghui.org) The Independent Singapore carried a news article titled, "Falun Gong's Resilience for Survival" on August 30, 2016. The article noted that during the 17 year-long persecution of Falun Gong, launched by Jiang Zemin, the former leader of Chinese Communist Party, in 1999, practitioners have been subjected to job dismissals, imprisonment, torture, and even the forced harvesting of their vital organs.
Despite the brutal persecution in China, however, the practice continued to grow worldwide, where the practitioners are counteracting the persecution through peaceful rallies and demonstrations.
Below is the full text of the report:
Falun Gong's resilience for survival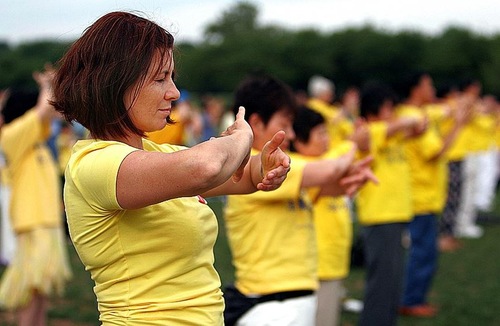 Falun Gong survives despite 17 years of persecution.
The persecution of Falun Gong began 17 years ago and still continues.
It's been estimated that 900,000 to 1.5 million transplants took place from 2000/2001 to 2015, which led to the deaths of tens of thousands of Falun Gong practitioners. Many practitioners have been imprisoned over the years and became prisoners of conscience.
Falun Gong, or Falun Dafa, a Chinese meditation practice, proliferated across China during the 1990s. Its practitioners regard it as a peaceful spiritual discipline with three core tenets on Truthfulness, Compassion and Forbearance, in the tradition of Buddhism. Before 1999, the practice was readily accepted by people and state institutions for bettering society and public health.
But under the helm of Jiang Zemin, the Chinese Communist Party (CCP) banned Falun Gong in 1999. The government launched a campaign of persecution that spawned massive human rights violations and uncounted deaths.
A range of reports from people inside China show that over 930 Falun Gong practitioners are incarcerated after farce trials since January 2015 alone. Tens of thousands more practitioners are confined in detention centers, "black jails," or stay in isolation to avoid illegal abduction by Chinese officials. Others were dismissed from their jobs, thrown into labor camps, and forced into homelessness.
According to human rights group Amnesty International (AI), torture is widespread as these illegal officials are compelling Falun Gong practitioners to relinquish their faith.
The Chinese government has been on the defensive regarding accusations of persecuting the belief's followers. They deny the allegations but have overtly opposed the movement.
A recent investigative report unveiled that Chinese doctors are carrying out tens of thousands of organ transplant surgeries each year. A majority of those organs come from Falun Gong practitioners who are illegally detained and even murdered to harvest their organs for a growing medical tourism industry.
Hundreds of lawyers have represented Falun Gong practitioners in court and challenged the legality of their treatment. Members of civil society have stood up by signing petitions to push for the release of Falun Gong practitioners. Even the police in some provinces refuse to arrest Falun Gong followers, according to sources report by Freedom House.
Despite persecution, tens of millions of people in China still practice Falun Gong, usually in their private spheres. Estimates suggested that there were up to 100 million practitioners of Falun Gong prior to 1999. The exact number of Falun Gong practitioners is vague since there isn't a membership register.
Ryan Manuel, a strategic research fellow at the Australian Centre for China in the World at the Australian National University (ANU) said it is impossible to know the precise number of Falun Gong followers.
"They claim an enormous amount of members, but ... You have to practice in secret within China," he was quoted in an online article on ABC.
"They're a banned organisation, but a banned organisation that often publicly rally and protest."
Practitioners like Wei insist that Falun Gong is a spiritual meditation practice and not a religion.
"Although people might look at Falun Gong this way, we don't think this way because we consider it as a lifestyle. It's our daily life," said Wei.
In 2014, a demonstration was held in Canberra, Australia by protesters during Xi Jinping's visit to (the) Parliament House. They wanted to draw attention to the treatment of Falun Gong practitioners in China.
Holly Wei, a Falun Gong practitioner who participated in the demonstration, was quoted in an online article on ABC, "We just want our voice to be heard, our message to be sent across to him."
"Falun Gong is a spiritual meditation practice based on the guiding principles of truth, compassion, and forbearance, which are universal values," she added.
The protestors deliberately went to the streets when Jinping was in Australia for a state visit.
"We just want him [Xi Jingping] to see the message … that is to help stop the persecution in China. We know he is not responsible for this, but we would like him to help end this persecution against humanity," she said.
Falun Gong has spread its wings to many corners of the world.
Last month, hundreds of police officers congregated in Mexico City to practice Falun Gong as a means of quelling violence. Over 600 members of the School's Security Units participated in the training session for an unprecedented time.
Laura Martínez Coca, a police officer in charge of training said that the meditation had made the officers more relaxed and patient for the remaining part of the day. Policeman Adrián García said that she felt lighter, "as if something had gone."
Despite 17 years of oppression, Falun Gong's grassroots outreach efforts are still bearing fruit. Its followers are continuing to spread the practice and are growing in numbers. The members are taking steps peacefully to defy the government's persecutory policies and promote the traditional values of Truthfulness, Compassion and Tolerance.