Australian Car Tour Receives Strong Support
September 23, 2016
|
By Mu Wenqing, a Minghui correspondent in Australia
(Minghui.org) During the Australian Falun Dafa car tour, practitioners from Sydney have provided information about the ongoing persecution of Falun Dafa in China, especially the state-sanctioned large-scale forced organ harvesting from living Falun Dafa practitioners in China, to almost 60 towns in Australia. More than 200 towns are on the car tour route. Practitioners have received great support in every town they passed.
Politicians Attend Rally
It happened to be Parliament sitting when the car tour arrived in Canberra on August 30, 2016. When Falun Gong practitioners held a rally in front of the Parliament House, Senator Janet Rice and Senator Scott Ludlam attended the rally to show their support. They praised Falun Gong practitioners for their work and expressed their support for human rights in China. Falun Gong practitioners submitted more than 3,000 postcards with signatures from the public, calling for the Prime Minister to urge the Chinese government to stop the persecution. Senators are passing the postcards to the Prime Minister.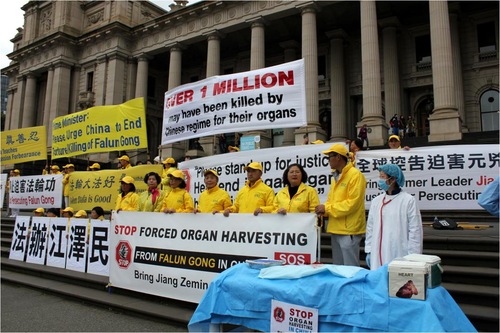 Falun Gong practitioners hold a rally in Melbourne.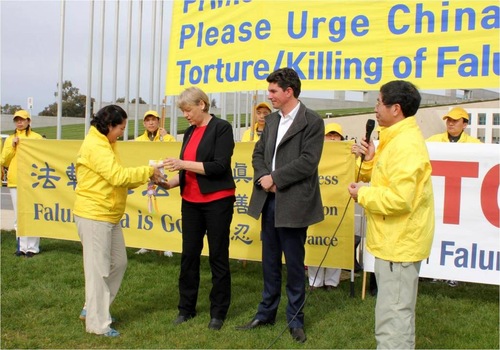 Senator Janet Rice and Senator Scott Ludlam show their support at the Falun Gong rally in Canberra on August 30.
Senator Lee Rhiannon from New South Wales sent a supportive letter to the rally. She wrote that U.S House Resolution 343 had brought hope. She would like to see the Australian government formally condemn and help stop the organ harvesting in China.
MP David Shoebridge in the NSW Parliament called for Prime Minister Turnbull to raise the human rights issue directly with the Chinese regime. He said there was nothing to lose, and we had the responsibility to help stop this practice (organ harvesting) as part of international society.
Victorian State MPs Bernie Finn and Gerard Flood, treasurer of the Democratic Labor Party, praised Falun Gong practitioners' work at the rally in Melbourne on September 2. Mr. Flood encouraged practitioners to visit members of parliament to tell them facts about the persecution.
Report Series by News Corp Australia
News.com.au, a news website owned by News Corp Australia, interviewed several Falun Gong practitioners from the car tour, and produced a series of reports, including Extreme torture: Inside China's correctional facilities, Inside China's secret brainwashing centers: "People only see what the government wants them to see," and The Reality of Human Organ Harvesting in China. These reports exposed the tortures, brainwashing, and organ harvesting from living Falun Gong practitioners in China. The reports were coupled with interview videos.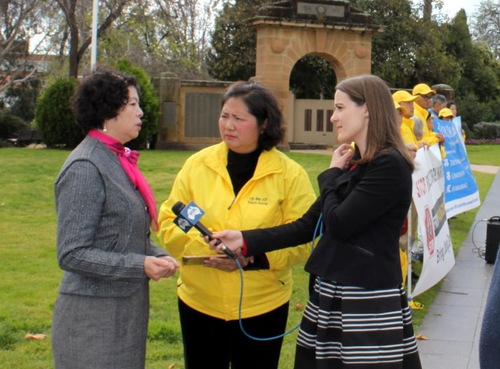 A WinTV reporter interviews Falun Gong practitioners.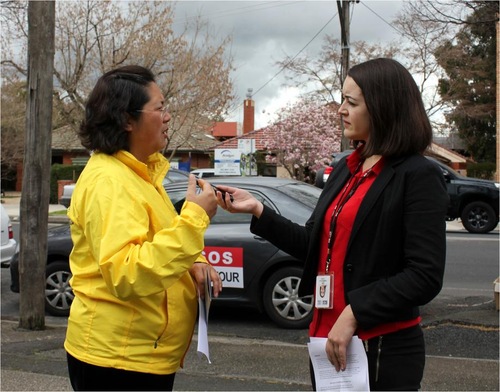 A practitioner is interviewed by ABC Radio Australia.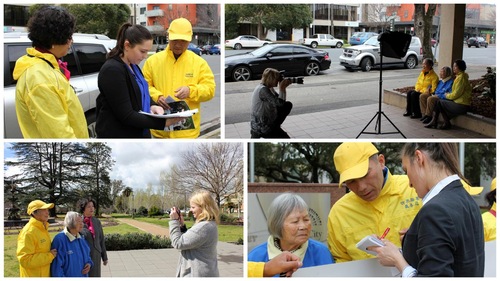 Reporters from BorderMail, Newsweekly, DailyAdvertiser, and other media reported on the car tour.
Besides mainstream media, local newspapers, TV stations, and radio stations also reported the car tour as it passed through their cities.
Support from Local Communities
Falun Gong practitioners in the tour visited many local governments and offices, hospitals, libraries, and churches. Many people offered to help with spreading the news. They helped practitioners contact governments and media, and post information along the streets.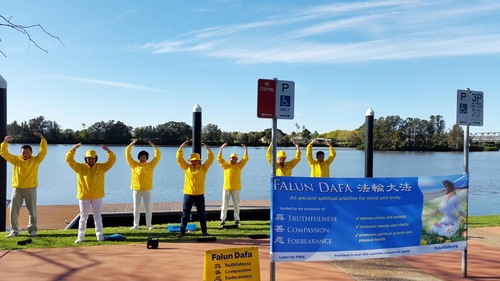 Falun Gong practitioners demonstrate exercises in front of Taree City Hall.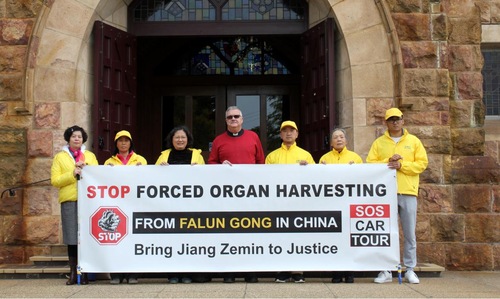 Father Ken supports Falun Gong practitioners.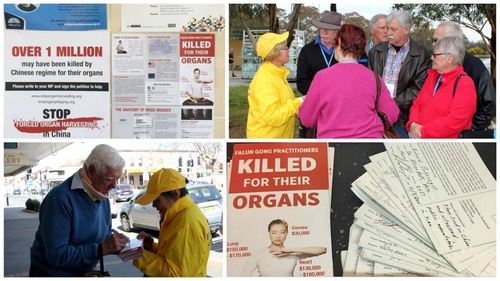 Many people sign postcards calling for the Australian Prime Minister to take action to stop organ harvesting.
Sisler, a teacher in Goulburn, asked for more than 20 postcards for colleagues and friends to sign.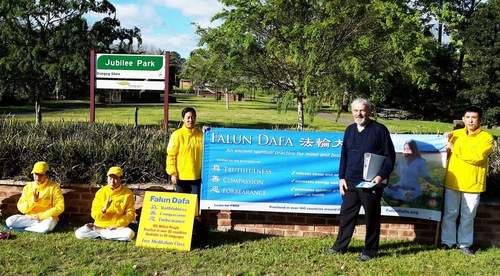 Allen in Dungog shows great interest in Falun Gong and would like to help stop the persecution.