Toronto Petition Campaign Receives Great Public Support
August 22, 2016
|
By Sha Hui and Zhang Yun, Minghui Correspondents in Toronto
(Minghui.org) Falun Gong practitioners in Toronto have been collecting signatures on postcards to Canada's Prime Minister Justin Trudeau, calling for him to help stop forced organ harvesting from living Falun Gong practitioners during his upcoming visit to China in September. The petition campaign, which has been underway since last month, has received great support from the public.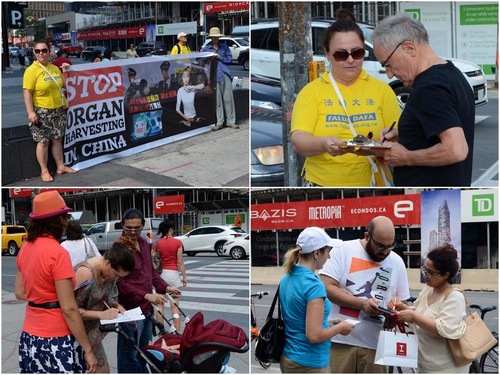 Falun Gong practitioners collect signatures at a busy major intersection, Yonge & Eglinton.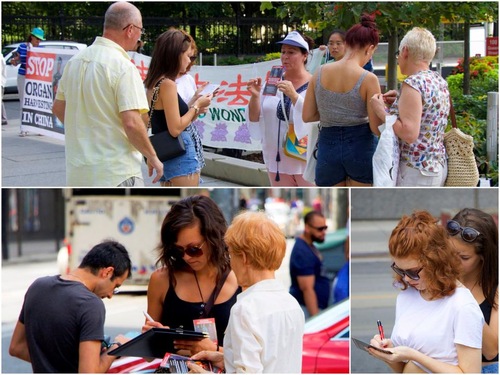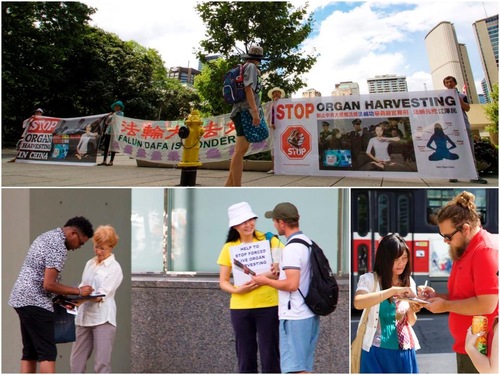 Signature collection in downtown Toronto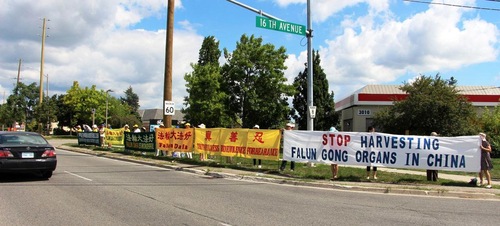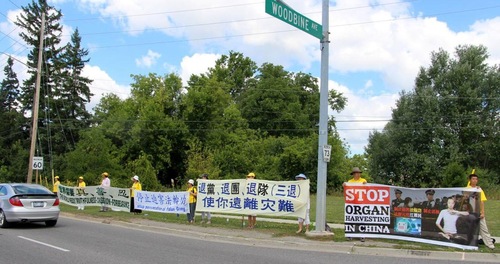 Falun Gong practitioners setup a "Great Wall of Truth" with banners in Markham of the Greater Toronto Area.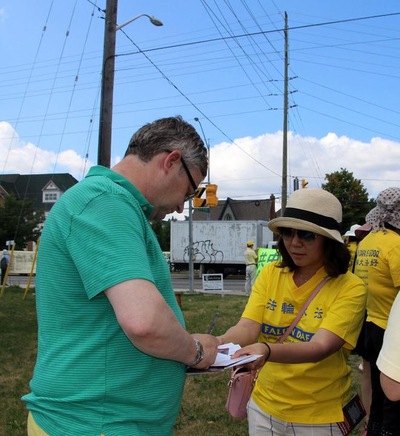 Paul, a resident of Markham, encourages Falun Gong practitioners to hold more activities to raise awareness of the persecution and organ harvesting atrocities in China.
Paul, a resident of Markham, spent a long time finding out information from Falun Gong practitioners. He told a practitioner, "What you are doing is great! If you could raise awareness in more ways, you will get more support." He suggested practitioners attend MPs' parties and community activities. He said, "One of my friends has told me if I see people in yellow T-shirts on streets, I could learn a lot of things I didn't know from them. Now I know he was talking about you!"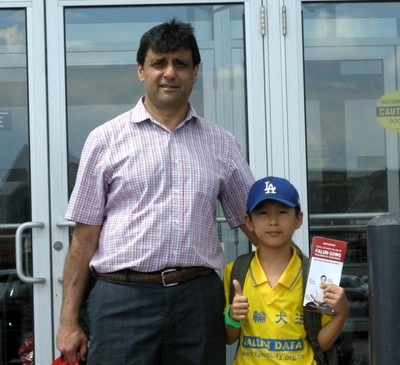 Mr. Sunderani, a business owner, with a young Falun Gong practitioner
Mr. Sunderani, a local business owner, signed a postcard and told a practitioner, "I'm shocked to hear about the forced organ harvesting. I realize that I have to face it and help stop it by signing a postcard."
University student Jonathan Siu supports Falun Gong practitioners.
Jonathan Siu, a student of Queen's University, told a practitioner, "I support your activity to stop the forced organ harvesting and persecution!"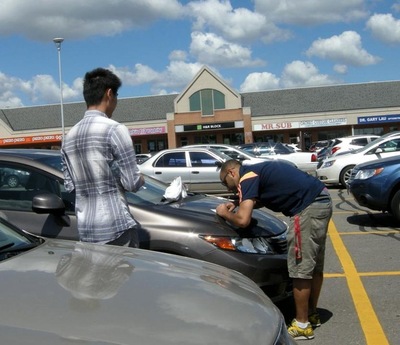 Mr. Mawani signs a postcard to Prime Minister Trudeau
Mr. Mawani, who works in a charity foundation, hurried to sign a postcard on hearing about the forced organ harvesting. He said, "All lives are equal. It's so wrong to persecute a certain group because of their belief, especially those who believe in Truthfulness, Compassion and Forbearance. We have to help these good people stop the crime of organ harvesting for profit."
Mr. Fasil Hassan wrote a message on a postcard, asking the Prime Minister to help stop the forced organ harvesting. When his girlfriend arrived, he told her about it. She also signed a postcard. Fasil also help practitioners tell passersby about it, and took a signature board to help collect signatures. He quickly gathered a couple of signatures. Fasil also called his father, a community leader, and his uncle in the United States, getting their support.
Before he left, Fasil took some blank postcards and told practitioners, "Don't worry. I will tell my family and friends to sign them. I would like to tell all the people in the community about the persecution, and ask the whole community to sign postcards."
Mr. Erik and his friends signed postcards after hearing a Falun Gong practitioner's introduction. Mr. Erik said, "Falun Gong's idea of Truthfulness, Compassion and Forbearance is great! I truly hope people will understand and follow it. Our community, our world and the universe all should accept it. This is what I would like to tell Prime Minister Trudeau...When I got the postcard in hand, I heard my Lord tell me, 'Sign it.' And I did. Your activity works! Because I was talking to the universe when I signed it." He was excited to get a Falun Gong introduction flyer, and started copying the exercise movements.
Mr. Zhou, a Chinese Canadian, told Falun Gong practitioners he had signed a postcard, and fully supported Falun Gong. He said, "It has been almost 20 years! I see you in Chinatown everyday. I also saw Falun Gong in Singapore, Japan, and Malaysia!"