Chicago: Protest in front of Chinese Consulate Against Falun Gong Practitioner's Passport Being Revoked
August 12, 2016
|
By a Falun Gong practitioner
(Minghui.org) Falun Gong practitioners held a protest in front of the Chinese Consulate in Chicago on the evening of August 10, 2016. They condemned the Chinese Communist Party's (CCP) travel denial of Falun Gong practitioner Wang Zhiwen, a well-known coordinator in China. They are asking the Chinese government to reissue a passport to him.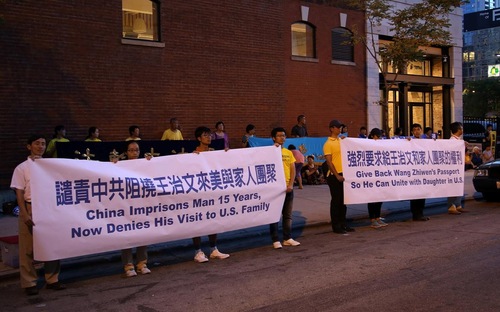 Protest in front of the Chinese Consulate in Chicago on August 10, 2016.
Wang was one of the main coordinators of the former China Falun Dafa Association. He was an engineer in the Ministry of Railways. He was arrested on July 20, 1999, when Jiang Zemin, former head of the CCP, initiated the persecution of Falun Gong. He was sentenced to 16 years of imprisonment. He was released in October 2014, and has been under house arrest since then. His passport application was unexpectedly approved in January 2016.
His daughter, Danielle Wang, a U.S. citizen, and her husband went to Beijing recently to help him get a visa. But the border patrol in Guangzhou, Guangdong Province revoked his passport and blocked his travel abroad.
Danielle and her husband returned to the U.S. on August 9 empty-handed. She said to reporters at the airport, "When we passed customs, border patrol cut his passport without giving a reason. They said his passport was canceled by the Ministry of Public Security."
Yang Sen of the Falun Dafa Association pointed out in front of the Chinese Consulate, "This was done by Jiang Zemin's faction. We demand the Chinese government to reissue a passport to Wang Zhiwen and allow him the freedom to travel abroad. We call on the international community to help Mr. Wang reunite with his daughter in the U.S."