(Minghui.org) Near the July 20 date that marks the 17th year since the persecution of Falun Gong began in China, Falun Gong practitioners around the world held events to raise awareness of the ongoing persecution. Featured here are events that were held in Thailand, Malaysia, South Korea, and Macau.
Thailand
With banners and exercises demonstration, practitioners gathered at the Lumphini Park in Bangkok on July 17, mourning practitioners who lost their lives in the persecution.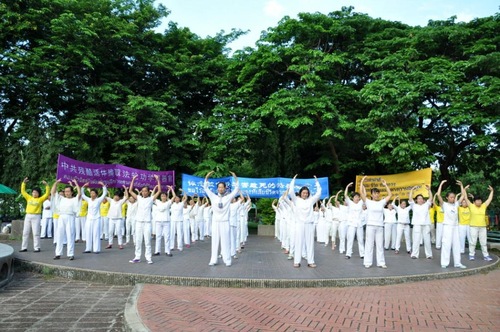 Thailand practitioners do the exercises in Bangkok on July 17.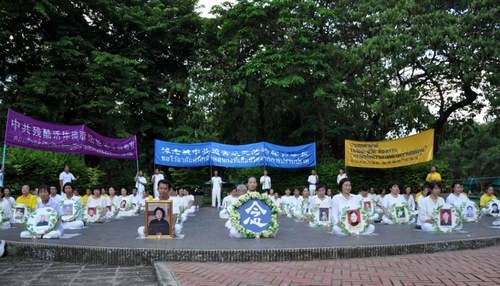 Pictures of practitioners who died as a result of torture were presented at the event.
More than 4,000 named practitioners have died because of torture in police custody. Chi Lihua, a practitioner from Liaoning Province, shared her story.
Her husband, Xu Dawei, died in 2009 at the age of 34, after severe torture and 8 years in prison. In addition, two older brother of her, as well as their wives, were all arrested and detained. Several members of the family, including her parents, died one after another within a few months because of the pressure and harassment and grief caused by these tragedies.
"I was arrested and detained for four times simply for my belief," Chi said.
Malaysia
Malaysian practitioners held numerous activities recently to expose the 17-year-long suppression in China.
Practitioners performed the exercises at Taman Pelangi Indah in Johor on July 10. With posters and pictures of the practitioners who died of torture, they told passersby the brutality in China, including forced organ harvesting.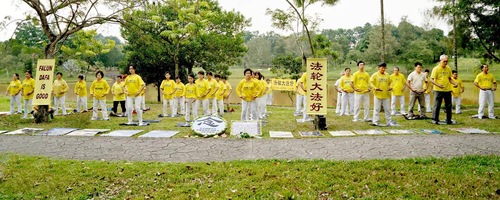 Falun Gong exercise practice at Taman Pelangi Indah in Johor on July 10.
A rally took place near the Chinese Embassy in Kuala Lumpur on July 17. It focused on the increasing lawsuits against former Chinese leader Jiang Zemin for launching the persecution of Falun Gong. A letter was also submitted to Chinese officials urging them to stop the brutality.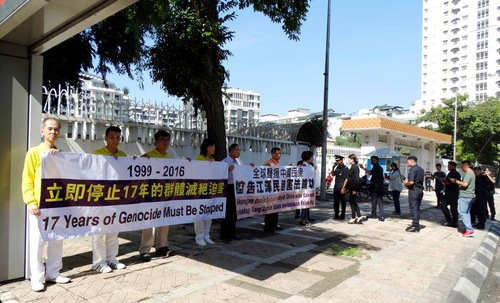 Banners at the Chinese Embassy in Kuala Lumpur.
At Titiwangsa Lake Gardens in Kuala Lumpur, practitioners held a candlelight vigil on July 20 to raise awareness of the atrocity against innocent people in China.
South Korea
Practitioners in Seoul and nearby regions came to Cheonggyecheon on the evening of July 20 for a candlelight vigil, hoping more people could help stop the human rights violations in China.
One Korean couple said many people in South Korea knew Falun Gong practitioners are peaceful. They said similar events should take place in China so that more Chinese could stop being deceived by the communist regime's propaganda.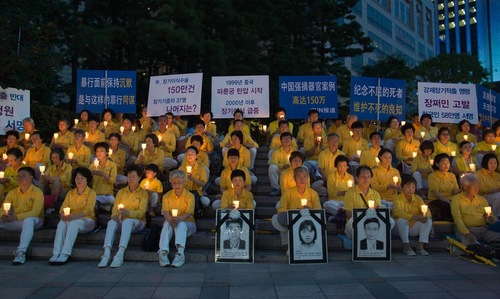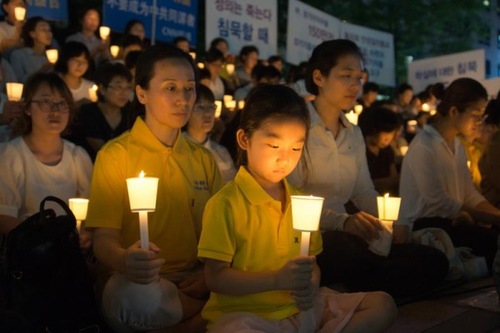 Candlelight vigil at Cheonggyecheon Seoul on July 20.
Eric, an ethnic Chinese who grew up in the United States, read the posters and talked with practitioners. He has seen practitioners in the U.S. and knew of the persecution in China. He took some booklets and Nine Commentaries on Communist Party for further reading.
Fushan, a tourist from China, said she had heard about organ harvesting from living Falun Gong practitioners by accessing news through special software that circumvents the internet firewall. Still, she was touched by the posters and what she learned from the practitioners.
"Forced organ harvesting must stop," she said. "I think everyone will agree on this."
Macau
Practitioners in Macau organized a candlelight vigil at the Liaison Office of the Chinese Government on July 20.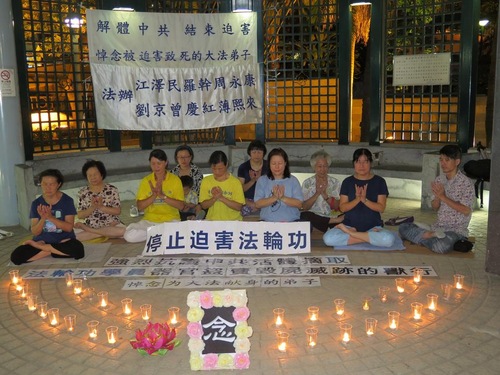 Candlelight vigil by Macau practitioners on July 20.
Ms. Yu and and Ms. Chen went to Beijing to appeal for Falun Gong shortly after the suppression began in 1999. "It just felt like the right thing to do. Falun Gong was unjustly attacked and we had benefited so much from it," explained Ms. Yu.
But they were nonetheless arrested and detained. "Our visas were confiscated by officials. But nothing could stop us from believing in Truthfulness-Compassion-Forbearance," Ms. Chen added.
Related articles in Chinese:
http://www.minghui.org/mh/articles/2016/7/22/331737.html
http://www.minghui.org/mh/articles/2016/7/22/331743.html
http://www.minghui.org/mh/articles/2016/7/23/331790.html