(Minghui.org) When the Chinese Communist Party banned Falun Gong in July 1999, about 100 million people in China were practicing it.
To mark the 17th anniversary of the persecution, practitioners around the world have been holding events to raise awareness of the ongoing outrage. Below are reports from Britain, Germany, and France.
London, England: Hearing on Forced Organ Harvesting
After attending activities in the United States to provide updates on their earlier investigations on forced organ harvesting in China, David Matas and Ethan Gutmann arrived in London on June 28 for several meetings at the Houses of Parliament. The hearing on June 30, in particular, drew widespread attention.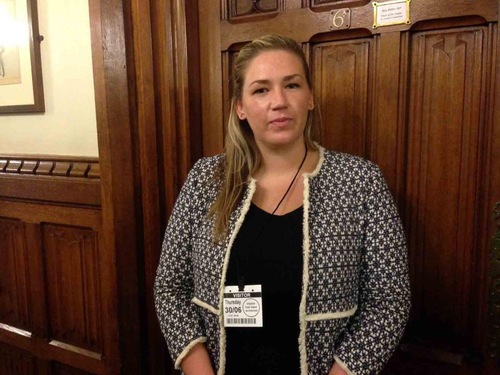 Lauren Vidler from Human Rights Without Frontiers International said the British government should not neglect the persecution of Falun Gong in China.
Lauren Vidler from Human Rights Without Frontiers International was shocked by what she heard at the meeting. She said such a large-scale, vicious suppression was similar to acts of religious cleansing.
Commenting that the severity of the suppression in China was "beyond imagination," she said, "This just shows how badly the communist party has mistreated Falun Gong."
She said that the West should pay close attention to this issue: "We cannot include human rights in our constitution while ignoring what is happening in real life."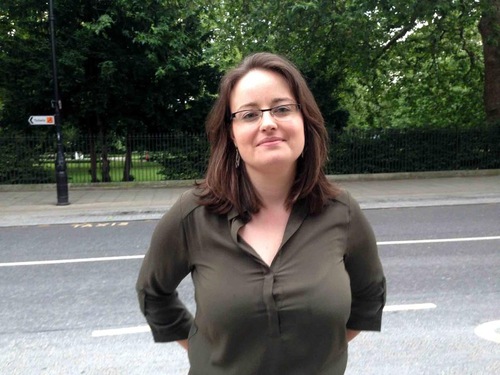 Torie Robinson said no one should remain silent in the face of brutality such as forced organ harvesting.
Torie Robinson, career consultant and strategist, watched the documentary Hard to Believe on forced organ harvesting on June 30 and said, "I was horribly shocked."
Given the nature, immense scale, and severity of the crime, she said that many other issues Western governments pay attention "pale in comparison."
She expected to see more such reports in the news: "I know some news media have been influenced [by the Chinese Communist Party]; nonetheless, we need to know the truth and we must take actions to resolve this [forced organ harvesting]."
Bremen, Germany: Collecting Signatures
Practitioners in northwestern Germany were in Bremen on July 9 to collect signatures calling for an end to the suppression in China.
Rolf-Dieter Wichmann, a renowned karate coach, often travels internationally for competitions. He said he had heard about organ harvesting from Falun Gong practitioners living in China. "It is terrible. I will sign a petition for sure."
Ursula, who lives in Bremen, had seen Falun Gong activities before. "It's too bad the Chinese Communist Party messes up everything," she said, pointing to a poster set up by practitioners. "People need to know what's really going on. Thank you for telling us about all this."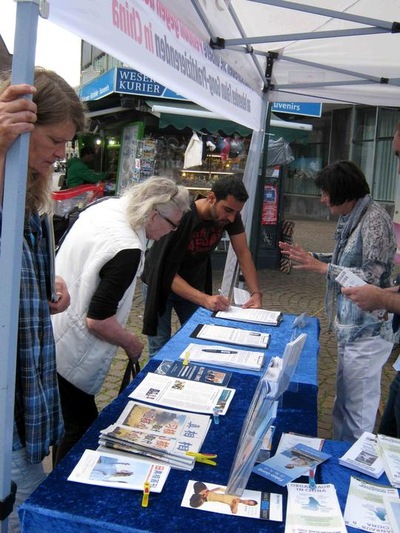 Pedestrians sign petitions to support Falun Gong practitioners.
Ben Karbaumer, a Bavarian who currently lives in Kansas in the US, was visiting his relatives. Although he had heard about Falun Gong back in Kansas, he had not met any Falun Gong practitioners in person.
He said the forced organ harvesting reminded him of the Middle Ages. "Right now we have advanced technologies [for organ transplants], but they are being used to kill people and undermine basic humanity. It is a terrible, dangerous combination."
Paris, France: "This Affects Us All"
Next to the Eiffel Tower, Falun Gong practitioners in Paris set up posters and collected signatures from passerby on Human Rights Square on July 17. Practitioners doing the meditation caught the attention of many tourists and residents.
Emanuel, a manager with an IT firm, was surprised to learn that practitioners have been tortured for their belief: "I did not believe the communist party in China could be this bad. Compared to the nation's glorious history, this is a disgrace."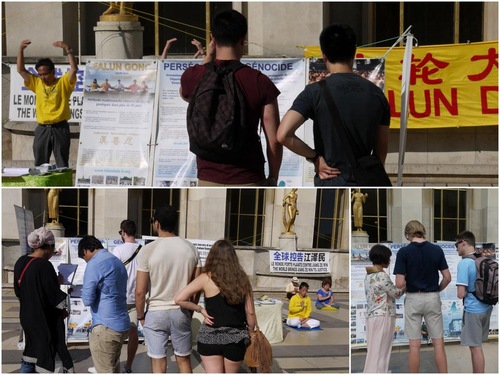 Tourists read posters about Falun Gong on Human Rights Square on July 17.
Rachid, an English teacher from Morocco, saw Falun Gong posters three days ago outside the European Parliament Building. He signed a petition and said he would tell his students about the issues.
Muth Thim, a chemist from Cambodia, was familiar with the brutality of the communist party. "The Khmer Rouge killed almost all my relatives in the 1970s. Unfortunately, they continue to harm innocent people even today."
Philippe Dupont, a computer network engineer, was walking with his children when they saw the Falun Gong practitioners' booth. After reading each poster, he was in tears: "This [forced organ harvesting] is terrible. We are all human beings and this affects us all."
Related articles in Chinese:http://www.minghui.org/mh/articles/2016/7/19/331596.htmlhttp://www.minghui.org/mh/articles/2016/7/11/331207.html