(Minghui.org) Even though the weather was a very warm 90 degrees, John Blystone, a producer and director at WAG TV in the U.K., sat with Falun Gong practitioners on the lawn in front of the Liberty Bell in Philadelphia.
Wearing a heavy metal replica of a 13th century British noble knight's armor, Blystone was making a documentary of the Magna Carta and the traditional Western spirit of freedom in Philadelphia when he ran into Falun Gong practitioners at the Liberty Bell on June 19, 2016.
Blystone had heard about Falun Gong and the persecution in China. He said he supports Falun Gong's peaceful resistance.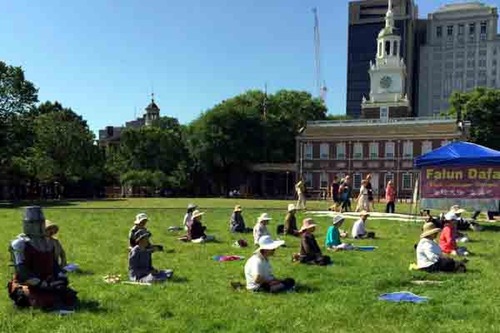 John Blystone, a British TV producer and director (left, in metal armor), said he supports freedom, which he believes is the central theme of the Magna Carta.
Falun Gong practitioners in Philadelphia have regularly held events at the Liberty Bell and Chinatown this summer to raise public awareness of the Chinese communist regime's persecution of Falun Gong.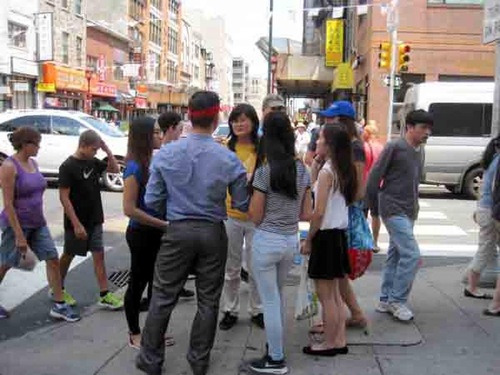 A Falun Gong practitioner (middle, in yellow) tells the public about the persecution.
Dominique Richaidson, who works at local hospitals, passed by the practitioners' banners and praised their efforts. She exclaimed, "More people need to know this. I cannot image such a brutal crime," referring to China's state-sanctioned killing of Falun Gong practitioners to use their organs in transplants.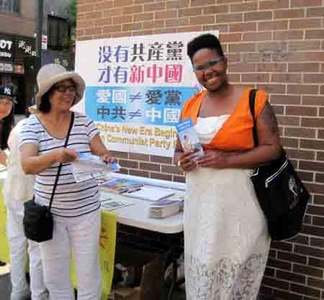 Dominique asked for Falun Gong materials and said she wanted to know more about the meditation practice. "It looks peaceful. I like it. I'll tell my friends about this. People should help to stop the persecution."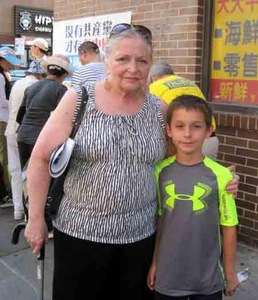 Luann Ruyak, a local schoolteacher, with her grandson, ran into Falun Gong practitioners in Chinatown. Luann was shocked by the persecution. "There is no doubt that everybody should have the freedom of belief," she said.
Mr. Wang, from Xi'an, China, is visiting his daughter. He saw the Falun Gong event in Chinatown and talked to practitioners for a long time.
Mr. Wang said, "China is in chaos now. Every government official is corrupt. Good people can't live there. The whole system is completely rotten, and good people are being persecuted. I do not want to stay in the Communist Party."
Mr. Wang went through the process of quitting the Party with practitioners' help. Before leaving, he said to them, "Thank you for helping me quit the Party. I know Falun Gong practitioners are a group of good people."
Mr. Lin from Guangxi, China also had a chance to talk to practitioners in Chinatown. He said, "You can't compare China to America. We can't learn the truth in China. I read the newspaper earlier at lunch and learned about the forced organ harvesting. The government officials kill people for profit. It's terrifying. The Communist Party is really evil."
Mr. Lin also quit the Party with help from practitioners.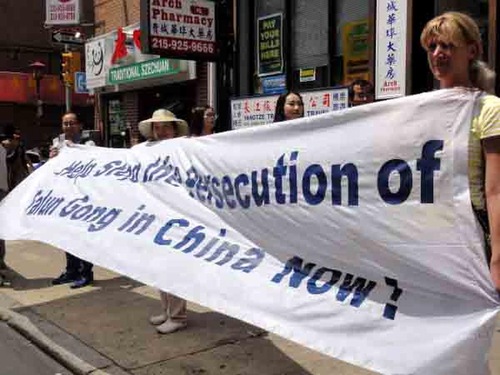 Irine Foxson (right) held the Falun Gong banner in the sun for three hours.
Irine Foxson, a local bank employee, said that if people know how wonderful Falun Gong is, they will join the practice. "Falun Gong has changed my life. I'm happier and more relaxed. I'm more efficient at work, and I treat other more kindly."
Irene continued, "But many Chinese people have been deceived by the Communist Party's propaganda. I want them to know what Falun Gong really is, and that they are being persecuted in China."