(Minghui.org) At a press conference held outside the Chinese Embassy in Washington DC on May 27, 2016, Falun Gong practitioner Du Haipeng said, "From 1999 to 2016, a seventeen year-long persecution caused numerous Chinese young people like me to live under the terror of being persecuted. Their youth, the best time of life, was shadowed in worries and wicked suppression, due to the communist regime."
Du was accompanied by Falun Dafa practitioners, who were protesting at the Chinese Embassy, asking the communist regime to release his mother, Yuan Xiaoman, also a Falun Dafa practitioner, who was arrested at her home in Dalian City, Liaoning Province on May 12, 2016, because she had filed a complaint against former dictator Jiang Zemin the year before.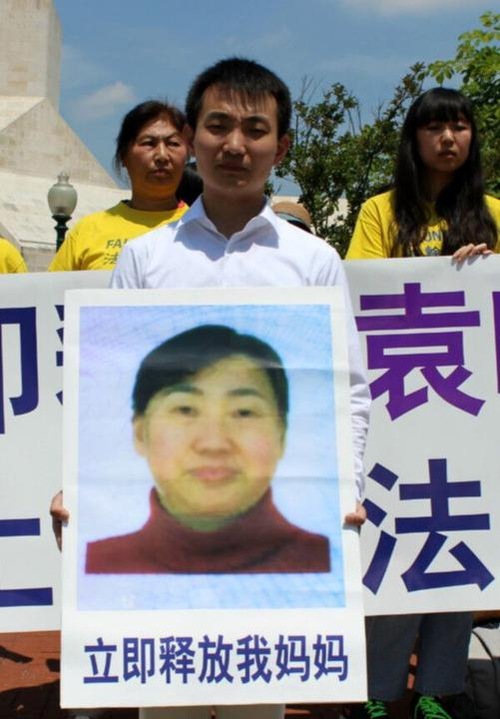 Du Haipeng, a resident of Washington DC, protested at the Chinese Embassy on May 27, asking the regime to release his mother, Yuan Xiaoman, who was arrested at her Dalian home two weeks ago for filing a complaint against former dictator Jiang Zemin the year before.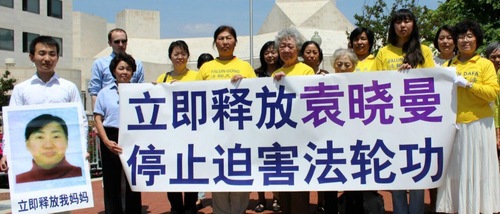 Officers from the Kunmin Street Police Substation ransacked Yuan Xiaoman's home on May 12, and detained her at the Yaojia Detention Center of Dalian City for her criminal complaint against former dictator Jiang Zemin.
Her physical exam showed a systolic blood pressure above 180, higher than the level to be accepted into detention. However, the authorities ignored her health condition, and also forbid visitation by her family.
The authorities also threatened her husband to keep his mouth shut and not make trouble.
Falun Dafa Brought a Happy Family Life
Du Haipeng's father started practicing Falun Dafa in 1995, after he read through Zhuan Falun, the primary book of Falun Dafa teachings, for the first time, and was surprised to find his eye illness disappear without any medicine.
His short temper changed, his health improved, and he stopped using bad language after one month of practicing.
Amazed at the changes in him, his wife Yuan Xiaoman and son Haipeng also started practicing Falun Dafa.
The exercise quickly improved Xiaoman's health, too. Her severe anemia subsided, and she became stronger. At work, her leaders often praised her for her inspiration on the job and being full of energy when she was required to work overtime.
At home, her relationship with her parents-in-law improved when she began to respect them, as taught in the Falun Dafa books.
After the mother-in-law had a stroke and was paralyzed in May 1997, Xiaoman took care of her for the next three years until she passed away.
Hailing recalled, "She cleaned grandma's body every day. She kept her clean from head to toe. For three years, grandma never had any bed sores. Because of practicing Falun Dafa, our family enjoyed happiness and harmony."
Persecution Destroyed Peaceful Life
Haipeng's father was arrested in 2000, after Jiang Zemin ordered the persecution of Falun Dafa in July 1999. He was given three years of forced labor, and was tortured in the labor camp. He was shocked with electric batons on his chest, palms, and feet.
He was dying when released in 2003. However, Falun Dafa exercises and Xiaoman's care brought him back to health.
Xiaoman's friend Wang Chunyan, a fellow Falun Dafa practitioner, also attended the protest in DC.
Wang Chunyan said, "She (Yuan Xiaoman) is a very good person. She is kind and always willing to help. Everyone likes her. It is absolutely wrong to jail anyone like her."
Ge Min, spokesperson for the Falun Dafa Association of Washington DC, appealed to the officials at the Chinese Embassy, Consulates, and levels of government to resist the Chinese Communist Party in persecuting Falun Dafa and unconditionally release all jailed practitioners.
Ge Min said, "Take action to compensate for the crimes you have committed when you violated Chinese law in persecuting Falun Dafa, and save your own future."
Du Haipeng added, "Release my mother Yuan Xiaoman immediately!"