(Minghui.org) Six current and former Canadian parliament members and 700 Falun Gong practitioners celebrated the 17th World Falun Dafa Day in front of Parliament Hill in Ottawa on May 10, 2016.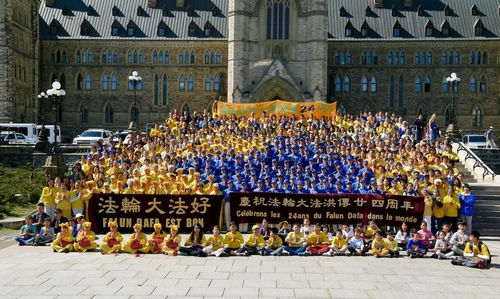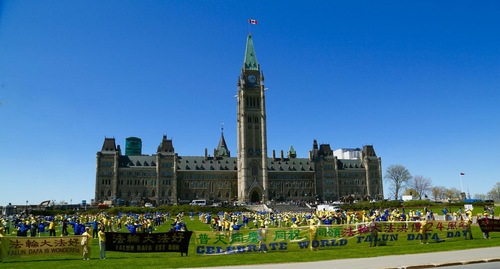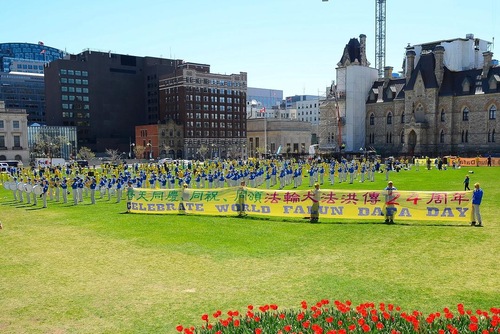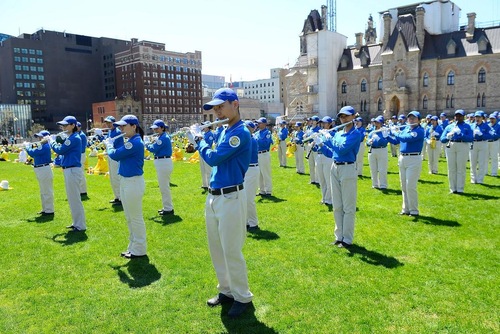 Celebration in front of the Canadian Parliament Hill.
Lawmakers Support Falun Gong's Peaceful Resistance
Parliament Members Peter Kent, Judy Sgro, Garnett Geuis, Elizabeth May, Senator Don Merrdith, and former PM David Kilgour gave speeches at the celebration.
Peter Kent, chair of Parliamentary Friends of Falun Gong, spoke to "Call on the new government, on Prime Minister Trudeau, to continue to speak up in every contact with the Chinese government to ensure a better respect for human rights generally, but in particular with the many millions of practitioners of Falun Gong."
Hon. Peter Kent hopes that every visiting Chinese government official "Takes home a message about Zhen Shan Ren, Truthfulness, Compassion, and Tolerance, as practiced by practitioners across Canada and around the world, and in the millions in China."
Long-term Falun Gong supporter, MP Judy Sgro said to practitioners that she has been here on Falun Dafa Day many years in a row, "To be with you, to acknowledge each and every one of you, to applaud you, to thank you for your faith, for your kindness, and your support for a peaceful country as we move forward."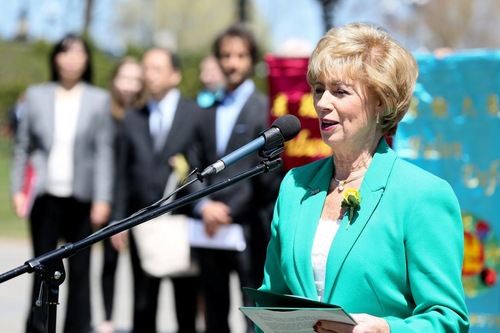 Hon. Judy Sgro said, "I stand in solidarity with Falun Dafa practitioners and our Parliamentary caucus as we strive to defend and promote religious and cultural rights in everything that we do."
MP Garnett Genius commended Falun Gong practitioners not only on their activism, but also on their hope. He said, "When these things go on – these abuses - for years and years and years, perhaps the temptation for some may be to give up, to lose hope. But you haven't done that. You are here, we're here to support you, believing, not just in an idle sense, but believing in a serious way that things will change, things must change in China."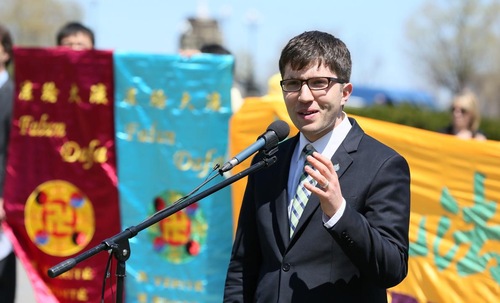 Hon. Garnett Genius commended Falun Gong practitioners for their ongoing activism. He said, "You do such a phenomenal job and you're supporters of continually bringing these issues to the attention of Members of Parliament."
Green Party leader MP Elizabeth May said that the Chinese state-sanctioned organ harvesting from living Falun Gong practitioners is "More deeply shocking and deeply troubling than almost any other human rights violation you can find on the face of the earth."
She said it is time for the Chinese government to respect "The intrinsic value of every human being, to respect rights and peaceful practices."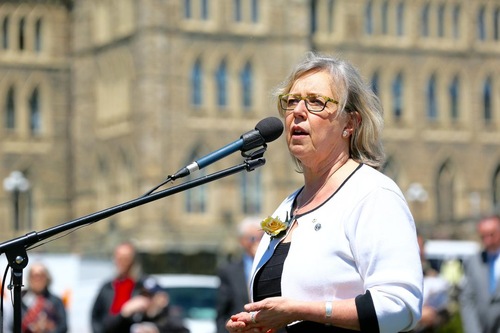 During an interview at the event, Hon. Elizabeth May said, "Truthfulness and Compassion and Forbearance are wonderful principles for the whole world," and "Any principles such as these are most welcome in Canada."
Senator Don Meredith encouraged practitioners to keep fighting for their rights. He quoted Dr. Martin Luther King, "If you cannot fly then run. If you cannot run, then walk. If you cannot walk, then crawl. But whatever you do, keep moving forward."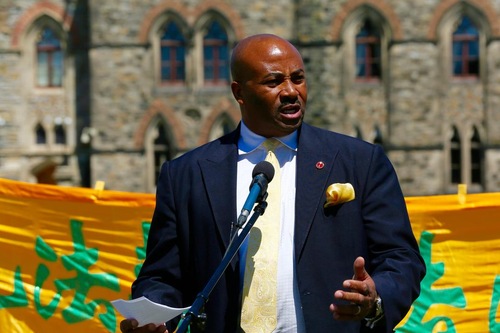 Senator Don Meredith said in the interview at the event that the principles of Truthfulness-Compassion-Forbearance, "Are values that we share in Canada, and I think it's important that we don't allow any outside influence to take those values such as compassion away from us."
Former MP and diplomat David Kilgour said, "Working as volunteers, David Matas and I concluded, with dismay, that for 41,500 transplants performed from 2001 to 2006 in China, the only plausible explanation for sourcing was Falun Gong.
We are convinced the Chinese Party-state has been committing systematic murder against the community for almost 15 years. We term it a 'New form of evil on the planet' and continue to investigate."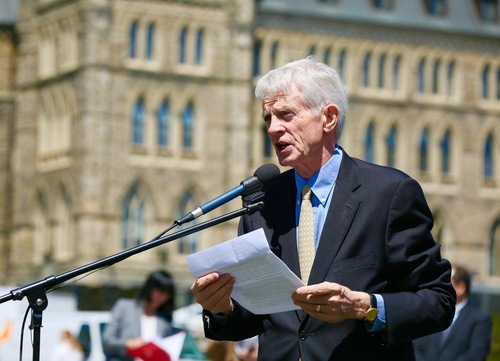 Hon. David Kilgour said, "Falun Gong practitioners across China draw from ancient Chinese traditions, including universally-respected values, such as kindness and compassion, also truth and forbearance."
Spectators Enjoy Falun Gong March, Music and Art Performances, and Exercises
As part of the celebration, practitioners also held group exercises, a march in town, and music and art performances, which were warmly welcomed by passersby.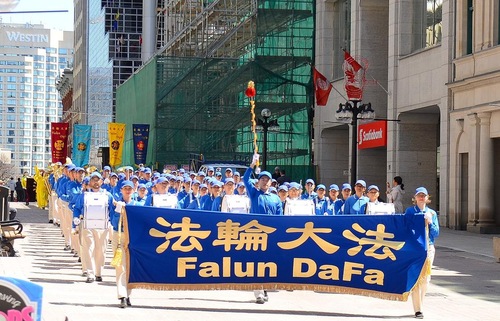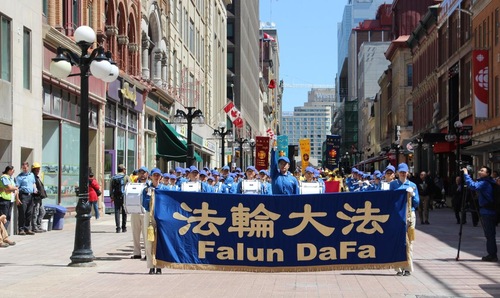 The march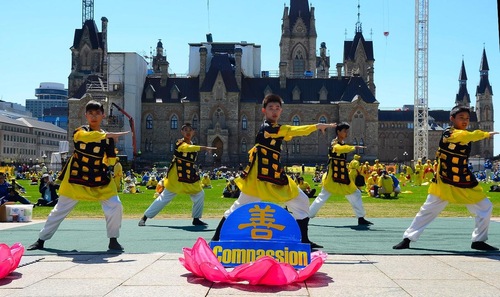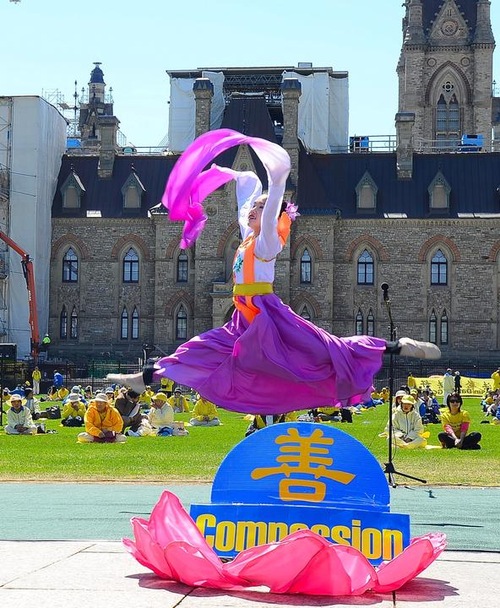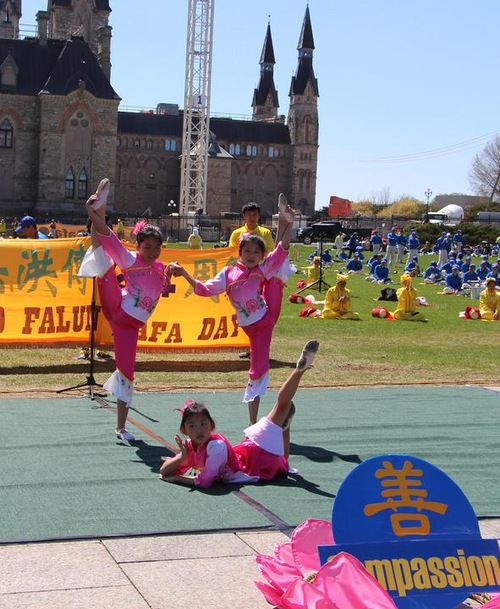 Music and art performances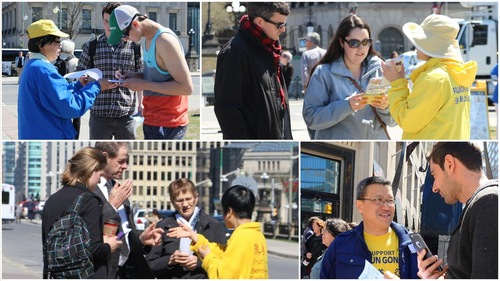 People talk to Falun Gong practitioners, wanting to know what Falun Gong really is.
Said Benrquia from Morocco was deeply attracted to the exercises. After learning the four sets of standing exercises, he was not satisfied. He asked a French-speaking practitioner to teach him the fifth exercise, the sitting meditation.
He said that a strong energy flow entered his body while doing the exercises. "What is more valuable is the teaching of this practice—Truthfulness-Compassion-Forbearance. I really appreciate these nice practitioners who taught me the movements. I will continue to practice it."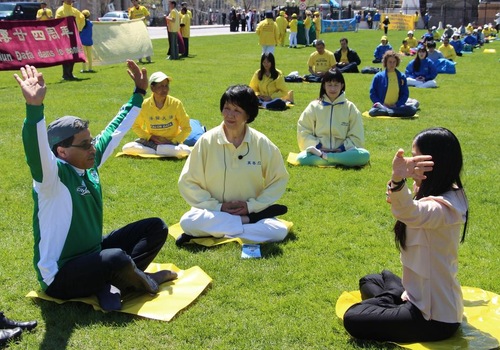 Said Benrquia learns the sitting meditation. "My work is stressful. This practice is the best choice for me," he said.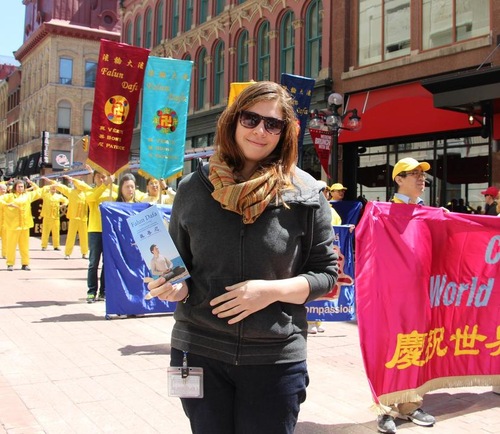 Jen, a local white collar worker, said the practice and the teaching of Falun Gong are "Good to your body, soul, and mind. I don't have any reason not to support them." She also condemned the persecution of Faun Gong in China.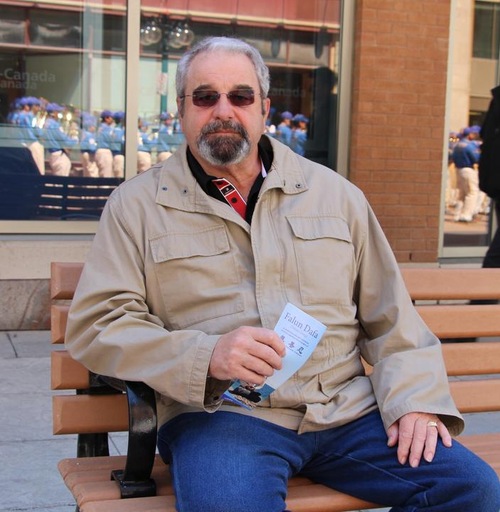 Mike has seen Falun Gong's Divine Land Marching Band in many parades. "I like this band." He said, "I am glad that they can freely practice their belief and demonstrate their beauty in the free country of Canada. I always support them."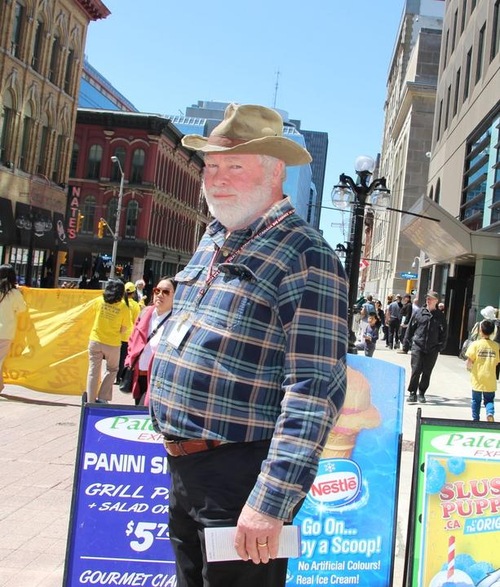 Garwood said that the band's performance was encouraging. "I am happy that more people will learn what Falun Gong is through their march and performances."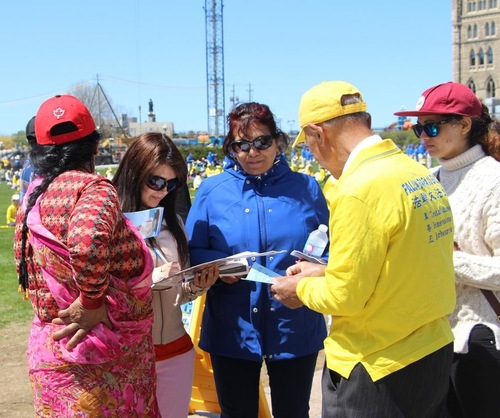 Tra (middle) and her family sign petition to condemn the persecution. "I understand and support Falun Gong's fight for freedom," she said.
Related article in Chinese:http://www.minghui.org/mh/articles/2016/5/12/加拿大东部法轮功学员国会山前庆祝法轮大法日(图)-328267.html