(Minghui.org) "Human Harvest," an award-winning documentary exposing organ harvesting from imprisoned Falun Gong practitioners in China, aired on 3SAT in Germany, Switzerland, and Austria on February 18, 2016 during prime time.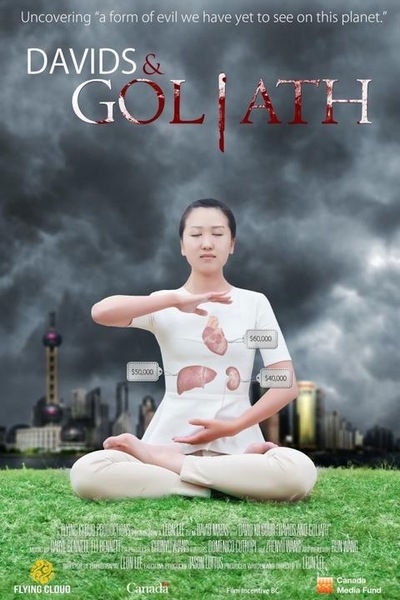 Documentary "Human Harvest," award winner at the 74th Annual Peabody Award ceremony in April 2015 and at AIB in November 2015 for best international investigative documentary.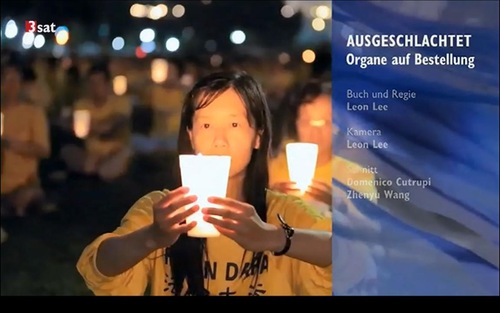 German version of "Human Harvest" airs on 3SAT at 8:15pm on Feb. 18, 2016.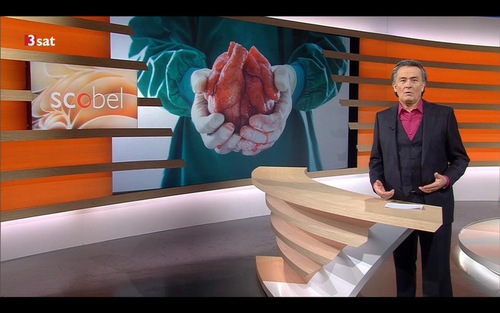 Talk show host Mr. Gert Scobel hosts a panel discussion on organ harvesting in China.
Documentary Triggers In-Depth Discussion
The documentary "Human Harvest" exposes the Chinese Communist Party's organ harvesting atrocities through testimonies, data analysis, and interviews of international medical and human rights experts, organ transplant patients, and a family member of a Chinese doctor who was involved in organ harvesting in China.
Since the persecution of Falun Gong was launched by Jiang Zemin's regime in 1999, Falun Gong practitioners have become the major source of organs for transplant surgeries in China, as a part of Jiang's mandate to "eradicate" the group. The Chinese Communist Party (CCP) established a complete system of organ harvesting for profit, using the state apparatus and the medical system. Surgery rooms were used for the execution of living, healthy Falun Gong practitioners.
Following the documentary, 3SAT aired a panel discussion on human rights in its one-hour program "Scobel" at 9 p.m. Named after the host, Mr. Gert Scobel, the program discusses issues in social ethnics, science, and culture with experts in these fields.
Professor Huige Li of the University of Mainz was a guest on the "Scobel" program focusing on organ harvesting. Professor Li mentioned that the background of the large-scale organ harvesting for profit was Jiang Zemin's suppression of Falun Gong, and the CCP's monopoly overriding of the laws of the nation. He spoke about how a CCP leader's will could go above the nation and the laws. Jiang even established a gestapo-like "610 Office" to especially carry out the genocidal persecution policy against Falun Gong.
Chain Effect on European Media
Established to broadcast cultural programs in German in 1984, 3SAT is a public TV network founded by Germany, Austria and Switzerland. Close to 100 million households in Europe can receive 3SAT programs. After the broadcast, many viewers commented on social media, "It's terrible!" "They can do anything for money!" "It's beyond human imagination! The brutality exceeds Nazi concentration camps!"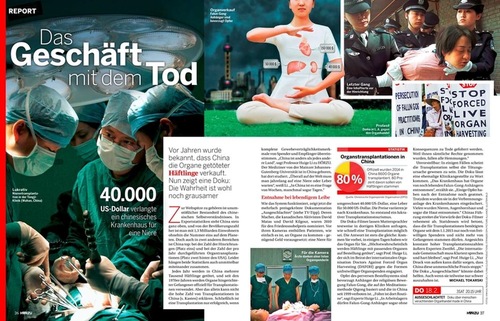 Announcement of "Human Harvest" in the magazine Hörzu
Hörzu, the largest weekly magazine on TV programs in Germany, announced the upcoming documentary on 3SAT with two full pages covering the organ harvesting crimes and the persecution of Falun Gong in China. The magazine has a circulation of 1,400,000.
A major newspaper in Norway provided a link to the documentary's website (http://www.humanharvestmovie.com) on the newspaper's website, and provided the documentary video with Norwegian subtitles at http://www.vgtv.no/#!/video/124041/human-harvest since Feb. 5.
Growing International Media Attention
The documentary has received attention from broadcast media worldwide. TV networks in more than 20 countries have aired the film, including the U.S., Canada, Australia, the U.K., Germany, Austria, Switzerland, Norway, Denmark, Spain, Portugal, Poland, Taiwan, and Middle Eastern countries.
"Human Harvest" was screened at the Marda Loop Justice Film Festival on Nov. 21, 2015. The screening room was packed and many attendees were visibly alarmed by the brutality of the persecution.
A Chinese man said after the screening, "I don't know what to say. But I know I won't be able to sleep tonight. When I was in China, the government always told us the organ harvesting allegation was a lie. I didn't think any more about it. No words can describe my astonishment after watching the film. It dawned on me today that the organ harvesting is true, and the victims are Falun Gong practitioners! The Chinese government is more brutal than you think!"
The documentary aired during prime time on April 7 on SBS One's "Dateline," the longest-running international current affairs program in Australia. It was also broadcast by the Canadian Broadcasting Corporation as well as the largest TV network in Spain and many other TV networks in Europe.