(Minghui.org) With the Chinese New Year approaching, Falun Gong practitioners from Yilan County in Northeastern Taiwan gathered near the county government building for exercises and reading Zhuan Falun (the main teaching of Falun Gong). They also wished a happy New Year to Mr. Li Hongzhi, the founder of Falun Gong.
The practitioners come from all walks of life, and include professors, government officials, doctors, engineers, teachers, students, and housewives. Everyone has their own story to tell.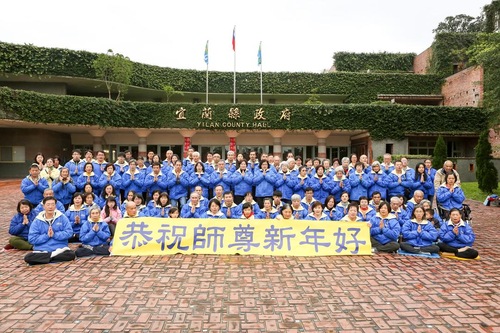 Falun Gong practitioners from Yilan gathered at the the county administrative building to express their gratitude to Mr. Li Hongzhi, the founder of Falun Gong.
Chronic Illness Cured
Ms. He Laiqin suffered from migraine headaches for 27 years, with the pain often leading to insomnia. Her efforts to find a cure, which included traditional Chinese medicine and Western medicine, always failed. After hearing the miraculous effect of Falun Gong, she went to China twice for Mr. Li's lectures, one in Jinan, Shandong Province, and one in Guangzhou, in Guangdong Province.
The headaches disappeared shortly after Ms. He began practicing Falun Gong, and her life became bathed in joy. "It is as if Teacher has given me a second life," she said.
Ms. Chen Jinying had a similar experience. Ms. Chen, a hair stylist, had been afflicted with many illnesses. She experienced kidney bleeding for 15 years due to a one-inch uterine tumor, and also suffered from headaches, knee osteoporosis, sciatica, and tonsillitis. As a result, she had to take medicine daily, as well as intravenous injections once every other day.
The difficult days ended once Ms. Chen began practicing Falun Gong. Not only were the illnesses gone, she also became healthier than ever.
From Individuals to Families
Falun Gong spread quickly after being introduced to the public in 1992. The number of practitioners reached 100 million within several years, before being suppressed by the communist regime in 1999.
The rapid growth occurred largely because after one person benefited from Falun Gong, people who witnesses the positive changes—such as family members, neighbors, and friends—often joined the practice as well.
For example, physician Dr. Chen experienced depression and insomnia for many years. Both illnesses disappeared after he began to practice in 1999. Impressed by his changes, his father, an entrepreneur in the lumber business, stopped pursuing various qigong systems and began to learn Falun Gong. His heart illness disappeared shortly thereafter. Both father and son have lived in good health for the past 16 years.
Mr. Zhang started practicing Falun Gong in 1999, following a recommendation from his wife's brother. With pain all over his body and breathing difficulties, medical personnel were unable to find the root cause. Thinking he would die soon, he was very worried about his wife and children.
The turning point came when Mr. Zhang began to practice Falun Gong in 2003. After brief symptoms of a runny nose, he fully recovered in thee months.