(Minghui.org) To wish the local community a happy Chinese New Year, Falun Gong practitioners held a parade procession in downtown San Francisco and nearby Chinatown on February 13, 2016, the fifth day of the Chinese New Year.
Joined by supporters, the procession started at noon in front of City Hall. A procession of "heavenly maidens" was followed by the Divine Land Marching Band, practitioners demonstrating the exercises, banners calling for an end to the persecution, and a float. Earlier that morning the practitioners did the exercises together in front of City Hall.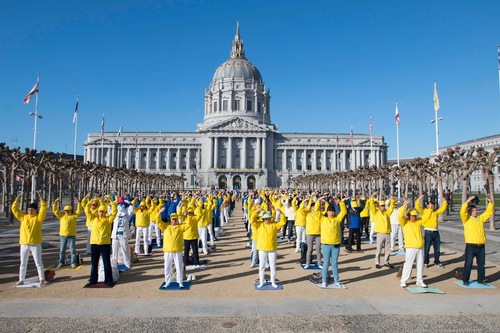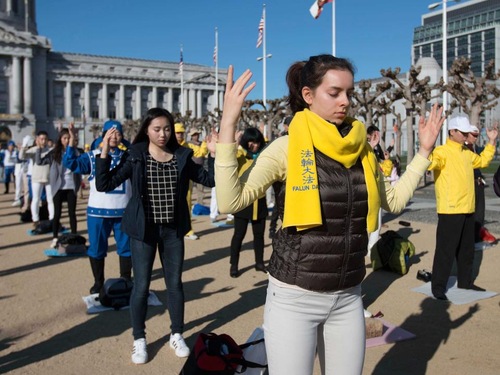 Doing the exercises together at City Hall on the morning of February 13, 2016.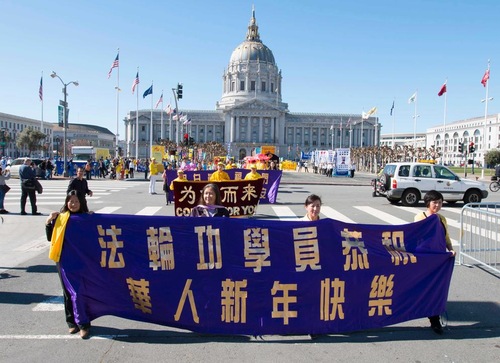 The banner reads, "Falun Gong Practitioners Wish Everyone a Happy Chinese New Year!"
"The Suppression Is Wrong"
Entrepreneur Derek Bacon said that his "hobby" is meditation. "When I heard Falun Gong practitioners would have a parade today, I knew I would learn something new." Pointing to a banner that said "Truthfulness-Compassion-Forbearance," he said he liked the message because it relates to everyone.
Bacon already knew about the persecution of Falun Gong in China, and said he thought the persecution would end soon, "It won't last much longer. Because of activities like this, people know you are doing the right thing. The suppression is wrong, and harvesting organs from living practitioners is wrong."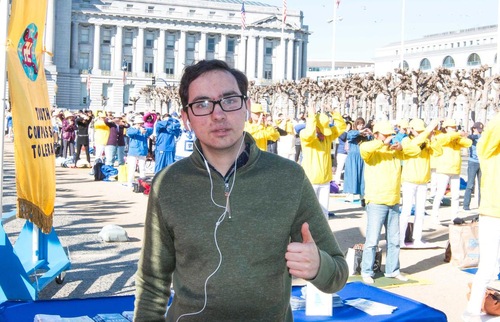 Entrepreneur Derek Bacon said the principles of Truthfulness-Compassion-Forbearance relate to everyone.
Broad Support
Vinal Gadam and Vilu from India said they were enjoying the parade. "It looks awesome and very peaceful. The band members are well trained. I like everything about it," said Vinal Gadam with a thumbs-up.
Mr. Wu and his family from Taiwan saw the parade in Chinatown. "It adds flavor to the community. The performance is great, too," he remarked.
An immigrant from Vietnam that lives near Chinatown said, "I love Falun Gong events." He said he supports practitioners, and has started to read the Falun Gong books online.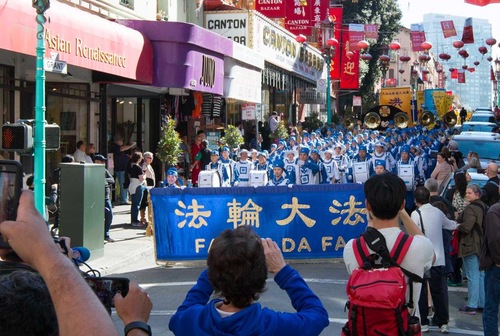 The Divine Land Marching Band
One couple, who said they had already heard about the suppression of Falun Gong in China, expressed their hope that the human rights violations would stop. After hearing about the health benefits of the practice, the wife took some information and said they would look into it.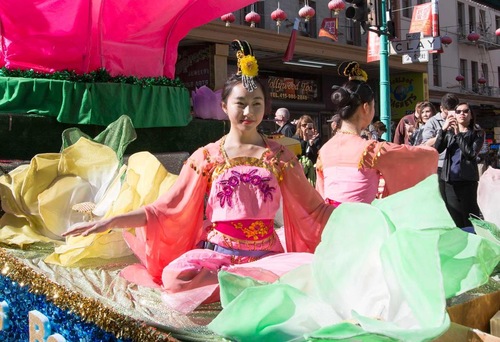 A young practitioner demonstrates the exercises on a float.
Raising Awareness
One young man, a bike rider, was shocked by the brutality of the persecution. He said, "It's horrible that so many people were tortured or even died for their belief. Please, tell me how I can help with this."
After talking about it with a practitioner, the young man said he would definitely let more people know about what was going on, "It's something very important, and we should not ignore it."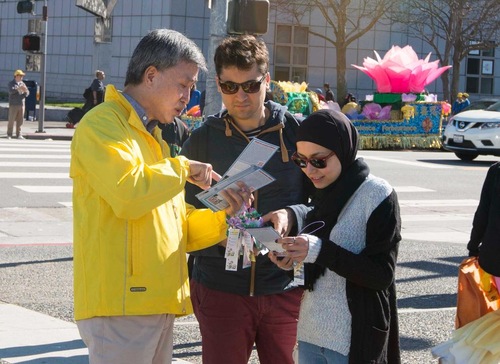 A practitioner tells passersby about Falun Gong.
Quitting the Party
Mr. Dong, a visitor from Hong Kong, took many photos, and said he liked the peaceful group exercise, "People should have freedom of belief, and practitioners should have the right to practice their meditation."
Growing up in mainland China, Mr. Dong said he used to be misled by Chinese Communist Party (CCP) propaganda. "Luckily I eventually went to school in Hong Kong." There he saw what Falun Gong really is, and began to support practitioners.
"The CCP should not have persecuted Falun Gong in the first place," said Mr. Dong, who agreed to renounce his affiliation with the Party by quitting its Young Pioneers organization, which he joined decades ago.
A banner in the procession.