(Minghui.org) Since May 2015, more than 200,000 criminal complaints have been filed against former Chinese leader Jiang Zemin, who ordered the violent persecution of Falun Gong. The movement to prosecute Jiang is gaining more support: over one million petition signatures have been collected in Asia, including 370,000 in Taiwan and 380,000 in South Korea.
Citizens in mainland China are also speaking out against the former Communist Party chief. A man in his forties from Qinhuadao City, Hebei Province said, "Jiang has done too many bad things. This is a long-awaited trial," before signing the petition to be sent to China's highest court and prosecution office.
"We Have to Support Good People"
At least 533 signatures have been collected in Qinhuangdao City, Hebei Province. One man in his sixties said he was very happy to hear about the criminal complaints being filed. "We need to bring Jiang to justice because he persecutes innocent Falun Gong practitioners. We have to support good people," he said.
One woman said she also hopes Jiang will be arrested soon. "I am on your side. Once Jiang is executed, I will practice Falun Gong, too."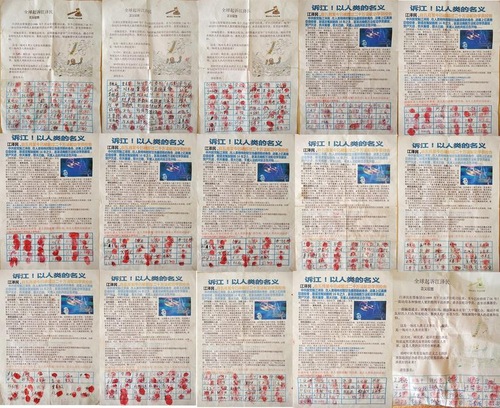 At least 533 people in Qinhuangdao City, Hebei Province signed a petition calling to prosecute Jiang Zemin.
Similar voices can be heard in other cities. Between October 2015 and January 2016, at least 8,786 people in Shenzhou, Hebei Province signed in support of the criminal complaints against Jiang.
The Most Corrupt Official
In Bazhong City, Sichuan Province, more than 1,500 people gave their signatures.
A schoolteacher expressed that Jiang "needs to pay for what he did." His sentiment was echoed by two electricians, who debated who is the most corrupt official in recent Chinese history; the younger electrician said Zhou Yongkang, while the older one said Jiang Zemin, because "Jiang started the persecution [of Falun Gong]."
Zhou Yongkang, former head of the Political and Legal Affairs Committee and China's domestic security apparatus, was a key player in implementing Jiang's directive to eradicate Falun Gong. He was arrested in December 2013 and sentenced to life imprisonment in June 2014 for corruption and abuse of power.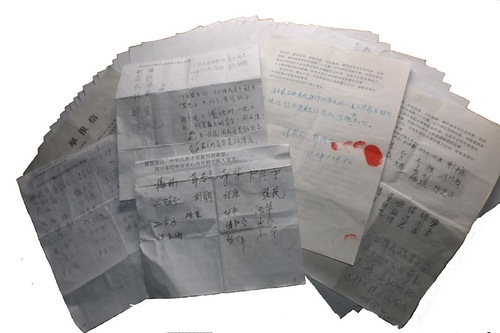 At least 1,500 in Bazhong City, Sichuan Province signed a petition in support of prosecuting Jiang Zemin.
Mr. Peng, who signed the petition, added a note, "Here we request that the Supreme People's Procuratorate charge Jiang with genocide and torture. Only when Jiang is executed will society return to normal and China have hope for the future."
Background
In 1999, Jiang Zemin, as head of the Chinese Communist Party, overrode other Politburo standing committee members and launched the violent suppression of Falun Gong.
The persecution has led to the deaths of many Falun Gong practitioners in the past 16 years. More have been tortured for their belief and even killed for their organs. Jiang Zemin is directly responsible for the inception and continuation of the brutal persecution.
Under his personal direction, the Chinese Communist Party established an extralegal security organ, the "610 Office," on June 10, 1999. The organization overrides police forces and the judicial system in carrying out Jiang's directive regarding Falun Gong: to ruin their reputations, cut off their financial resources, and destroy them physically.
Chinese law allows for citizens to be plaintiffs in criminal cases, and many practitioners are now exercising that right to file criminal complaints against the former dictator.
Related article in Chinese: 四川巴中市1500位民众联署举报江泽民