Swedish Medical Journal Reports on China's "Industrial Scale" Organ Harvesting Crimes
October 07, 2016
|
By Minghui correspondent in Sweden
(Minghui.org) Authors of the book Bloody Harvest, Mr. David Matas and Mr. David Kilgour, were invited to take part in a symposium in the Swedish Parliament on September 27, 2016. They held a discussion on taking legal measures to ban organ transplant tourism to China. Läkartidningen, the largest medical journal in Sweden, published a report on its website titled "Crimes Against Humanity on an Industrial Scale" the next day.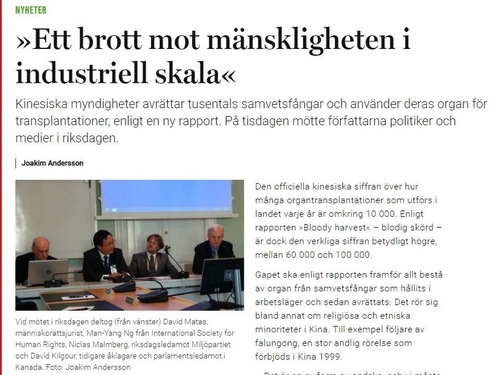 Snapshot of the report "Crimes Against Humanity on an Industrial Scale" on medical journal Läkartidningen's website. (From left) Human rights lawyer Mr. David Matas, Mr. Wu Manyang from the International Society for Human Rights, Swedish MP Niclas Malmberg and former Secretary of State (Asia-Pacific) Mr. David Kilgour at the symposium.
The articled introduced a recently updated investigation report on the Chinese Communist Party's killing of thousands of prisoners of conscience and using their organs for transplant surgeries, at the symposium with the report's authors on September 27.
The article cited the discrepancy between the Chinese official number of transplants, about 10,000 per year, and the investigation's finding of 60,000-100,000 per year. According to the investigators, the only explanation is that a large number of prisoners of conscience have been killed for their organs, including ethnic minorities, religious groups, and mainly Falun Gong practitioners, the largest group of prisoners of conscience in China.
The report includes testimonies of torture survivors who had been threatened with organ removal. The report also points out that while the Chinese government admitted to using death-row prisoners' organs for transplants, the number of executed prisoners is by no means able to cover the total number of transplants.
When asked about what Swedish doctors could learn from the investigation report, Kilgour said they would learn it was a crime against humanity on an industrial scale, and they should make sure to avoid being a part of it. Kilgour urges Swedish doctors to safeguard professional ethics, and not to work with, train, or participate in research with anyone involved in organ harvesting.
MP Niclas Malmberg told the reporter that he had drafted a motion that would prevent Swedish citizens from going to China for organ transplants, similar to a law passed in Spain. MP Malmberg said it was the first step Sweden could take.