Slovakia: Candlelight Vigil Draws Awareness of Persecution in China
January 11, 2016
|
By a Falun Dafa practitioner in Slovakia
(Minghui.org) Falun Dafa practitioners from Slovakia, Czech Republic and Turkey held a candlelight vigil in front of the Chinese Embassy in Bratislava, the Capital of Slovakia, on New Year's Eve to protest the ongoing persecution of Falun Dafa in China.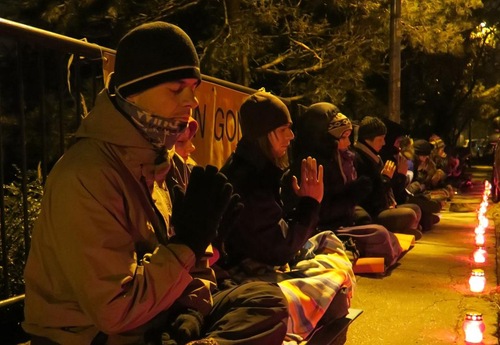 Candlelight vigil in front of the Bratislava Chinese Embassy.
The peaceful protest, in marked contrast to the surrounding New Year's celebrations, caught the attention of many passersby who expressed their support. Many wished the practitioners success and a beautiful New Year.
Sixteen Years of Persecution
The brutal persecution of Falun Gong was ordered by Jiang Zemin, former leader of the Chinese Communist Party, in July 1999. Since that time, thousands of practitioners have died in custody, millions have been jailed and tortured, and thousands have had their organs harvested in a state-sanctioned scheme to supply organs for transplantation surgeries.
Since May 2015, Falun Dafa practitioners have filed more than 200,000 criminal complaints against Jiang Zemin to the People's Supreme Procuratorate and the People's Supreme Court of China.
More than 500 Slovakian citizens, including three Members of Parliament, have signed a petition supporting the lawsuits against Jiang.