Taiwan: 11,000 in Pingtung Sign Criminal Reports Accusing Former Communist Leader
September 24, 2015
|
By Zheng Yuyan, Minghui correspondent in Taiwan
(Minghui.org) More than 11,000 people in Pingtung County, Taiwan recently signed criminal report forms accusing Jiang Zemin, former head of the Chinese Communist Party (CCP), of launching and directing the violent persecution of Falun Gong.
Over 170,000 Falun Gong practitioners and others, both inside and outside of China, have filed criminal charges against Jiang since May.
According to Chinese law, a criminal report form signed and dated by any individual with knowledge of a crime constitutes a criminal complaint that can be submitted to the Supreme People's Procuratorate and Court. Many Taiwanese who signed the report expressed their confidence that Jiang would eventually be brought to justice.
A number of politicians also signed a report condemning the CCP for its brutal persecution of Falun Gong, including its harvesting organs from unwilling living practitioners for profit. Those who gave their signatures include Chaozhou Mayor Hong Ming-jiang, Legislator Wang Jin-Shi, Pingting County Councilor Lee Ching-sheng, Shin Shin Lions Club Director Su Guihuang, and the club's former director Xu Tianyi.
Chaozhou Mayor Calls Persecution "Ridiculous"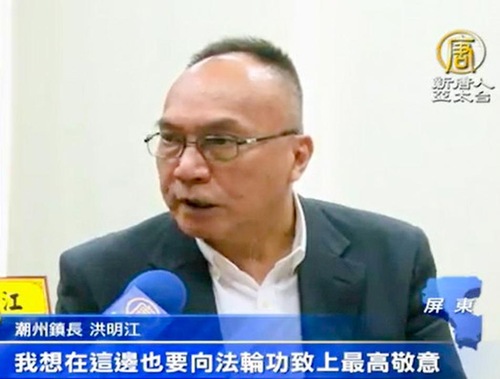 Chaozhou Mayor Hong Ming-jiang condemns the Chinese regime's harvesting of organs from living Falun Gong practitioners.
Chaozhou Mayor Mr. Hong Ming-jiang said, "Falun Gong is a great cultivation group. But the CCP demonized it. The only word to describe this persecution of morality is 'ridiculous!'"
Mr. Hong said, "Harvesting organs from the living is deplorable! Such brutality shouldn't be tolerated...I hope the Chinese government will face it. The only way to have peace is to respect people's rights."
Mr. Hong praised Falun Gong practitioners' peaceful and rational efforts to resist the persecution and expressed his support for the flood of lawsuits being filed against Jiang Zemin.
Directors of Shin Shin Lions Club Support Lawsuits Against Jiang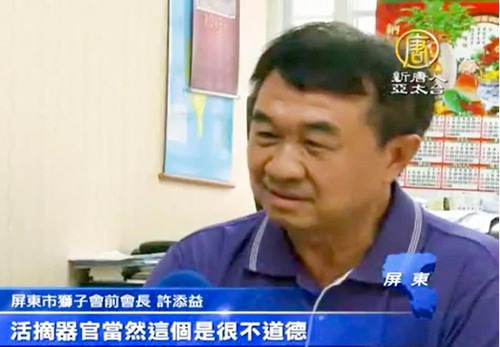 Mr. Xu Tianyi, former Director of Shin Shin Lions Club, supports the lawsuits against Jiang Zemin and condemns the CCP for human rights violations.
Mr. Su Guihuang, Director of Shin Shin Lions Club, praised the plaintiffs against Jiang Zemin for their courage.
Pingtung County Councilor Calls for Justice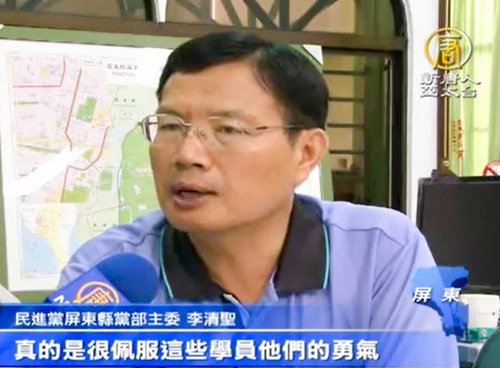 Pingtung County Councilor Lee Ching-sheng calls for justice.
Mr. Lee Ching-sheng, Pingtung County Councilor and Chair of Democratic Progressive Party Committee in Pingtung, has supported Falun Gong for years. He signed a criminal report, as did several staff members of his party committee.
He calls on Chinese government leaders to deal with the criminal complaints, bring Jiang to justice, and clear the name of Falun Gong.
Mr. Lee said, "I admire Falun Gong practitioners for their courage. They are fighting for justice and universal values."
Legislator Calls Lawsuits Against Jiang a "World Trend"
Legislator Wang Jin-Shi said, "Many high-ranking CCP officials and persecutors of Falun Gong have been arrested. A large-scale parade in Hong Kong supported the lawsuits being filed against Jiang. Chinese Weibo lifted a ban on news related to these lawsuits. The lawsuits have become a world trend. They have received international attention. I hope the wrong against Falun Gong will be corrected soon!"