Falun Dafa, Culture and History at Minghui Summer Camp
September 15, 2015
|
By a Falun Dafa practitioner in New Jersey, USA
(Minghui.org) Singing, recitals, performances of the violin, classic Chinese dance, and the drama "Journey to the West" were among the events showcased at celebrations to mark the end of the Minghui Summer Camp in New Jersey on August 21.
More than 30 young practitioners from the US and Canada attended part or all of the 8-week summer camp that began in June. A rich combination of activities allowed them to learn from each other and improve their understandings of the Fa.
Parents were surprised to see some big changes in their children, and the younger ones expressed their wish to return to the camp next year.
Focus on Cultivation
Practicing the exercises and sending righteous thoughts were two important daily activities at the summer camp.
When teachers and young practitioners came together, they formed an encouraging environment for everyone to improve together.
Kayla had attended the summer camp for the past a few years and had a unique experience this time.
On the first day of summer camp, she could hardly breathe while doing standing stance but refused to give up when she was asked if she needed to sit down and take a break. With assistance from a teacher, she completed the practice. From then on, she had no difficulty in practicing the exercises and could quickly calm down, too.
Kayla is allergic to peanuts as her mother wrote in a note to the camp. However, she ate a chocolate bar with peanut from another girl. Itchy spots and welts appeared on her face and body soon thereafter. A teacher told her not to scratch but recited "Falun Dafa is good" with her. Other little practitioners joined and recited the verse together. Soon, the spots and welts disappeared.
When Tony's mother dropped him off to the camp, he had a fever but insisted on joining the camp. Tony didn't excuse himself from any of the activities and after one week, all symptoms were gone.
Ryan is only 5 years old but he showed other campers an example of tolerance. Once a little practitioner younger than him punched him. Feeling wronged, Ryan held back the tears and didn't fight back. Later, he told with other children that fighting is poor behavior and that Falun Dafa practitioners shouldn't fight others.
The summer camp was the first time for Karen to spend time away from home. At first, she was not accustomed to life at the camp. But she soon learned to follow the schedule to practice exercises and study Fa, make her bed and share a room with other girls. When the camp ended, she had a hard time parting with her new friends.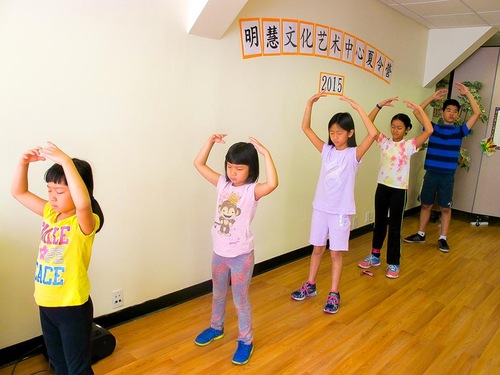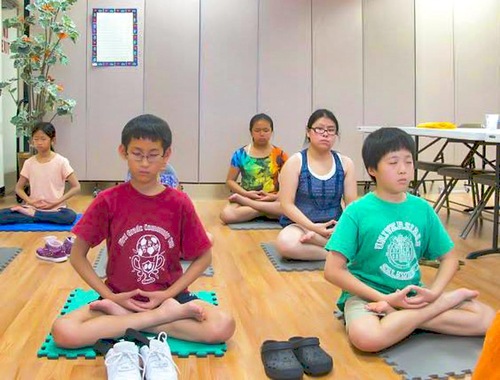 Exercise practice at summer camp
Learning Chinese History and Culture Through Fun Activities
Young practitioners learned Chinese classic dance, martial arts, and songs. By acting out the drama "Journey to the West", the children forged a stronger appreciation for their Chinese heritage.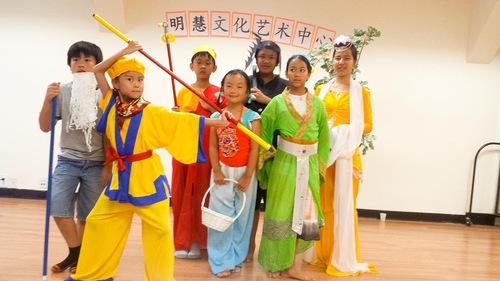 Performing "Journey to the West".
In addition to daily exercise and Fa study, camp attendees watched fireworks on Independence Day, visited Washington, D.C, Princeton University, a hot air balloon festival and a bird museum. They picked peaches at an orchard, and played in the sand and surf at the beach.